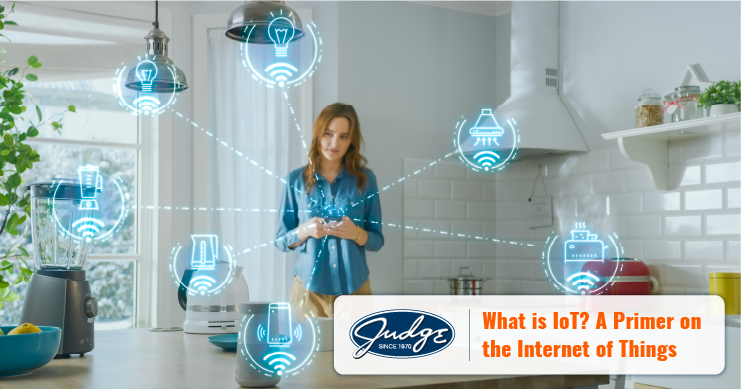 Share this post
What is IoT? A Primer on the Internet of Things
How much the Internet of Things (IoT) impacts your daily life may surprise you. So if you don't know what IoT is yet, read on!
What is IoT?
IoT describes the worldwide network of physical objects connected to the internet. Together, these devices collect and share data. Thanks to sensors, software programs, and other technologies, they are able to acquire digital intelligence and communicate in real time.
Even for people who aren't particularly tech savvy, there are many ways to take advantage of the convenience, comfort, and insights offered by IoT. Some common examples include smart appliances, security systems, home hubs, and smart assistants like Alexa. All of these are growing in importance, and the train doesn't seem to be slowing down any time soon.
In the beginning…
It all started in 1999. "Internet of Things'' was coined by Kevin Ashton in his work with corporate giant Procter & Gamble. In an effort to get the attention of senior management (and inspired by the hottest trend at the time, "the internet") Ashton created a pitch for his idea. He called it, Internet of Things.
How does it work?
IoT relies on Radio Frequency Identification (RFID) technology. Sensors and microprocessors in IoT devices are connected to IoT platforms. IoT uses data from various sources to sift through gargantuan amounts of real time data. Using this information, patterns can be spotted, recommendations made, and potential problems detected before they occur.
What are the benefits of IoT for consumers?
As consumers, we like to accomplish more with less. Some ways IoT can be used in everyday life include:
controlling music
setting timers
getting information through smart speakers
controlling security, thermostats, and lightbulbs
monitoring electricity consumption
This is all thanks to sensors that are a part of the IoT network!
What is industrial IoT?
The IoT is often used in industrial technological applications. Industrial processes are measured and optimized using a combination of sensors, big data, artificial intelligence, and analytics — just like household IoT devices. Some of the most common uses are smart manufacturing, connected logistics, smart power grids, and preventive and predictive maintenance.
What industrial sectors can benefit from IoT?
Some of the largest industries that benefit from IoT are:
Manufacturing - including remote equipment management, monitoring of production flow, waste management, and proactive maintenance.
Finance - including improved customer experience, fraud detection, and automated business processes for banking. For more information on how IoT impacts banking and finance, click here.
Energy - including asset performance, better customer experience, and monitoring safety of production fields and facilities.
Healthcare - including remote monitoring for patients, tracking real-time locations of medical equipment, and asset management.
Conclusion: What is the IoT? A Primer on the Internet of Things
Our private and professional lives will become more and more reliant on smart products as the number of connected devices continues to increase. Is this a sign that even more serious debates are coming around the security vs. privacy tradeoff? Either way, it's always exciting to see what advancements the future has to offer!
Topics : Articles, Internet of Things, IoT, Smart Technology, Technology
Share this post
Join Our Winning Team
We are always looking to add talented professionals to our team. Advance your career with Judge.
Apply Now
Let's Continue the

Conversation.

Tell us how we can help you and we'll be in touch soon.