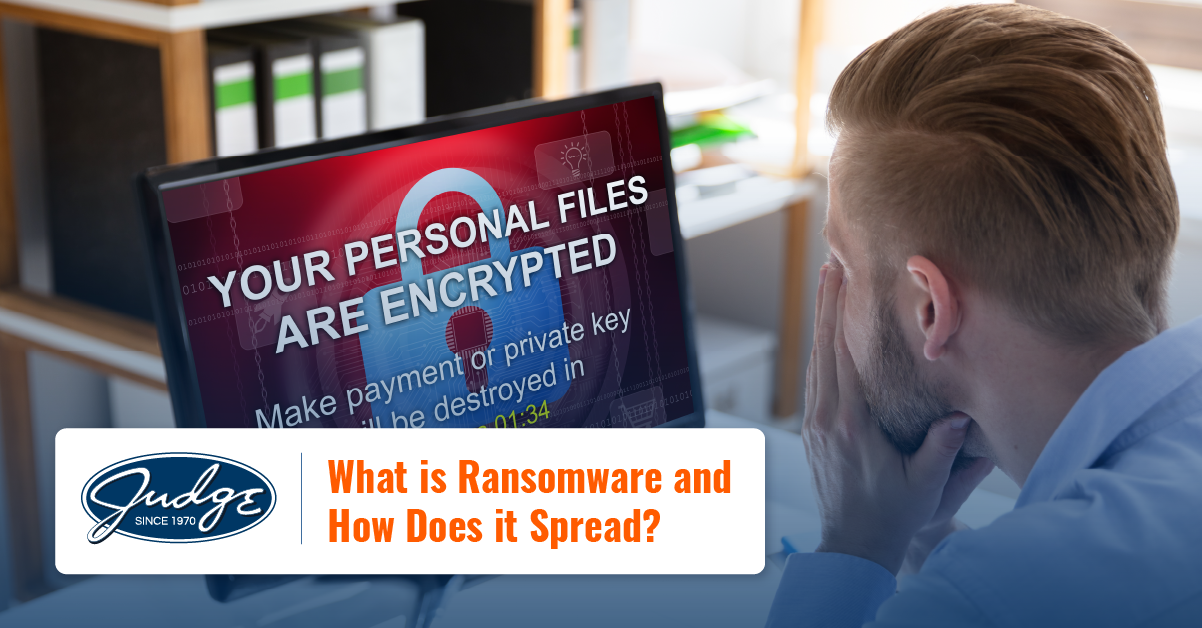 Share this post
What is Ransomware and How Does it Spread?
In the aftermath of COVID-19, important changes to work environments occurred across the world. Perhaps the most conspicuous of these was the sudden increase of the remote workforce. For all the good this transformation has brought, the impact has not been universally positive. For instance, 2021 has been the most fruitful year on record for cyber attackers. Indeed, the USA has seen a 300% increase in cyber crimes and a 148% increase in cyber attacks in 2021!
Of all the cyberattacks, ransomware can be one of the most damaging. This article will answer some of the most often asked questions about ransomware like 'what is ransomware,' 'how does ransomware spread' and 'is ransomware a virus'.
Let's dig in!
Is ransomware a virus?
No, ransomware is not a virus! Ransomware is a form of malicious software or application that locks a victim's information on their own system until the victim pays a ransom. A virus, on the other hand, is malicious code attached to a separate file which can move, delete, or destroy software or computer programs. Ransomware can infiltrate computers or networks and encrypt critical data — removing access to files, databases, or applications until the attacker's demands are met. Attackers often use ransomware on one machine to spread across a network, with the goal of paralyzing an entire organization.
How does ransomware spread?
Some of the most common ways to spread ransomware include:
Email attachments that must be opened by the recipient (e.g., PDF, Word document, ZIP files, etc.). Once the ransomware attachment is opened, the attacker gains access to the victim's computer and can encrypt the files.
URLs which encourage the recipient to provide information. These can include fake sweepstakes, lotteries, or mimicking real sites like Amazon, Facebook, or Gmail.
Malicious links in emails, webpages, or social media messages, designed to trigger a ransomware download. Sometimes these links require funds or information related to sudden emergencies or legal requests for information.
Internet ads which are actually malicious advertising, also known as 'Malvertising'. Usually the ad space includes a provocative message or an amazing offer.
Drive-by downloads from websites like cookies or third-party trackers. These don't require any user input and can occur without your knowledge. When you visit a suspicious website, your chance of drive-by ransomware increases.
Why is ransomware spreading?
There are many reasons why ransomware attacks have become so common. These include easy access to malware kits (used to create malware content on demand) and cross-platform ransomware, like Ransom32s. In 2021, cyber attackers don't even need to be especially tech-savvy - a scary reality.
Who is the target of ransomware?
No industry or individual is immune to ransomware attacks. Some of the most common targets are organizations who are more likely to pay quickly (e.g., government agencies or medical facilities), organizations that hold sensitive data (e.g., law firms), or organizations that maintain smaller security teams (e.g., universities and colleges). Cybercriminals are always looking for a bigger payout, so Western businesses and organizations tend to make for more desirable targets.
What are different types of ransomware?
The most common type of ransomware is the kind of crypto-malware that damages your files, folders, and hard drives, with hackers that infect your operating systems or completely lock you out of your computer. Likewise, "scare ware" that poses as antivirus software.
How can you help prevent ransomware?
Every organization and individual should take preventative steps to minimize ransomware threats. These include continuous data backups, properly securing networks, regularly updating software, staying familiar with the latest trends in ransomware attacks, and implementing security awareness programs.
Conclusion: What is Ransomware and Why Does it Spread?
Ransomware can spread in many different ways, and cybercriminals are always finding new and innovative methods to be successful. Whether you represent a business, organization, or simply yourself, it is very important to invest in a cybersecurity prevention plan. For more tips on how to safeguard your business from cyberattacks, click here.
Topics : Articles, COVID-19, Cybersecurity, Cybersecurity Month, Ransomware, Remote Work
Share this post
Join Our Winning Team
We are always looking to add talented professionals to our team. Advance your career with Judge.
Apply Now
Let's Continue the

Conversation.

Tell us how we can help you and we'll be in touch soon.