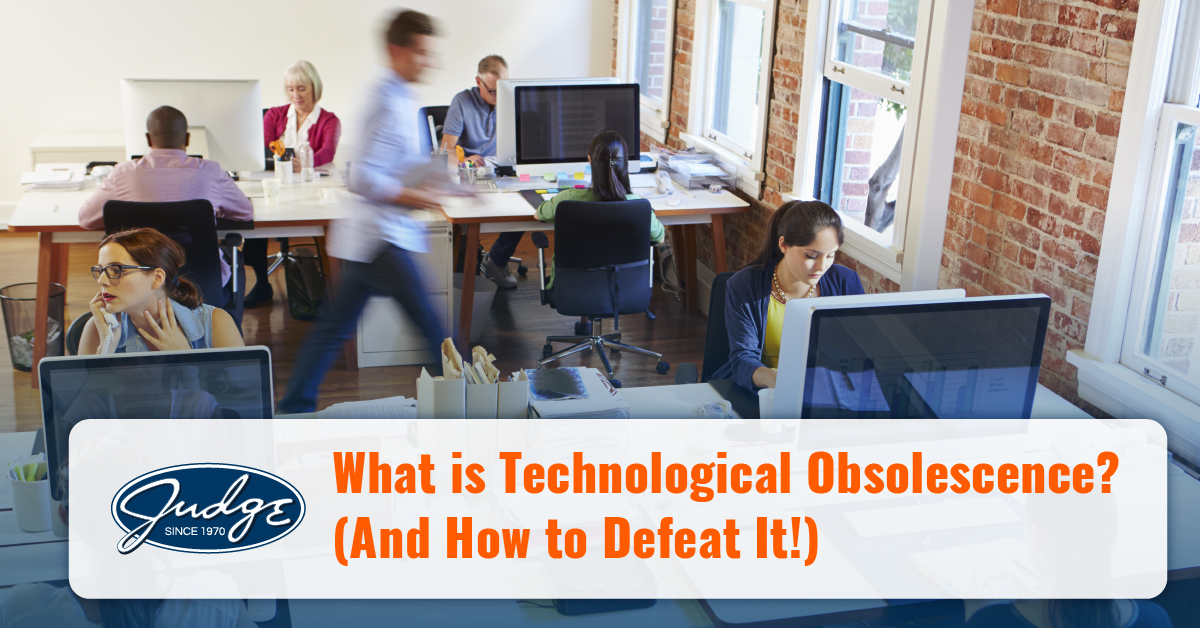 Share this post
What is Technological Obsolescence? (And How to Defeat It!)
There is a dark side to technological innovation. Cue the scary music. If we don't prepare for it, it is sure to inject chaos into our daily routines and processes. No, we aren't talking about the impending robot takeover (sheesh, how dark did you think we were going!?). Nevertheless, this is a subject deserving of our attention, and even our apprehension. We are talking about technological obsolescence in the workplace.
WHAT IS IT?
By Wikipedia's definition, technological obsolescence is whenever an object, service, or practice is no longer wanted, despite the fact that it is still in working order. In the business world, this usually occurs when a piece of software is updated to a new iteration, reducing its overall relevance or utility. Updates like this can range from almost undetectable, to fairly annoying, to seriously damaging to your team's overall workflow.
It is important that business leaders understand the nature of technological obsolescence—including how to stay ahead of the curve. Trust us, we've worked in this space for a very long time! We recommend breaking your thinking into two phases: 1) steps to take today and 2) being proactive for the future.
STEPS TO TAKE TODAY
Conduct a technology risk assessment
Conducting a risk assessment is a crucial first step. Start by looking ahead 3 to 5 years, and consider the following sub-steps.
Create a running list of the programs and technology your team uses, and assess their application.
Conduct research on their lifecycle (such as when the next version is expected to be released, and the implications of those updates).
Stay on top of data centers and servers your company may be using.
Create a transition plan!
Once you understand the nature of any upcoming changes, prepare an end-of-lifecycle transition plan for each program you use! This can include everything from research, to communicating with customer support, to making relevant employees aware of the changes to come.
If it ain't broke….
Weigh the pros and cons of transitioning to a new system. Will doing so cause your colleagues significant strain? Is it worth holding off until a future version comes out? Is this even possible? These are big decisions, so don't rush, and don't hesitate to ask for second opinions!
PROACTIVE CARE
Analyze potential impacts in advance
Dedicate resources to study the implications of new technologies before committing to them, seeking systems with a proven track record of smooth updates and transitions. Likewise, try to discover if any sweeping changes are planned for the near future. Thinking ahead will help you make decisions about whether leasing or buying makes more sense, which team members should be involved in trial and testing periods, and how deeply you'd like to commit resources.
Prepare a user adoption strategy
If you've done your due diligence, you should have a basic understanding of when key changes are likely to occur and how they will manifest. Your next step is to ensure your transition team is up to speed. Whether it's making sure your internal team is prepared to train your employees, or verifying that you have external support lined up, preparing a user adoption strategy is essential.
In the words of Benjamin Franklin, "By failing to prepare, you are preparing to fail." Technological obsolescence may never completely go away, but by staying vigilant, you'll be able to sidestep it's worst effects.
By: The Judge Group
Topics : Articles, Judge Tips, Technology
Share this post
Join Our Winning Team
We are always looking to add talented professionals to our team. Advance your career with Judge.
Apply Now
Let's Continue the

Conversation.

Tell us how we can help you and we'll be in touch soon.