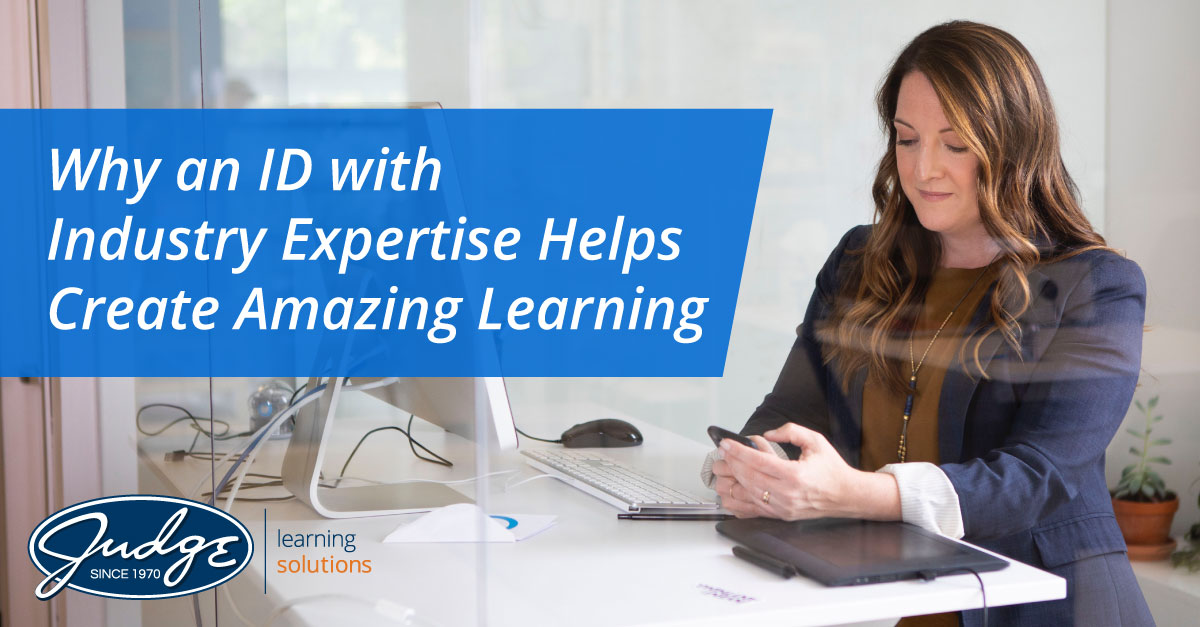 Share this post
Why an ID with Industry Expertise Helps Create Amazing Learning
By Rose Pilgrim
Quite a few instructional designers don't start out as one. They often follow career paths in other industries and somewhere along the way experience the call to teach. This happened to me! Perhaps they excel at inspiring people to change their behavior. Maybe they are good at clarifying a complicated process. But once these people become instructional designers, they can draw not only on instructional theory to create meaningful learning experiences, but also on their earlier industry background.
Insight
Instructional designers with industry experience hit the ground running. They don't need to familiarize themselves with your content. They already think like you, understand why you are experiencing your learning challenges, and apply this insight to create the best solution. They interact effectively with the subject matter experts on your in-house team, and ask the right questions. They help you refine your content, clarify your message, and research additional material.
For instance, instructional designers with pharma experience already understand quality requirements, the regulatory environment, and the drug development process. Instructional designers with a finance background already know about FINRA requirements and cybersecurity challenges. They understand your point of view.
Communication
When it comes to talking to your audience, instructional designers with industry experience know what to say. They make informed judgement calls about the best way to communicate with your employees. Because they are fluent with industry terminology, they express concepts in a way that make sense to your audience. What they say resonates because they speak with an authentic voice.
Bottom line - when you work with an instructional designer with industry experience you are getting a two-for-one deal. It's like having an extra subject matter expert on your team!
Want to talk more about this? Leave a comment below or reach out to us at JLS@judge.com. Our team of creative rock stars are ready to help – just let us know what you need.
Topics : Articles, Instructional Design, Learning, Training
Share this post
Join Our Winning Team
We are always looking to add talented professionals to our team. Advance your career with Judge.
Apply Now
Let's Continue the

Conversation.

Tell us how we can help you and we'll be in touch soon.