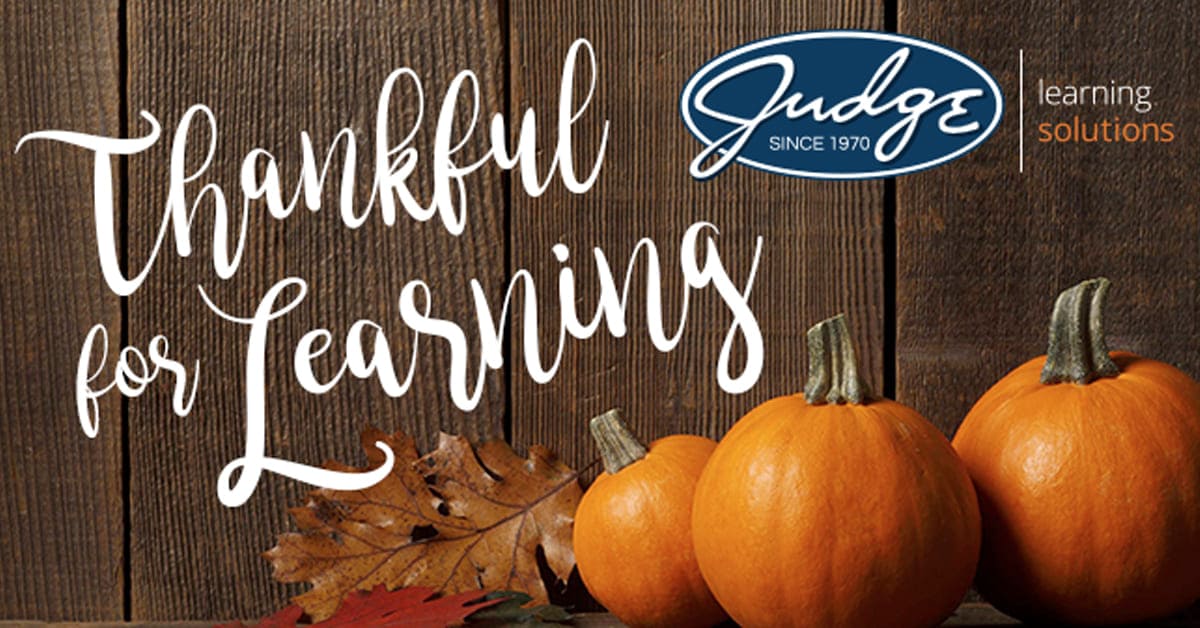 Share this post
Why We Are Thankful For Learning
"There is a 'secret to happiness', and it is gratitude. All happy people are grateful, and ungrateful people cannot be happy. We tend to think that it is being unhappy that leads people to complain, but it is truer to say that it is complaining that leads to people becoming unhappy. Become grateful and you will become a much happier person."
- Dennis Prager, author of Happiness is a Serious Problem
We polled our own happy people and have listed some aspects of our world, in which we are very grateful. We hope they resonate with you as well.
We are grateful:
"To work in an industry where we have a direct effect on the success of a workforce."
"To see the lightbulbs go on as our work product is delivered."
"For the creativity and generosity of those in the learning field who are willing to share their experiences, examples, and advice through social media, at conferences and directly with us."
"For companies that value workforce development and recognize that learning is an integral part of achieving their business goals."
"For clients who hire us for our expertise and then trust us to give them something better than they could have imagined."
"To be able to work with a group of individuals who help and support each other. Thankful for working with people who are always trying to improve what we do as a team."
"For people who like a collaborative approach to designing and developing learning and performance solutions."
"To work in an industry, and with teams, where we can continually learn and grow."
"For the diversity of work and thought that learning and performance improvement projects require."
"For our partners, who not only help us achieve client happiness, but also inspire us to think bigger or differently."
I guess we have a lot of happy people here at Judge Learning Solutions...because certainly we are thankful for our work, our relationships and our accomplishments.
Please join us, this year, in looking for the things to be grateful for and recognizing others, whatever the relationship, who make us happy. Let us know what you are grateful for this Thanksgiving by responding in the comments below.
Watch the video below to learn more about Judge Learning Solutions and our services.
 Judge Learning Solutions
Video Overview
By: Kevin Rillo
Share this post
Join Our Winning Team
We are always looking to add talented professionals to our team. Advance your career with Judge.
Apply Now
Let's Continue the

Conversation.

Tell us how we can help you and we'll be in touch soon.