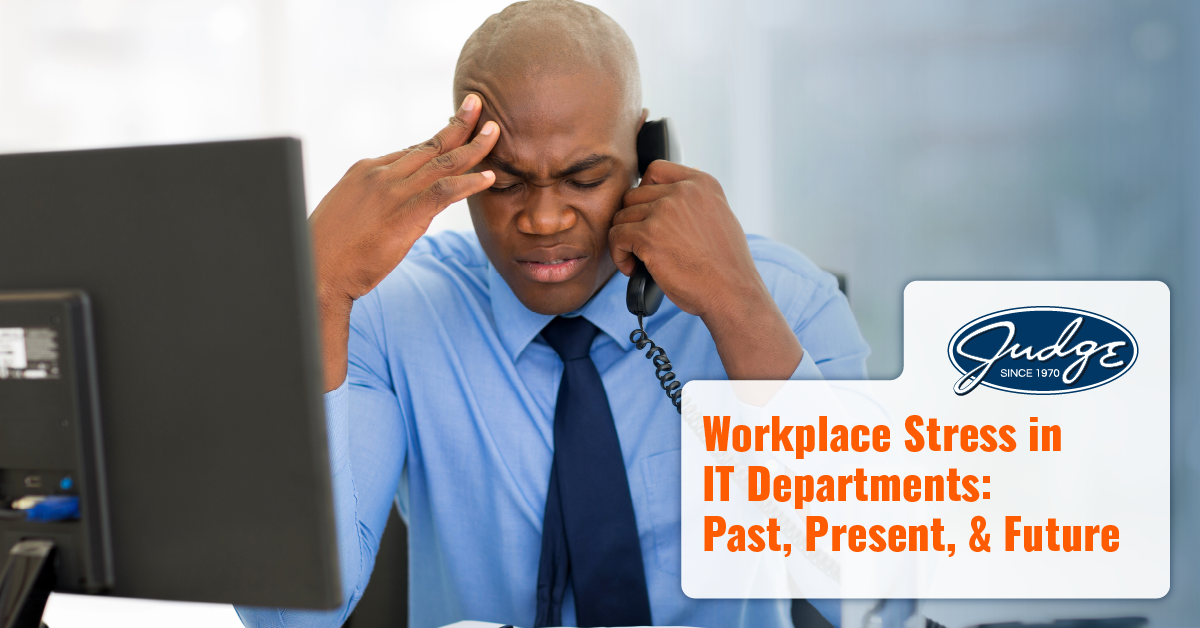 Share this post
Workplace Stress in IT Departments: Past, Present, & Future
"There cannot be a stressful crisis next week. My schedule is already full." ­— Henry Kissinger
A quick Google of "most stressful jobs" will yield diverse results. It's a question with no definitive answer — but in 2020, the IT profession certainly deserves consideration! A big part of workplace stress in IT departments has to do with the changes brought on by COVID-19, and the constant technology challenges resulting from it. But to understand where things are now, it's useful to understand the state of Information Technology before the pandemic hit.
An Age-Old Problem: Expectations
Let's talk about the kind of stress that's always existed in the IT world. IT departments perpetually contend with deadlines — oftentimes for problems that have no clear solution. When issues arise in a world where we rely on technology to stay productive, employees often feel entitled to immediate assistance from their IT team members. When employees become agitated, it's often because they simply don't understand the nature of troubleshooting — or they don't understand how busy their IT department really is.
As a consequence, research has shown that 78% of IT workers find their work stressful. Much of this is due to hours of unpaid overtime, constant deadlines, understaffed teams, and working on problems their colleagues often don't understand.
A Newer Problem: The IT Skills Gap
By 2015, the debate about the so-called "IT Skills Gap" had reached a consensus. Today, both IT leaders and workers accept that a gap exists in IT employee skill sets, causing a lack of balance within departments and negatively impacting IT departments' ability to manage problems. Oftentimes, this results in unreasonable demands placed on the shoulders of a company's most skilled IT employees.
Fast forward to the present moment. COVID-19 has made living rooms into offices - forcing already strained IT staff to assist their colleagues remotely. Solutions don't often come as quickly, which can cause an overall rise in blood pressure, and a decrease in productivity — which brings us to the current moment.
The Newest Problem: COVID-19 Related Issues
What additional stressors do IT support teams have to deal with, due to pandemic?
Here are some of the most common ones:
Ensuring connectivity outside of the office. More specifically, managing and sustaining network infrastructures so that all data, apps, and communication can be maintained. Bear in mind, when COVID-19 hit, chances are there were no "entire company work from home" guidelines on the books!
In order to maintain some degree of "business as usual," new tools have been introduced to end-users. Collaboration apps definitely help, but there's still a learning curve that needs to be accounted for. So, who do we call for help? You guessed it…
When offices went remote, novel security risks became rampant — causing increased risk of data leak and loss. Indeed, COVID-19 brought with its high numbers of cybercrimes, targeting both individuals and companies. As a result, not only must IT teams move to secure all data and the network at large, they must also educate employees about a whole new species of phishing and malware threats.
Conclusion: Workplace Stress in IT Departments: Past, Present, & Future
So, if you are asking yourself if IT Support Teams are dealing with more stress than usual. Your answer is above! Reach out and thank your IT colleagues for their hard work!
Topics : Articles, Cybersecurity, IT Departments, IT Management, Remote IT, Workplace Stress
Share this post
Join Our Winning Team
We are always looking to add talented professionals to our team. Advance your career with Judge.
Apply Now
Let's Continue the

Conversation.

Tell us how we can help you and we'll be in touch soon.