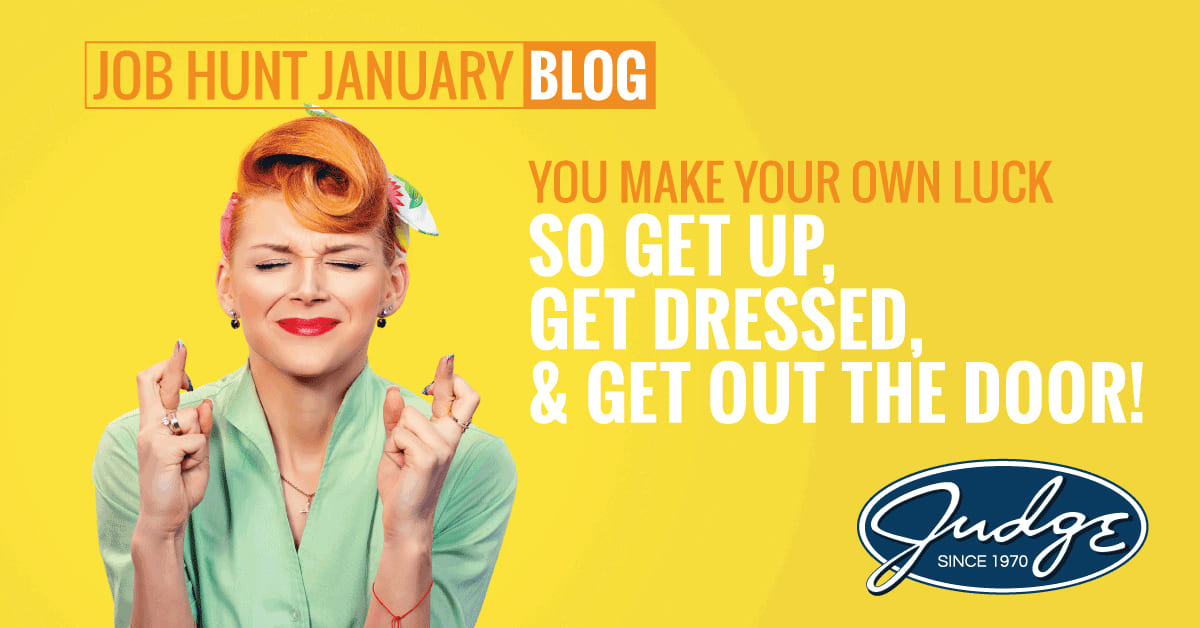 Share this post
You Make Your Own Luck: So Get Up, Get Dressed, and Get Out the Door!
A few years ago, I learned that one of my favorite clients was downsized from a major bank in New York. I contacted him to offer support, and we agreed to meet for lunch in the city a few days later. As I walked in the door, I expected to find him dressed casually, maybe jeans and an untucked shirt. Instead, I was surprised to see him in a full suit, right down to the spit-shined shoes and a handkerchief tucked rightly in his jacket pocket. I asked him, jokingly, if he had done all that for me. He chuckled and replied, to my surprise, that he got up early every day, did the shower and shave routine, got "dressed for work", and headed out the door to a job he didn't have. Or did he?
In his mind, though he was unemployed, he had a job to do. That job was, well, finding a job! He proceeded to tell me that he had a responsibility to his family, his financial obligations, and to himself. Living in the city, he simply acted out the part of getting ready for work which, in turn, gave him a psychological boost and a feeling of normalcy, not only for himself, but for his family as well. Rather than sit at home and search exhaustively through the online job boards, he would spend his day meeting for coffee or lunch with colleagues old and new, and leverage his network in order to see and hear about any new opportunities. "Why should I sit home like everyone else, look at the same job postings, and expect different results?" Good point, right? Between meetings, he would head to the library, laptop bag in hand, conduct research, and login and follow up on any leads he had garnered that morning. I was fascinated by his "ear to the ground" approach. It got me thinking about an old saying – you make your own luck.
Shortly thereafter, he found a great opportunity with another financial institution with better pay and more responsibility. Was it from his meeting with me? Nope. But by getting up, getting dressed, and getting out the door, he created a daily routine that put him in touch with people that had ideas, contacts, and leads that ultimately led to his reward. His positive, proactive attitude made this happen.
Let's face it - nobody wants to find themselves unemployed. Losing a job, whether you're fired or downsized, laid off or phased out, is never convenient. In fact, it's downright disruptive to nearly every aspect of your life. Consider the tangibles of lost wages, mounting bills, dwindling bank accounts, and sacrificed vacations. Not to mention the intangibles, such as rejection, self-worth, and self-respect. Remember the proactive attitude of my client above, because it's what you do during this time that defines your road to recovery. It may take time to find the right opportunity and make yourself whole again. But are you just going to sit there and watch the bank account dry up while you wait for callbacks? I wouldn't. Do something to restore your dignity, your self-worth. Even if it means taking a job that pays a fraction of what you made before, just to make ends meet in the short them, then do it. Some ideas include bartending/waiting tables, driving for Uber, getting seasonal employment at a retail store, and loading trucks. These are great jobs that will help to stifle the outflow of cash and sustain that bank account. Plus, it'll feel great to get a paycheck again. You'll find it gives you the psychological boost you need to forge ahead. And that guy loading trucks next to you? He might just have a sister that is looking to hire someone just like you! So GET UP, GET DRESSED, AND GET OUT THE DOOR…and make your own luck!
By: C.J. McCourt
Topics : Articles, Job Hunting, Laid-off
Share this post
Join Our Winning Team
We are always looking to add talented professionals to our team. Advance your career with Judge.
Apply Now
Let's Continue the

Conversation.

Tell us how we can help you and we'll be in touch soon.