Medical coders are an essential part of the healthcare industry and are also in high demand. Employment of medical records specialists is projected to grow 7% from 2021 to 2031 according to the Bureau of Labor Statistics.  
Medical coding typically only requires a certification or degree in medical coding. Therefore, medical coding is a great career option for those without a college education. However, it's important to note that medical coding can also be a highly specialized and advanced career path with opportunities for growth and higher salaries.
If you're wondering, "How do I become a medical coder?' this blog is for you.  
What is a medical coder? 
First, let's explore what a medical coder is. 
A medical coder is a healthcare professional who assigns standardized codes to medical diagnoses and procedures for billing and reimbursement. Medical coders work in various healthcare settings, including hospitals, physician offices, insurance companies, and government agencies. 
Medical coding involves translating medical diagnoses and procedures into alphanumeric codes that are used for billing purposes. This coding system allows healthcare providers and insurers to accurately track the services provided to patients and the corresponding costs.  
Medical coders use specialized software and coding manuals to assign the appropriate codes to each medical service. Accurate coding also helps to ensure that patient medical records are complete and up to date, which is essential for providing high-quality patient care. 
Steps to Becoming a Medical Coder
If medical coding sounds like a profession you would be interested in pursuing, keep reading for steps to take to begin your medical coding career. 
Learning and training 
A benefit to becoming a medical coder is that a four-year university degree is not necessary. You can become a medical coder with a high school diploma, GED or equivalent, plus additional training.  
It is highly recommended to complete a medical coding program from a community college or vocational school. These programs typically take around one year to complete, can often be completed from the comfort of your home, and can lead to a certificate or diploma.  
You will need to choose which type of medical coding you would like to specialize in. It's important to note that your choice of certification does not limit your future opportunities, but rather serves as a starting point for your career.  
The three main types of medical coding include: 
ICD-10-CM (International Classification of Diseases, Tenth Revision, Clinical Modification)

 

CPT (Current Procedural Terminology)

 

HCPCS Level I, II, III (Healthcare Common Procedure Coding System)

 
Within each type of coding, there are also specialized areas such as anesthesia coding, radiology coding, and cardiology coding.  
Kristina O. Gracia, Account Relationship Manager at Judge, shares that when she is recruiting medical coders, it is helpful if they have a prior background in healthcare, especially with regard to billing and accounts receivable. But as stated earlier, prior experience in medical coding is not necessary to begin a career.  
Obtain and maintain certification
Although it is not mandatory to have a certification, most employers prefer to hire certified medical coders. The most recognized certification for medical coders is the Certified Professional Coder (CPC) credential, offered by the American Academy of Professional Coders (AAPC). CPC certification requires passing an exam. Employers prefer certified coders over those with only a degree, as they understand the challenging nature of the CPC exam and value the demonstrated skills of certified coders. 
Other recognized certifications include: 
Certified Coding Specialist (CCS) offered by the American Health Information Management Association (AHIMA)

 

Certified Outpatient Coder (COC)

 

Certified Inpatient Coder (CIC)

 

Certified Risk Adjustment Coder (CRC)

 
Medical coders need to stay up to date with the latest coding updates and regulations. This requires continuing education and maintaining your certification through the respective credentialing body. 
It is also important to note that medical coding requires a strong understanding of medical terminology, anatomy, and physiology. Attention to detail and accuracy are also crucial skills needed for success in this field. 
Network and gain experience
Before applying for a job, consider networking and obtaining real-world experience. A great first step you can take is becoming a member of your local American Academy of Professional Coders (AAPC) chapter. Connecting with well-established medical coders can provide you with helpful advice and insight into this occupation.  
How much do medical coders make? 
The average salary of a medical coder can vary depending on factors such as geographic location, level of education, years of experience, and type of healthcare setting.  
Salaries can range from $28,000 to $72,000 or more. According to data from the U.S. Bureau of Labor Statistics, the median annual wage for medical coders was $46,660 as of May, 2021. Medical coders who work in hospitals and other healthcare facilities tend to earn higher salaries than those who work in physician offices or other outpatient settings. 
In addition, medical coders who hold certification/s from a professional organization such as the AAPC or AHIMA may be able to command higher salaries due to their specialized knowledge and credentials. For example, in 2023 AAPC certified coders earn an average of $58,055 annually, according to AAPC's Annual Salary Survey.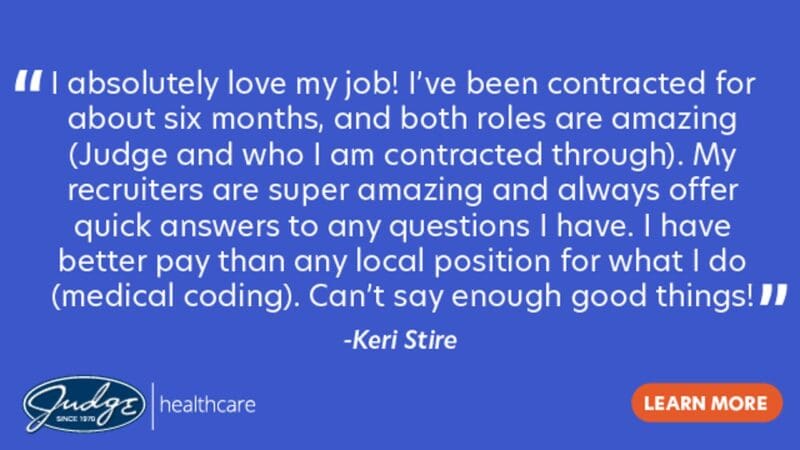 Benefits of being a medical coder 
There are many benefits to becoming a medical coder, including: 
The option to work remotely and independently 

 

The ability to complete training online

 

Medical coders are in high demand 

 

A flexible schedule

 

Competitive salary

 

Opportunities for advancement

 

The ability to start a career in months, not years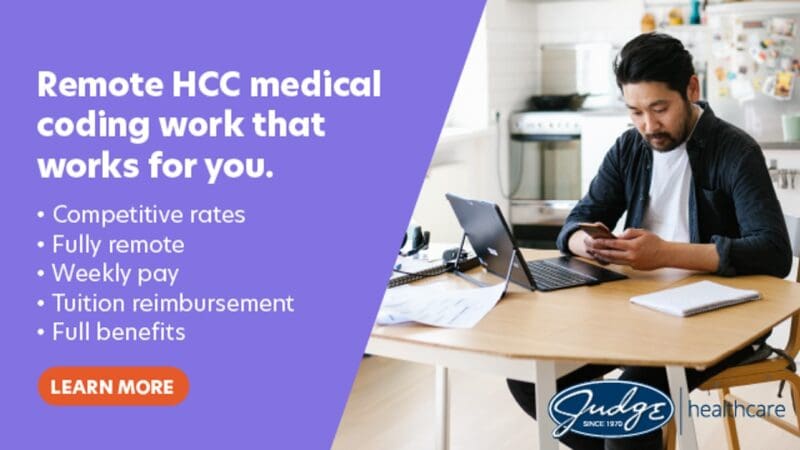 Once you are ready to begin your career as a medical coder, partner with Judge Healthcare. Judge offers medical coder search and staffing you can trust with the benefits and flexibility you deserve. Contact a Judge Healthcare recruiter or browse all our open medical coding positions here.