Resources
IT Staffing Trends: What to expect during a recession
As an international leader in IT staffing solutions for over 50 years, we are more than accustomed to the ebbs and flows that come with market volatility. All these experiences have provided our staffing leaders with the insight to predict what the future may hold. The same holds true with the potential recession we're facing. Human capital continues to be a priority for the c-suite, with 71% of CEOs viewing human capital as the top factor for sustainable economic value, and 43% saying that investing in people is a major priority. 
Regardless of any potential recession, the fact remains that IT companies need people to continue with daily work and planned projects, especially highly trained, knowledgeable, and skilled IT professionals. The adoption of cloud will continue to be a huge factor that propels digital transformations and continues to create a steady demand for talent. In addition, increases in cybercrime has accelerated the demand for IT professionals who understand zero trust concepts and can strategize the appropriate actions to mitigate risk – focusing on reducing average time to detection and resolution. Finally, mergers and acquisitions (M&As) in several industries are projected to remain strong, requiring IT staff to help merge and migrate systems and technology. 
Market Overview
Research states that the IT Staffing Market is expected to register a compound annual growth rate (CAGR) of 3.66% during the forecast period (2021 – 2026) – despite a potential recession. 
Additional growth in the market can be attributed to the continuance of 100% remote work, outsourcing of human resource activities, and the emergence of technologies like artificial intelligence, machine learning, and internet of things, which is expected to create demand for IT professionals across end user segments. There are also additional shifts in IT tech from network monitoring to observability, integrations in ITAM/ITOM, as well as growth in AIOps, DevOps, ITOps, and a variety of other operations. 
With the multitude of technologies and trends driving the industry, it is easy to see how there will continue to be opportunities within the IT industry. What will change is the classification of employees with a move from full-time to contract and temporary hires. A focus on contract and temporary hires over full-time positions is often called staff augmentation. In other words, a company is opting to increase its staff without the high costs and overhead associated with hiring and training full-time workers.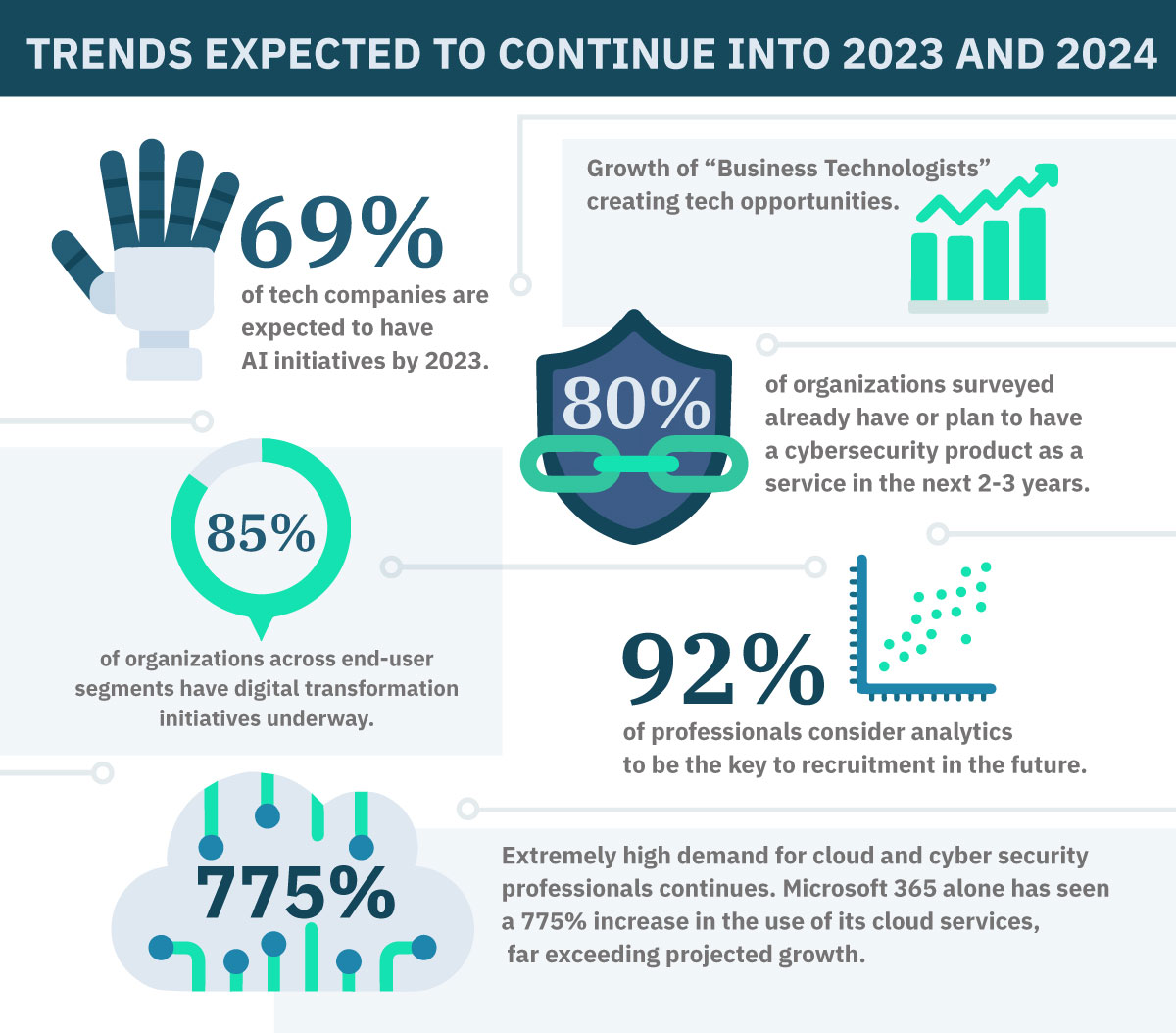 The

re

is no shortage of positions, they

just aren't

permanent
As of the publication of this blog, The Judge Group has over 1,452 open IT positions posted on our website. Additionally, we have a select number of positions that we fill directly and are not posted on our site.  
Despite tech companies announcing hiring freezes for Q4 2022 and Q1 2023, we don't expect the number of roles to decrease drastically as a result. We expect growth in contract and temporary positions amongst our clients as they look for ways to fulfill their staffing needs without the excessive costs associated with full-time roles. For both specialty and general IT professionals, this introduces the opportunity for candidates to build a resume and portfolio quicker than if roles were full-time.  
Contract and temporary roles offer numerous benefits
Contract and temporary roles offer excellent benefits to job seekers. While they are not full-time permanent roles, contract and temporary positions offer greater flexibility and the opportunity to work with several different companies in the space of time a full-time employee would work for one, thus increasing your experience.  
Furthermore, many of the big companies (Salesforce, Microsoft, IBM, Amazon, etc.) are always hiring contract and temporary roles for projects, product launches, and many other new initiatives. With these types of positions, you are serving an integral role and will have a clear deliverable you can highlight with future potential employers. The catch is – contract and temporary positions are most commonly outsourced to staffing agencies to fill. In other words, if you are not currently on a recruiter's radar, you may not know these opportunities exist, much less have an opportunity to apply. 
Specialized expertise seeing the greatest growth
We presented a laundry list of tech transformations and trends that are driving demand for IT professionals above. While those avenues are seeing demand and growth, there are several other avenues that are seeing demand for highly specialized IT professionals.  
Among these are IT professionals with multi-cloud expertise, Agile development, a focus on microservices and container orchestration, adoption of APIs for greater functionality, and end-user-facing developments to improve user experience. Any of these specialties are in high demand and should be highlighted to recruiters to help line up a variety of potential placements.  
Highlight your skills
Even if you lack expertise in any of these categories, that is not a problem. The key is to make sure you're on LinkedIn, you are discoverable, and your job history highlights your specific skills and experience. LinkedIn has made advancements to its platform that allow recruiters to search by specific skills, so make sure all your skills are highlighted.  
You can also check out our job board and apply for any positions you think you could be qualified for. This will get your resume in our applicant tracking system and make it easier for our recruiters to find you as we work on filling positions.