Resources
How to Use ChatGPT to Tailor Your Resume
ChatGPT is all the rage right now with no signs of its popularity slowing down. It seems like everyone you know is using it for something. In this blog, we will show you how to use ChatGPT to tailor your resume ethically and effectively.   
Your resume is your passport to the professional world, serving as the crucial first impression you make on recruiters and hiring managers. While it is essential to provide an accurate snapshot of your experiences in the workforce, tailoring your resume to the requirements of a particular job can give you a competitive edge.  
Here are some statistics (and things to think about) that make a case for tailoring your resume when on the job hunt: 
According to a

survey by CareerBuilder

, 61% of employers are more likely to consider applicants who submit customized resumes.

 

Recruiters

spend between six and seven seconds

reviewing a resume. By tailoring your resume to highlight relevant skills, experiences, and accomplishments, there is a higher chance of capturing the recruiter's attention.

 

A tailored resume allows you to address the specific needs of the company and the job, showcasing how your skills and experiences directly align with their requirements. This can make your application stand out and possibly secure an interview or next steps.

 
However, an important caveat is that resume tailoring must still reflect your actual skills. Savvy recruiters and hiring managers know the red flags to look for; even if you make it to an interview, they will uncover fabrications. The good news is, technology can help you tailor your resume thoroughly and thoughtfully.  
ChatGPT and Generative AI  
ChatGPT is based on generative AI, which refers to a category of artificial intelligence models that generate new content, such as text, images, or music based on patterns and examples from a given dataset. ChatGPT specifically focuses on developing human-like text responses in a conversational manner.  
By training on large sets of data, it understands and creates relevant responses to questions asked by users, making it useful for a wide range of applications, including virtual assistants, customer support systems, and—for those searching for a new job—a personal resume editor.  
How to Use ChatGPT to Tailor Your Resume
ChatGPT is only as useful as the prompting it receives. Provide clear and concise information about your skills, experience, and the specific job you are targeting. To best leverage the tool, gather the following information:  
The description of the job you want to apply for

 

Your current resume 

 

Insights into your skills and experiences including continuing education, certifications, awards, etc. 

 

Additional context such as keywords for a specific job posting and formatting preferences

 
Take, for example, a recent job posting for W2-Scrum Master/Project Manager on our website:  

Required Skills:  Scrum, PM

Nice to have: Data related projects experience, CSM Certification

Duration: Through this year, there is possibility for conversion eventually but unsure on timeline

Other Notes:
The role is a 60/40 combination of a Scrum Master and Project Manager

 

Overseeing production level on projects, most projects are agile

 

Looking for someone with scrum experience and able to handle 3-4 teams

 

Will be responsible for running domain calls – 20-30 projects will not be managing every project but getting status updates and report out to leadership

 

Apart of the Business Intelligence team – Projects are involved with data, reporting project

 
If you want to use ChatGPT to tailor your resume for this position, write a prompt using language like: 
"Tailor my resume for W2-Scrum Master/Project Manager role at the Judge Group. Here is the job description: [copy and paste the above job description]. And here is my resume: [copy and paste your resume]."
 Drill down even further to ensure you are highlighting specific experience highlighting experience in scrum and project management—as well as the activities related to those skills. These include agile best practices, coaching, team management, leadership, and more. Copy and paste a bullet from your resume into ChatGPT and request that the tool:  
"Rewrite this short bullet using language related to scum management and measurable metrics from my resume: [copy and paste your resume]." 
To see this in action, check out the professional summary, skills and work history from a recent application for the W2-Scrum Master/Project Manager: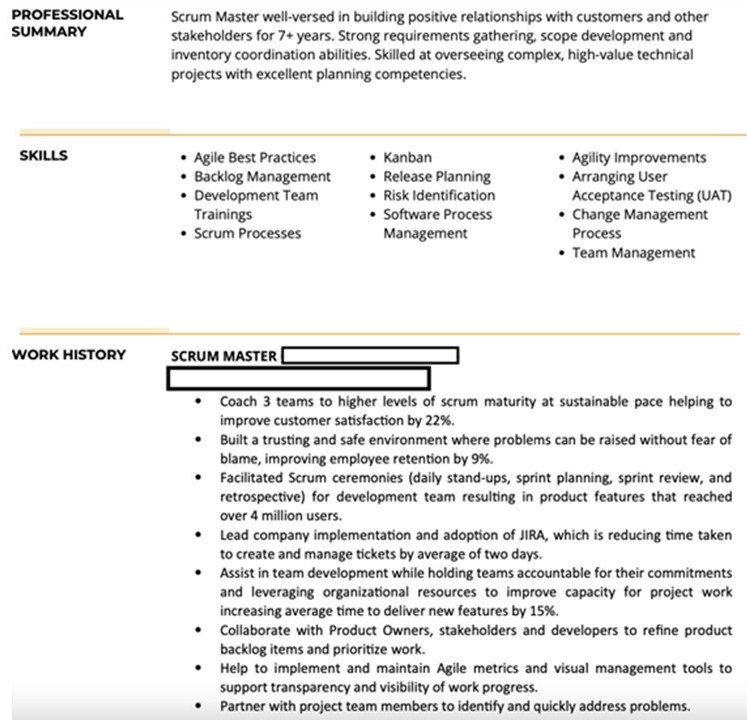 This applicant has included much of what is required in the job description, as well as quantifiable examples of work they have done in those areas. Including this type of work can be helpful in getting a draft of an updated resume in ChatGPT.  
Once you have a working draft response from the tool, you may need to provide additional prompts to get closer to a finished product. Refine your results by asking it to:  
"Analyze the job description for

W2-Scrum Master/Project Manager further

." 

 

"Personalize my resume with relevant keywords associated with

W2-Scrum Master/Project Manager."

 

"Match my experience in scrum and project management to the desired skills on the job description."

 
You can also request that ChatGPT suggests ways to address gaps in your history, create a cover letter, and more. 
Do's and Dont's for Using ChatGPT to Tailor Your Resume
Do

use ChatGPT as a tool for ideas and research.

 

Do

use ChatGPT to help fine-tune your wording.

 

Do

double and triple confirm skills, technology, and experience ChatGPT suggests are correct and accurately represent your own skills/technology/experience.

 

Don't

simply take what ChatGPT provides; it is not a cut-and-paste solution. Hiring managers can spot resumes that include the exact wording from job descriptions.

 

Don't

use ChatGPT to lie. It's just as unethical as if you did it yourself. It will waste time and resources, and damage your reputation.

 

Don't

use exact language from the job description in your resume or cover letter.

 

Don't

let ChatGPT tell you who you are or what you have done. 

 
ChatGPT and other AI tools can be great partners in creating and customizing a resume for a particular job posting. The output of the software will not be ready to be released into the world, for personal, professional, and ethical reasons. Your resume is your own. It will need input from you to ensure it's ready to send to a hiring manager.  
It is also important to note that ChatGPT's output varies from person to person as it learns over time. It is an evolving technology, so the process of tailoring your resume today may change as updates are released—which is just another reminder to stay vigilant in the editing process.  
If you are looking for more support finding a job or tailoring your resume, connect with a Judge recruiter who can help you build the right resume and help you find a position that matches your skills.  
The Judge Group offers thousands of available positions nationwide in IT, healthcare, engineering and more. Whether you're looking for a full-time permanent role, contract work, or fully remote work, Judge has you covered with our jobs database.