Python is one of the most popular coding languages in the world. Since the demand for talented developers continues to grow every year, there will be no shortage of opportunities anytime soon. This supply and demand imbalance means companies will continue to pay well for great Python developers! (click the image to see a larger version)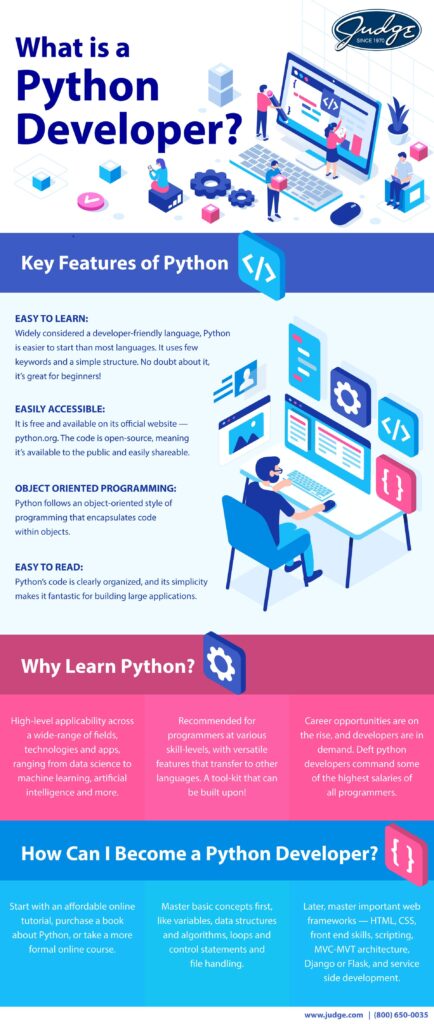 As noted in the infographic above, Python is also a fantastic language to begin coding with, in part because of its broad applicability, but also because of its relative simplicity and flexibility. There is not a best way to learn Python, but learners have used everything from college degrees, to self-study, enrollment in bootcamps, online tutorials and more.
A career as a Python developer can take many twists and turns. Roles include everything from data extraction to web development, artificial intelligence, machine learning research, cybersecurity and more. The direction you choose will depend on your skills, interests, and previous knowledge and education.
Aside from technical knowledge, a Python developer must possess excellent problem-solving and communications skills. Most developers work in teams, meaning projects must be continuously adjusted, key decisions must be made collaboratively, and changes must be clearly documented. Additionally, continued learning is a must, due to ever-changing developments, tools and features of the language.
Technical skills take time to develop, so don't let the straightforward beginning stages fool you – you will need to put in serious time and effort if you hope to become a fully equipped Python developer.
Good luck!