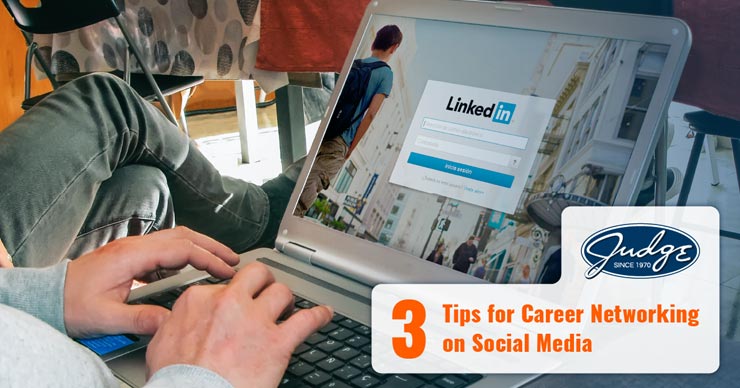 Share this post
3 Tips for Career Networking on Social Media
Did you know...
That since its inception, about 122 million professionals earned a job interview through LinkedIn, and 35.5 million were hired through someone they met on the site? Those are some pretty astounding numbers, but when you think about how ubiquitous social media is, it actually makes a good deal of sense!
In the past, almost all career networking was done in person. From conferences, to events, to company retreats, job fairs, and business lunches — if you wanted to build connections, you were making lots of eye contact and shaking plenty of hands. Today, in-person networking continues to be extremely important, but social media is perhaps the most efficient way to build and maintain professional connections.
Looking to get started? Look no further! Here are a few key actions you can take today.
Optimize Your Online Presence
First, make sure you present yourself professionally! On LinkedIn, ensure your profile picture and about section are up-to-date. Spend time completing most, if not all, of the sections. When users visit your profile, you'll want to demonstrate that you don't take shortcuts, especially when quality matters.
Second, start sharing quality content or announcements posted within pages and groups, or by your connections. If you found something valuable, go ahead and pass it along! Not only will this help your LinkedIn community get a sense for your professional interests, it will show you are taking the time to read and share what they post.
Protip # 2 - Be careful to not overdo it. While there is no such thing as the "optimal amount" of sharing, certainly avoid spamming your followers. Always use common sense, referencing successful LinkedIn users as models for ideal behavior. As a general rule of thumb, quality over quantity.
Third, consider posting original content. Blogs are a fantastic way to communicate new ideas to your audience. By showing your network that you are reading, writing, and thinking about current topics in your field, you will demonstrate aptitude and a desire to learn and grow.
Protip # 3 - Not enough time for something like a blog? An engaging, 2-3 sentence introduction to a post can be plenty powerful!
Use LinkedIn to connect with professionals you haven't met
Networking on social media means connecting with professionals who share interests and goals that align with yours. You might be looking for someone to inspire you, to educate you, or who you can trade a reciprocal benefit with. In the case of LinkedIn, don't hesitate to reach out to professionals you aren't personally acquainted with. When making your request, explain why you thought it might be mutually beneficial to connect. If the reason makes sense, many will be happy to oblige. If there is ever a time to be honest and transparent, it's now!
Participate in online groups
Most networking sites, from LinkedIn, to Facebook, to Twitter and others, maintain designated groups for connecting individuals with shared interests. If you haven't already, search and join some professional groups. After you've become a member, go ahead and start participating. Not yet ready to offer advice? Consider dropping an occasional "thanks for the tip!" comment, or occasionally like comments and posts. Take note of generally accepted communication styles, tone and the types of content shared. Eventually, you will feel more prepared to engage.
In closing...
Using social media to network is a powerful way to expand your professional community. Remember, professional networking is an ongoing process! Staying engaged with your network need not take more than 30 minutes a week, but it should become part of your routine. If you stick to it, it can change the course of your career path.
Just ask the 35.5 million hired through LinkedIn!
By: The Judge Group
Topics : Articles, Career Networking, Judge Tips, Social Media
Share this post
Join Our Winning Team
We are always looking to add talented professionals to our team. Advance your career with Judge.
Apply Now
Let's Continue the

Conversation.

Tell us how we can help you and we'll be in touch soon.