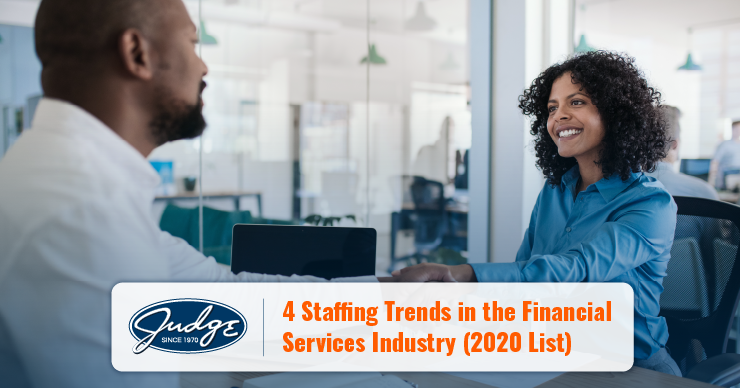 Share this post
4 Staffing Trends in the Financial Services Industry (2020 List)
The world of financial services is going through a wave of digital disturbance.
Across the sector, financial organizations are working hard to update their systems, implement necessary changes, and improve their customer service experience. But what does this mean for staffing and talent management?
In short, financial services talent needs are changing too. Today, candidates limited to traditional skill sets are at a disadvantage. More effort is being dedicated to finding and retaining the right people — candidates with a healthy mix of traditional skills and technological expertise, who are open to continuous change, retraining, and upskilling. The catch is that finding those candidates is difficult!
Here are the top four staffing trends (and challenges) in the financial services industry today:
Digital Transformation
With over 75% of Americans using mobile banking apps, financial firms have changed the way they provide services using artificial intelligence (AI), machine learning (ML), mobile technology, and big data. Since traditional roles are changing and administrative tasks are increasingly accomplished by automation, financial service recruiters are transforming the way they fill these new roles as well. The demand for multi-talented candidates who have both analytical skills and a natural knack for business is higher than ever. New technical and data engineering positions will also pop up to support the digital transformation.
Cybersecurity Talent Gap
When working with sensitive information and personal data, security is the number one priority. And as the financial services industry continues to move online, cyberattacks are becoming an even larger threat. This has created an unprecedented need for cybersecurity professionals — a challenge not only for financial recruiters, but recruiters across all modern industries. There are over 3.5 million unfilled cybersecurity positions today, and companies must offer competitive pay and benefits to appeal to applicants.
Retaining Millennial and Gen Z Talent
The new kids on the block are here, and they are ready to work. But what needs to change for these talented greenhorns to stay for the long haul? Companies may need to implement tailored retention strategies that appeal to the youngest generation. Invest more time in developmental opportunities, foster an attractive company culture, and create possibilities for career advancement. While these strategies take time to implement, it takes even more time (and money) to manage an ever-revolving door of talent.
Working Around the Customer Centric Model
Knowing what the customer truly wants is like finding a diamond in the rough. Today, more and more companies use AI, ML, and data analytics to predict customer behavior and create personalized experiences. As far as staffing needs are concerned, this means data analysts and software developers are in high demand. In addition, excellent communication and problem-solving skills are desirable traits for any service reliant on positive customer experience. Though the youngest generation is confident in their technical skills, their relative lack of soft skills is a trend worth learning more about.
Conclusion: 4 Staffing Trends in the Financial Services Industry
As talent needs change, recruiting in the financial services industry will transform along with it. The ideal worker will need to be comfortable and innovative — adapting to a flux of digital transformation, increased regulations, and security issues. Attracting and hiring the right candidates requires innovative solutions such as automated scheduling, on-demand and live interview platforms, and high-tech hiring experiences.
Understand these new recruiting trends, and you'll maximize your chances for finding the right candidates!
Topics : Articles, Financial Services, Financial Staffing, Staffing
Share this post
Join Our Winning Team
We are always looking to add talented professionals to our team. Advance your career with Judge.
Apply Now
Let's Continue the

Conversation.

Tell us how we can help you and we'll be in touch soon.