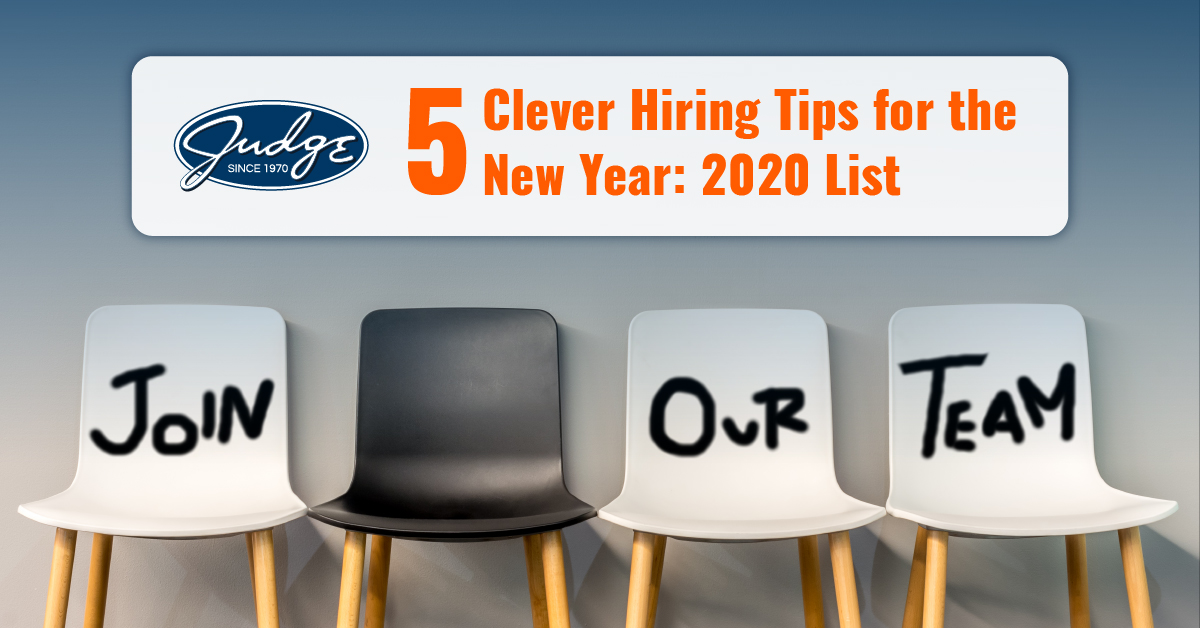 Share this post
5 Clever Hiring Tips for the New Year: 2020 List
When you really get down to it, what separates a good hiring manager from a great hiring manager?
Good managers keep up to date with the latest and greatest best practices for hiring talented and motivated employees. They keep the pedal to the medal and enjoy matching individuals' strengths to organizational needs. CEOs are happy to have professionals like these on staff. Afterall, who doesn't like consistent, hardworking team members? Is there really anything more a company executive could ask for?
As it turns out, yes!
Great hiring managers do all the things described above. But they do something else too. They get creative. With that in mind, here are a few slightly less traditional approaches some of us at The Judge Group have leveraged in the past. Consider integrating one or two of them when you begin hiring for the new year!
Crowdsource team members
No matter how skilled a manager you are, you won't be the only one working with this candidate. With that in mind, consider setting up a pre-interview brainstorming session with your team. Encourage your colleagues to think of questions that are closely tied to their own work goals. This will help you develop a more accurate landscape of the qualities and skills you're looking for. You can mix some of these into the more traditional questions your candidate will answer.
Look beyond the resume
Naturally, you'll look at the resume first—including qualifications, experience and potential red flags. But once you've established your top 5 applicants, don't be afraid to put your investigator hat on. Check out your applicant's LinkedIn, social media, and overall online presence. Establish that their resume is more or less consistent with their public persona before you schedule an interview.
Pro Tip: Avoid assuming what you cannot establish! Unless you're Sherlock Holmes, you should only be looking for obvious warning signs here.

Factor in your colleagues' strengths and weaknesses
This one is often forgotten. A system functions smoothly when its individual parts are interdependent and complementary. So take the time to clearly list your team's current strengths and weaknesses. What gaps can a new employee help fill in? Establishing this early will allow you to adapt the job description appropriately—the importance of which cannot be under-emphasized.
Treat your candidates to a meal!
If your budget will allow it, the interview day meal can be a fantastic opportunity to get a feel for a candidate's personality. Maybe the position calls for an assertive, yet centered personality. Maybe it necessitates someone high in emotional intelligence. Whatever the case, paying attention to how someone interacts with strangers in public can help you get a sense for who they really are.
Design a formula for the position - and stick to it!
Once you've identified your needs, it's time to purify your process. Be consistent with your questions and paint the same scenarios in each interview. Creating a level playing field for applicants will help you compare and contrast what they bring to the table. There is no reason to assume this will make your interviews boring - especially since you've adapted your formula to meet your team needs.
In closing…
Don't let that post-holiday hiring anxiety get you down! Hiring for the new year can be challenging, but demonstrating creativity will make things more exciting, and most importantly, more productive!
By: The Judge Group
Share this post
Join Our Winning Team
We are always looking to add talented professionals to our team. Advance your career with Judge.
Apply Now
Let's Continue the

Conversation.

Tell us how we can help you and we'll be in touch soon.