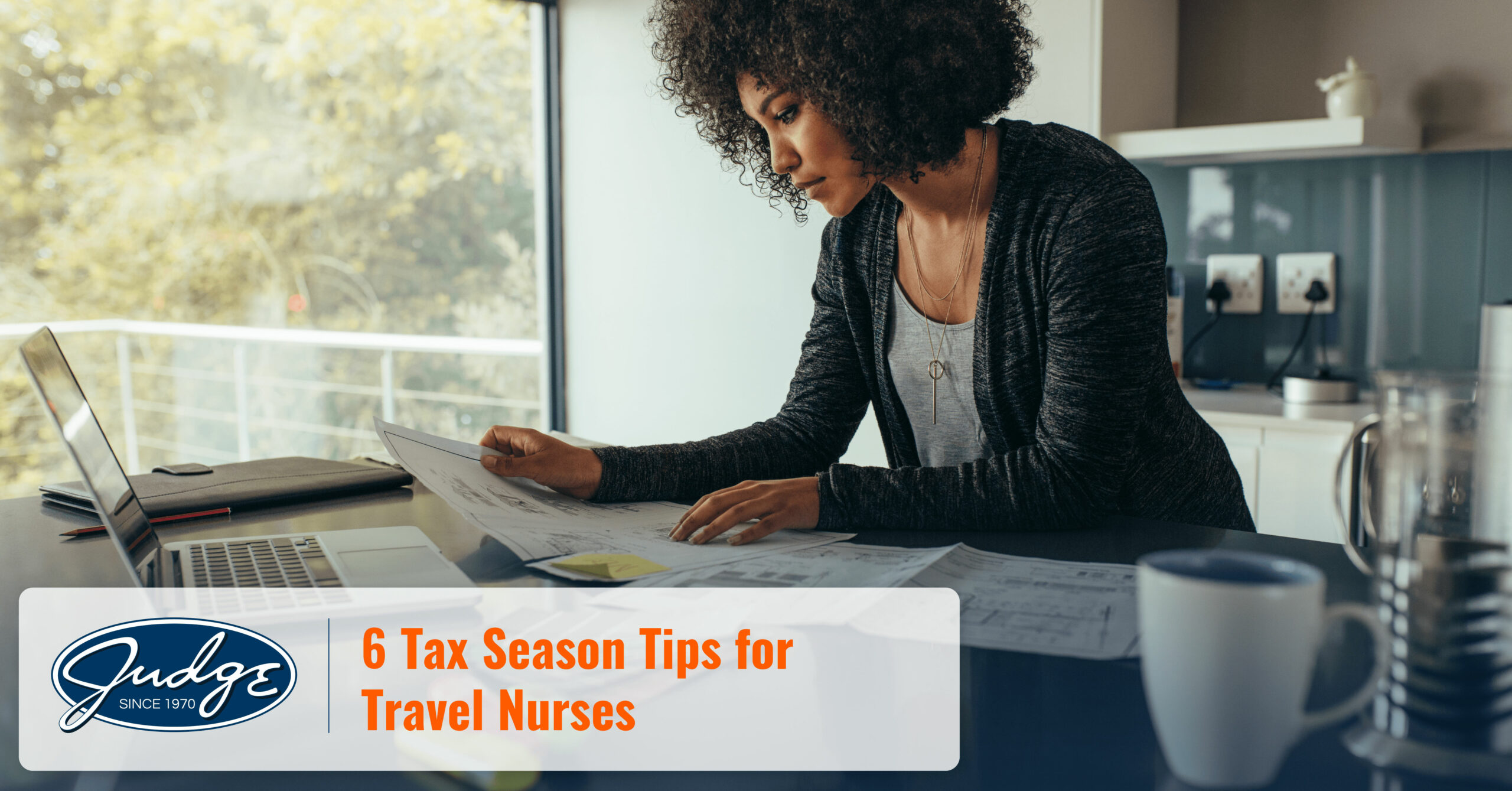 Share this post
6 Tax Season Tips for Travel Nurses
Attention all travel nurses - the date to file your taxes is April 18th!
If you've been a travel nurse for a while, you've probably had to deal with travel nursing tax issues in the past. You're also very likely aware that travel nurse tax rules can be especially tricky. Understanding how travel nurses are taxed is complex and requires a good deal of tax law knowledge. For starters, traveling nurses often must file their taxes in multiple states, which can be daunting and frustrating, especially when you have multiple residences.
To help make this tax season less frustrating, we have gathered six tips for the 2022 tax season. Read on to find out how to make your tax filings simpler and understand topics like travel nurse tax homes.
1. File on time!
Though a very simple tip, it still needs stating. Taxes are due on April 18th this year – make sure you file on time. To beat the deadline, gather all necessary assets, like W-2s, receipts, contracts, and any other sources of income and tax documentation. As soon as you compile all your documents for the year, you can either complete the taxes yourself or have a professional prepare your documents.
While taxes are never fun, especially travel nursing taxes, filing late will cost additional money in fees and penalties. So, it's better to just get them done as soon as possible. Consider filing well before the due date in the future so you can receive your refund early and leave plenty of time to provide additional information if necessary. Also, you can minimize the risk of random audits by the IRS.
2. Track expenses
To ensure the most accurate tax filing possible, it is essential to track your daily expenses, even during travel and long shifts, as well as your mileage. If you find yourself struggling with this task, consider using a mobile app to help you keep track of your spending. By tracking diligently and consistently, you will be able to calculate your travel nurse taxes and deductions with greater accuracy.
Another key portion of this is ensuring you know what your per-diem is in each of your contracts – if you have one. If properly outlined and accounted for, per-diems are paid on a tax-free basis. However, there are specific points that you need to meet to count per-diems as tax-free. Make sure you speak to your tax professional and meet the qualifications before you accept per-diems in any new contracts.
3. Keep your documents together
Remember to save all your receipts and contracts! This tip is essential for receipts from dining, fuel, utilities, uniforms, and any other expenses related to your travel nursing duties. Again, you can use mobile apps to scan receipts, track, and store them to make things easier. You can also organize and keep all receipts related to travel nursing in a specific folder on your phone for easy access.
Keeping your contracts is also important because they will outline the stipulations of each employment. Be sure to read them as well, so you know the tax implications of the contract.
4. Don't change your address mid-travel!
Always use your permanent residence for tax purposes if your permanent residence hasn't changed. This applies even if your travel nursing assignments lead you to work in multiple states or if you live in a temporary residence in a different state longer than you resided in your permanent residence for the year. Temporary residences are just that, temporary. Using your permanent residence eliminates confusion.
5. Filing with a tax home
While a tax professional can provide much more in-depth information about this, establishing a tax home is important for travel nurse taxes. The IRS defines a tax home as "the entire city or general area where your main place of business or work is located, regardless of where you maintain your family home."
You can qualify for a tax home in two primary ways:
You can prove you have a tax home if your primary area of residence is also your main area of income.
You visit your primary residence at least once every 12 months and can prove that you are paying for expenses to maintain your primary home.
Because nurses typically travel out of state, option two is likely most relevant for you. If you cannot establish a tax home, you may be taxed on stipend payments or other parts of your compensation package. Again, speak to a tax professional and review your contracts closely to fully understand what they entail.
6. Consider getting help from a professional   
Travel nurse tax rules can be tricky. Hiring a tax advisor or professional — especially one with expertise in travel nursing taxes — can make the process easier. Though tax software can be used, if you are filing in multiple states, there are overrides and state-specific tax laws of which you may not be aware.
By hiring a competent tax professional, you can be assured no accidental errors will be made. Tax professionals can also gather additional information from previous contracts, payroll, or other agencies if you need it. Look for a tax expert that specializes in travel nursing tax rules to ensure a smooth tax filing season. A professional can also help in case you are audited.
Conclusion: 6 'Tax Season' Tips for Travel Nurses
It pays to have a financial strategy planned prior to the tax filing date. Hire a tax professional if you do not have a financial strategy, or if you are unsure how to review your strategy or tax liability. This is important, because every travel nurse schedule is unique, and different factors can be relevant depending on your situation. Besides doing your research, don't forget to talk to your colleagues and read your contracts!
Topics : Healthcare, Healthcare Professionals, Healthcare Staffing, Nursing, Tax Advice, Travel Nursing
Share this post
Join Our Winning Team
We are always looking to add talented professionals to our team. Advance your career with Judge.
Apply Now
Let's Continue the

Conversation.

Tell us how we can help you and we'll be in touch soon.