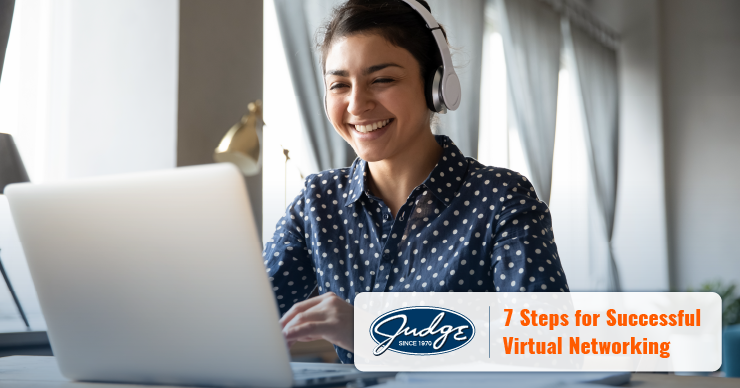 Share this post
7 Steps for Successful Virtual Networking
"Networking is marketing. Marketing yourself, your uniqueness, what you stand for." -- Christine Comaford-Lynch
In 2021, virtual networking will be more important than it's ever been. It will be important for business, career growth, and for our "personal brands."
Under normal conditions, in-person networking events are a fantastic way to meet professionals and grow your connections. But the pandemic threw quite a curveball at our 2021 networking plans, causing many events to move online.
Still trying to adjust to the digital dynamic? You're not alone! Here's a list of action items that will help you better navigate virtual networking events in the future — allowing you to get more out of them.
Learn the Software
What's the point of virtual networking if you're spending half the time troubleshooting software problems? To get ahead of potential issues, try to poke around on the platform a few days in advance. If you can, log in, test your audio, check out the features, and anticipate any issues with time to spare. This will help you make the most of the event.
Prepare
Just because the networking takes place online doesn't mean you shouldn't prepare! Look at the list of attendees and take notes about who you'd like to talk to. Plan your introduction, questions, note-taking methods , and even your lunch and snacks! With these preparations out of the way, it will be much easier to focus on the virtual networking itself.
Establish Your Goals
What are you actually trying to achieve? Is your goal to learn about new trends? Obtain quality leads? Meet five new people? Exchange emails with seven professionals from your field? Whatever you're hoping to get from the experience, write your goals down and keep them in mind throughout the event. You won't be running into new connections while waiting in line for coffee or the bathroom, so it's important to take proactive action.
Participate in Open Discussions
Sometimes even seemingly insignificant questions or comments can evolve into meaningful conversations. To the extent it's possible, make sure you are visible and active during open discussions. This, of course, does not mean you should try to dominate the conversation. Instead, you should demonstrate interest in other's ideas and share helpful, engaging remarks.
Join Informal Virtual Hangouts
Online conferences often have virtual coffee breaks, happy hours, or meeting rooms that you can sign up for ahead of time. Take your professional hat off and have some fun while you continue to network! If you find that these casual hangouts aren't available at your event, it might be an opportunity to propose and organize one yourself — pending approval from the virtual event organizers.
Share On Social Media
Before the conference starts let your social network know about your plans to attend. Use a hashtag to reach more people, including other participants. This is an opportunity to start networking early, perhaps even inspiring some of your connections to sign up as well. After the event, write a post about your experiences and give a shout out to the speakers who most impressed you.
Follow Up With New Connections
Don't wait too long to solidify those contacts! Send emails reintroducing yourself and mentioning your interaction during the conference. Or add them on LinkedIn (along with a personal message) in an effort to continue the conversation. Share your experience at the event in groups and using hashtags.
Judge Pro Tip: The post-event period is arguably just as important as the event itself. It's a great opportunity to turn those casual connections into something bigger!
Conclusion: 7 Steps for Successful Virtual Networking
Although virtual networking events do eliminate face-to-face interactions, you can still achieve your networking goals with the right planning. Maintain enthusiasm and utilize our tips to help you network effectively. May you make many meaningful connections in 2021 — whether virtual or non-virtual!
Topics : Articles, Career Networking, Networking Events, Virtual Networking
Share this post
Join Our Winning Team
We are always looking to add talented professionals to our team. Advance your career with Judge.
Apply Now
Let's Continue the

Conversation.

Tell us how we can help you and we'll be in touch soon.