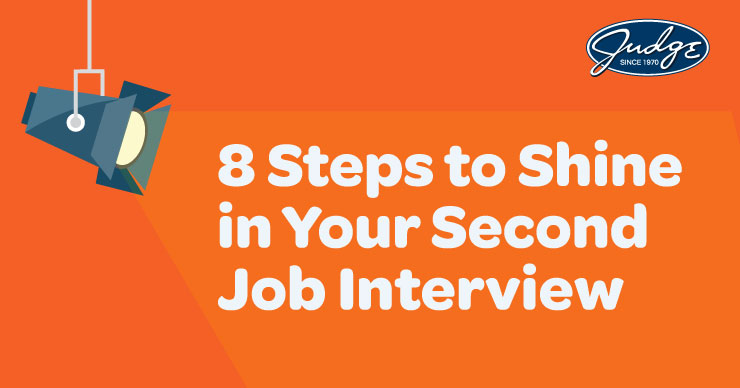 Share this post
8 Steps to Shine in Your Second Job Interview (Infographic)
Congratulations, being invited for a second interview means you're very much in the running for the job!
While it certainly doesn't mean you're a shoe-in, very few candidates are invited for this opportunity. Importantly, preparing for a second job interview i s a bit different from the first. In this week's infographic, let's talk about how to prepare yourself for the second job interview.
(Click on the image below to view a larger version)
Preparing for a second job interview provides unique challenges and opportunities. Always be professional, and try to be yourself! A second interview indicates that the company has some interest in you. Take the opportunity seriously and make sure you prepare properly. Research the company thoroughly and research their decision makers, social media, newspapers, recent company initiatives, and anything else you can find. To understand what the company values, recent blogs, videos, and social media content are good resources. Knowing more about the company (and your interviewers) will help you evaluate whether this is the right fit for you.
Listen carefully and don't hesitate to ask questions. Interviewers are expecting questions from you, as well as professionalism and excitement about the opportunity. Use these 8 steps to help you crush the second interview!
Topics : Infographic, Interview Tips, Job Interview, Job Interview Preparation, Job Search
Share this post
Join Our Winning Team
We are always looking to add talented professionals to our team. Advance your career with Judge.
Apply Now
Let's Continue the

Conversation.

Tell us how we can help you and we'll be in touch soon.