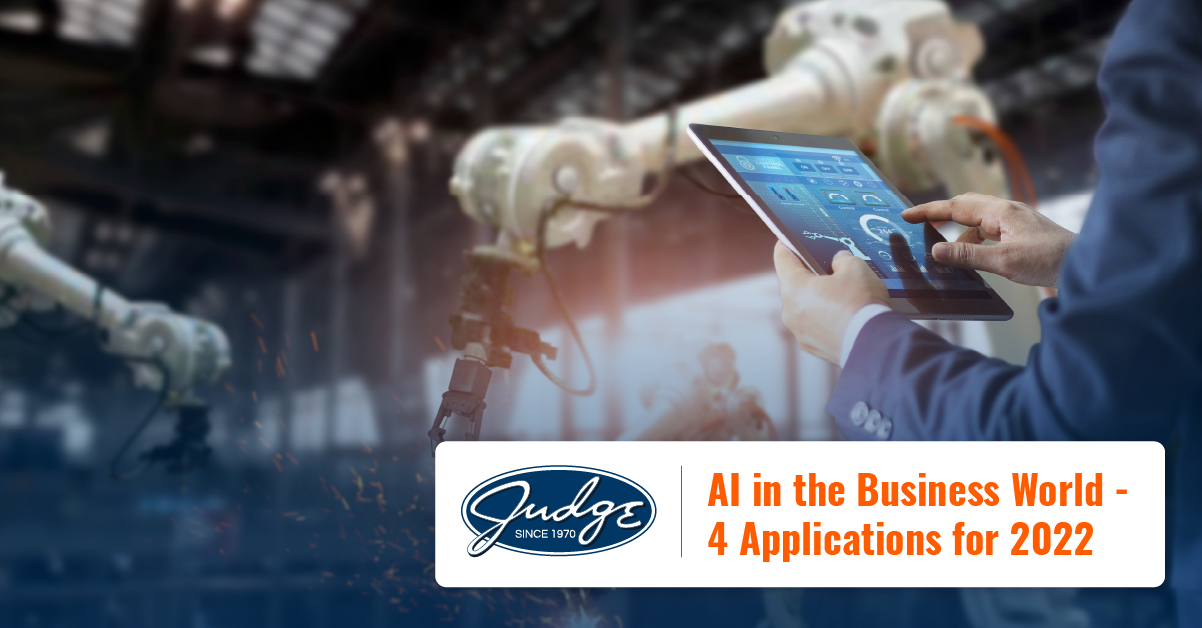 Share this post
AI in the Business World – 4 Applications for 2022
Here's a not so controversial statement:
Computers have become critical to our lives and work environments.
As of 2021, computers certainly can't replace human labor — but boy oh boy, they sure can maximize efficiency and productivity. And among all the advancements of the 21st century, perhaps none hold as much potential for business as the computational world's latest brainchild does — Artificial Intelligence (AI).
Artificial Intelligence and business go hand-in-hand. AI is now routinely used in a variety of fields for all different applications. These range from automating business processes, to analyzing data, and engaging with customers and employees.
In today's blog, let's cover 4 most practical applications of artificial intelligence in business as we move towards 2022.
Hiring and Recruitment
Finding the right employee for your team has always been a challenge in the staffing and recruiting industry. Thankfully, AI is a powerful tool for screening large applicant databases to identify qualified applicants, using keywords. This kind of processing minimizes hiring time and cost to hire, while improving the overall quality of candidates.
Additionally, with the help of "passive" candidate searching, AI provides more immediate access to qualified candidates. By assisting with routine screening, hiring managers are able to spend more quality time with candidates, improving the overall interview and hiring process.
Customer Analysis
Companies must balance maintaining current customer satisfaction with continuously growing their client base. AI is not only capable of performing routine customer tracking methods — but also at interpreting human emotional responses. AI algorithms can capture specialized vocabulary used by customers — assessing their words with traditional rating scales to obtain deeper insights about them. These insights can shape short-term and long-term actions to retain customers. Ultimately, AI provides more accurate data about customers while reducing costs.
Cybersecurity
AI, with the help of machine learning, can be used in automated threat detection to identify cyber crime. Cyberattacks are growing at alarming rates — evolving at a pace traditional software simply can't keep up with. With the help of AI, programmers are better able to spot malicious activities, battle bots, and breach risk prediction.
Virtual Assistants
By now, you've most likely interacted with all different types of virtual assistants. Banks, government organizations, airplane companies, and credit card service providers are just a few common examples. Virtual assistants allow businesses to offer customers 24/7 assistance, by answering common inquiries. Chatbots pre-programmed systems follow specific patterns when answering questions. AI-based virtual assistants, however, use previous data to process multiple tasks and answer more complex questions. This makes the customer service process more personal and improves overall customer satisfaction.
AI in the Business World - 4 Applications for 2022
AI's applications in business are constantly growing. Besides providing assistance to businesses, AI also creates new business opportunities. For more topics on business technology, click here.
Topics : AI, Articles, Artificial Intelligence, Business Practices, Cybersecurity, Hiring, Recruiting, Technology
Share this post
Join Our Winning Team
We are always looking to add talented professionals to our team. Advance your career with Judge.
Apply Now
Let's Continue the

Conversation.

Tell us how we can help you and we'll be in touch soon.