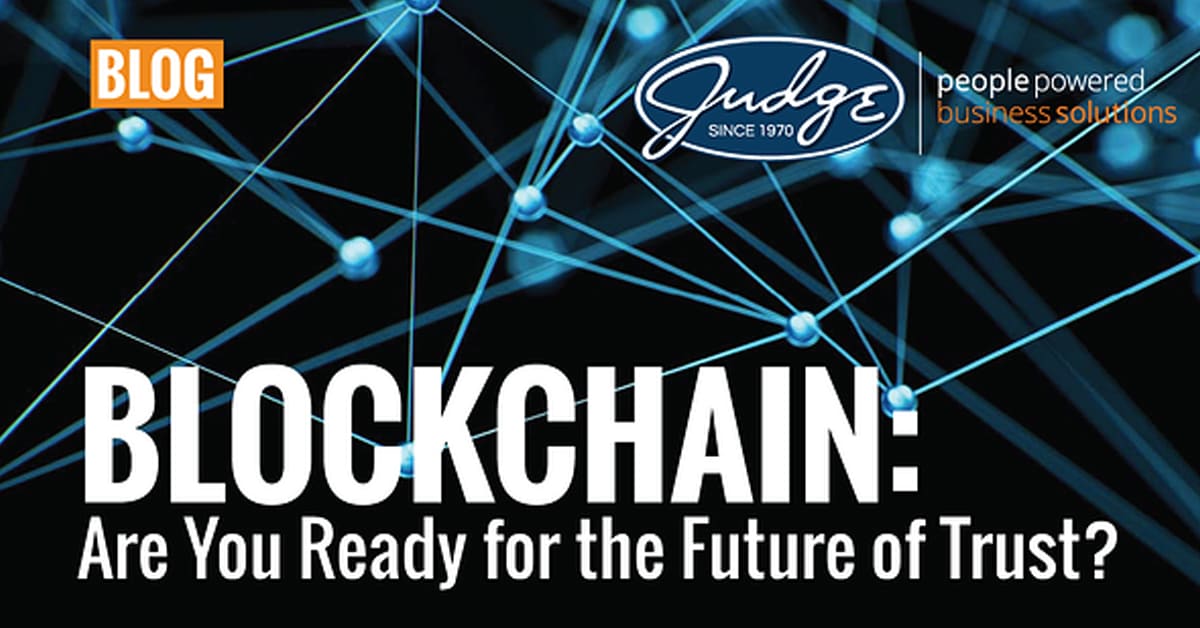 Share this post
Blockchain: Are You Ready for the Future of Trust?
Blockchain today reminds me of Java back in 1997.
Back then, Microsoft dominated application development. Then Java roared onto the scene, providing companies with more flexibility and power. All the major consultancies coveted Java developers, but there weren't enough to fill the demand. I remember spending countless hours well into the night as a technical recruiter in the late '90s looking for the needle in a haystack that was a Java developer. And when a good candidate was found, companies paid them upwards of $170 per hour (equivalent to $259 in 2018). This is exactly what's happening in the world of blockchain talent today.
At its core, blockchain is a distributed ledger where all transactions are simultaneously recorded, stored, and secured, making the data accurate, incorruptible, and transparent. This level of trust in transactions has analysts projecting the blockchain market to be worth up to $20 billion by 2024.
Major corporations have taken notice. CBW Bank has partnered with blockchain startup Ripple to use cryptocurrency for real-time cross-border payments; while Walmart is experimenting with using blockchain to track produce to help determine the root cause of foodbourne illness in seconds instead of weeks. Even governments are getting in the game with Delaware passing a law in August 2017 allowing incorporated companies to keep their shareholder list and other corporate records on a blockchain.
Investment in blockchain has increased the demand for blockchain professionals. Blockchain-related job ads on LinkedIn have more than tripled in the past year and Burning Glass Technologies, a job data analytics firm, found a 115% increase in job postings. However, there is currently a lack of blockchain developers available1. There are roughly 10,000 professionals on LinkedIn who list 'blockchain' as a skill2. But this number includes CIOs, CFOs, journalists, and academics, leaving significantly less than 10,000 actual blockchain developers to fill an increasing number of vacant jobs. This scarcity has driven up the cost, with top earners making up to $650,000 annually!
Paying $650,000 per developer isn't scalable. So what can you do? Luckily, blockchain development has a lot in common with several mainstream development languages. If you have Java, Python, Go, or C++ developers on-staff you can leverage their knowledge and transition them into blockchain. Encourage them to seek out certifications, such as Certified Blockchain Professional (CBCP) or Certified Senior Blockchain Professional (CSBCP) to learn the additional skills they need, such as Ethereum, Hyperledger, and Smart Contracts, to start developing blockchain technology for your company.
Another great option is utilizing blockchain bootcamps. These immersive sessions can train talent in the skills they need to become a blockchain professional. Other bootcamps focus on explaining blockchain to the C-suite and helping them understand the impact on their business. Developing the right skills is critical to being at the forefront of this cross-industry global revolution.
Back in the late '90s, Java developers were in high demand but low in supply. Similarly, the demand for blockchain developers today is growing, but talent is scarce. I believe the demand for blockchain professionals is primed to explode in an exponentially larger way than Java. That's how important blockchain's 100% trusted transactions will be in the near future. Start preparing for this future now or risk getting left behind.
To learn more about The Judge Group's work in the blockchain space and the opportunities around blockchain, please fill out the form at the bottom of the page.
1Francis, David & Nurthern, Francis."The Impact of Blockchain in Talent Acquisition." Staffing Industry Analysts, 13 December 2017.
2 Lielacher, Alex. "Job Hunting? Blockchain-Related Postings on LinkedIn Have Tripled." Bitcoin Magazine, 9 June 2017, bitcoinmagazine.com/articles/job-hunting-blockchain-related-postings-linkedin-have-tripled/.

By: Brian Anderson, President of The Judge Group
Topics : Articles, Blockchain, Technology, Technology Solutions
Share this post
Join Our Winning Team
We are always looking to add talented professionals to our team. Advance your career with Judge.
Apply Now
Let's Continue the

Conversation.

Tell us how we can help you and we'll be in touch soon.