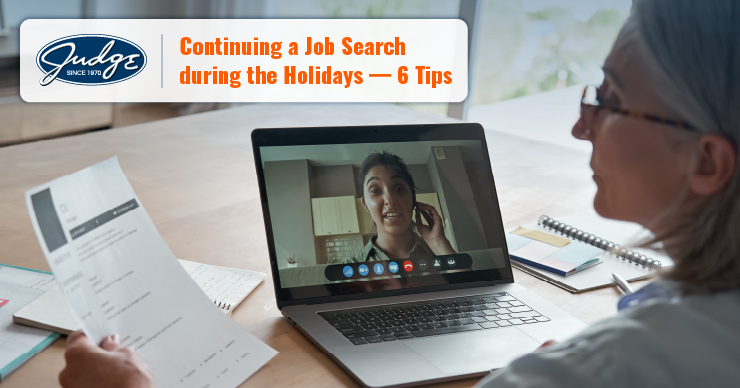 Share this post
Continuing a Job Search during the Holidays — 6 Tips
In the market for a new job? Don't wait until the holidays are over to start looking. Here are a few reasons why:
Reason #1: Hiring doesn't stop during the holiday season
Reason #2: Fewer people engage in job searching during the holidays, since they are busy with family and travel plans. For you, that means less competition.
Reason #3: As companies work to recover from the impacts of COVID-19, some are working to fill open positions now, hoping to begin the new year strong.
Given the conditions, you may be able to score an interview more easily than you think! Believe or not, many companies are hiring. So rather than taking a break from your job search this holiday season, use these tips to optimize your efforts and keep your job hunt moving forward, while still enjoying time with your loved ones.
Take Advantage of the Downtime
If your current job slows down or pauses during the holidays, use the opportunity to prepare and search for your next role. Use expiring vacation time to update your resume, reestablish connections, and let your professional circle know you're looking for something new.
Use Personal and Professional Events for Networking
Tis' the season for parties, gatherings, and networking. Granted, these may look a little different in the age of COVID-19. So If you're still finding creative ways to network (like via LinkedIn or online seminars), don't be afraid to mention your recent job search plans as a casual conversation starter. Even if it doesn't directly land you a job, it's still a great chance to work on your pitch and get comfortable talking about your goals. Besides, you never know who you might meet if you keep your eyes open.
Send Holiday Cards
This is a great way to stay "top of mind" with your connections. Send your recruiters, references, and other professional acquaintances a nice card (or email) with well wishes — keeping in mind the diversity of cultures and backgrounds of the individuals you may be connecting with. This can be a great way to start a fresh conversation and build rapport for the long term.
Seasonal Job Opportunities
Don't underestimate the value of a temp job! Companies often keep a portion of their seasonal temps full-time, so some extra holiday income could end up being your foot in the door to a longer-term position. While you're there, learn more about the company, your colleagues, and the job itself — making connections and asking questions. Even if this company isn't your future, in subsequent job interviews you'll be able to show that your motivation and attitude never waned.
Improve Your Social Media Presence
The end of the year is always a great time to update your professional social media presence and demonstrate your interest to potential recruiters and employers. Unsure where to start? Take a look at the profiles of some influential people you admire in your field. Add any new skills, certificates, or career objectives you've achieved in the past year. Delete irrelevant items and make sure what remains is cohesive and polished. Join groups you're interested in and follow any hashtags or influential people on LinkedIn.
Keep Track of Everything
Stay organized! It's completely normal to apply to many positions before scoring a job offer. Realistically, that means lots of emails and phone calls to recruiters. To manage everything, use a system that works for you. We suggest creating a spreadsheet to track dates, means of communications, and reminders.
Conclusion: Continuing a Job Search during the Holidays
Regardless of what you celebrate, the holiday seasons offer a well-deserved break and time to spend with loved ones. But that doesn't mean you've got to let your job hunting come to a complete standstill during the holidays. It's still possible to achieve a balance between search and relaxation! We hope these tips inspire you to continue pushing forward, in a healthy, balanced way.
Good luck and happy holidays!
Topics : Articles, Job Hunting, Job Search
Share this post
Join Our Winning Team
We are always looking to add talented professionals to our team. Advance your career with Judge.
Apply Now
Let's Continue the

Conversation.

Tell us how we can help you and we'll be in touch soon.