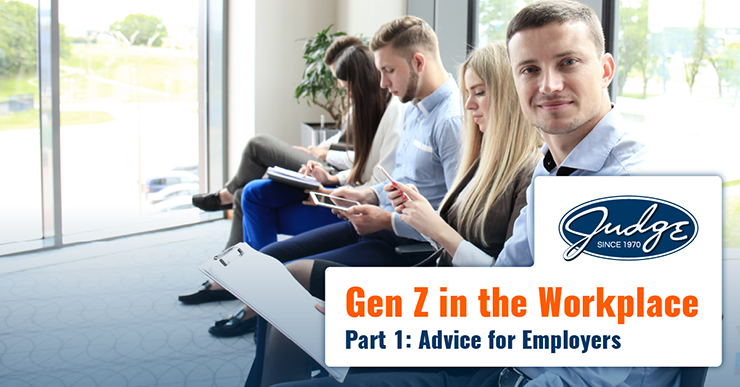 Share this post
Gen Z in the Workplace – Part 1: Advice for Employers
"But a new generation is on the rise and the first step to communicating with them is understanding they aren't just another Millennial." ― Pamela La Gioia
We only grow up once. And as unique as we are — with our genes, differential environments, and distinct personal experiences — there is one influence that unites us into much broader categories.
We're talking about generations!
The majority of today's modern workforce is made up of 4 generations. They are: Gen Z (born roughly between 1995 - 2015), Millennials (between 1980 - 1994), Gen X (between 1965 - 1980) and Baby Boomers (between 1944 - 1964). When it comes to building companies and teams, understanding the characteristics of each of these age groups is critical. Among them, Gen Z is the least well understood. This shouldn't be surprising, as the oldest Gen-Z'ers are only approaching their mid-twenties. But since they are also the future of the modern workforce, it is extremely important that business leaders understand Gen Z characteristics, as well as their pressures and motivations.
In this three-part series, "Gen Z in the Workplace" we explore what the youngest generation is looking for in their careers. First up, we ask the following question: what should employers focus on in their quest to attract and retain Gen Z talent?
Here's what we recommend:
Advertise Job Security
Early data suggests that Gen Z is notably risk averse. We can't blame them! At the top of their list are concerns about leaving college with significantly more debt than their parents and grandparents did, followed by anxiety around healthcare costs and access. For reasons like these, Gen Z is likely to view their first job as a stepping stone, rather than a dream opportunity. They are also more likely to switch jobs than any previous generation, with the goal of achieving the stability they seek.
Offer Learning and Development Opportunities
Providing opportunities for education, career advancement and autonomy are all great ways to attract the Gen Z workforce. By offering continuous education, companies can earn a leg up on the job market competition. Research suggests that Gen Z wants to know that employers are willing to invest in their success. By providing ample opportunities for professional development and career advancement, companies can pique the interest of recent college grads, creating fertile grounds for retention.
Communicate Authenticity and Open-Mindedness
Gen Z is the most racially, ethnically, and politically diverse generation today, and is known for their deep beliefs in diversity and inclusion. While this doesn't imply companies should take a stance on any particular social or political issues, communicating expectations around meritocracy, respect, and authenticity are all very good ideas when it comes to appealing to Gen Z characteristics.
Highlight Work/Life Balance
Finding a balance between one's work and personal life helps employees stay healthy, happy, and ultimately, more productive. Gen Z is career driven, but the work-life balance makes the list for all generations. Companies that prioritize this will help Gen Z better manage their stress, increase productivity, and minimize the costs of hiring.
Promote the Use of Technology
Like no generation before it, Gen Z grew up using advanced technology. Because comfort (and reliance) on technology is generally so high, it takes center stage in the Gen Z job search. For this reason, companies should seek to integrate the kinds of technologies that help Gen Z transition into new roles and communicate more efficiently.
Conclusion: Gen Z in the Workplace: Advise for Employers
Ultimately, attracting Gen Z is all about advertising (and genuinely fostering) workplace environments that align with their worldviews. It might not be easy, but there are plenty of small steps companies can start taking today.
Gen Z In the Workplace Mini-Series
Next up — Part II of this mini-series explores what Gen Z wants out of their actual jobs, and Part III asks what Gen Z seeks in a manager/supervisor.
Topics : Articles, Hiring, Recruiting
Share this post
Join Our Winning Team
We are always looking to add talented professionals to our team. Advance your career with Judge.
Apply Now
Let's Continue the

Conversation.

Tell us how we can help you and we'll be in touch soon.