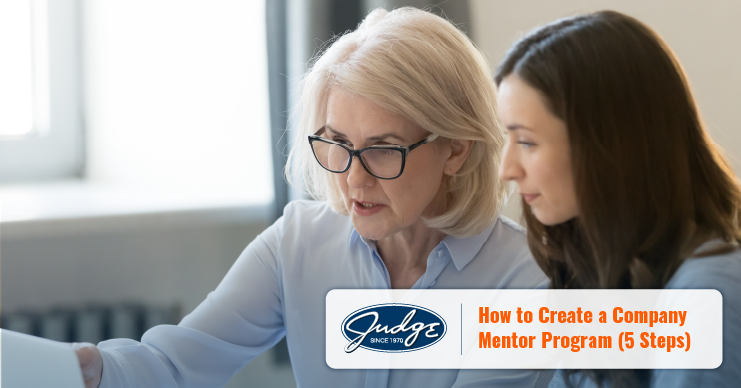 Share this post
How to Create a Company Mentor Program (5 Steps)
If you're lucky, at some point in your career, somebody took time out of their busy schedule to mentor you. Perhaps they were a personal contact. Or maybe they were a work colleague.
Mentors act in many types of supportive roles. Sometimes those roles are informal — like helping new employees clarify uncertain situations. Other times they are formal — like teaching mentees about companies policies, internal processes, or how to handle clients. In both cases, great mentor guidance can change the course of one's career path.
Because mentorship is such a valuable commodity in the workplace, some companies create formalized company mentor programs. An employee mentor program is a great way to create bridges between levels of experience and generational gaps, by connecting veteran employees (mentors) with newer, less-experienced employees (mentees). Mentors can assist with skill development, provide leadership examples, or share advice and personal experience to help guide their mentees towards successful career paths. In addition to producing more competent employees, professional mentor programs also create a cohesive work environment, with a more positive and inclusive undertone.
Here are 5 steps to consider when developing a company mentor program:
1. Understand your Goal
Are you trying to improve performance?
Is your aim to improve skill retention?
Would you like this program to appeal to specific individuals or departments?
Are you hoping to build stronger multigenerational work relationships?
Once you've identified the overall purpose of the program, make your objectives clear by creating measurable, attainable goals. This way your participants can actively work towards goals in order to see their progress.
2. Create an outline
When putting an outline together think about elements like:
How long will the program last?
What employees would benefit from it the most?
Who are your potential mentors?
How will you track progress?
Do you plan to use a group, one-on-one, or hybrid setting?
Putting an outline together can provide some extra clarity and direction. Learn from the process by implementing a survey at the end of the program to discover what worked well, and what could be improved.
3. Encourage participation
After setting your goals and creating an outline, it's time to recruit participants. Your outline and goals will help you choose mentors. Those with more experience and strong leadership skills are usually the best candidates.
Let potential mentors know about this great leadership opportunity! Send an email, post the news around the office, or share in your virtual channels (e.g. Slack or Teams). Speak directly to employees who you believe might make a great mentor — explaining how the program can benefit them, the team, and the company as a whole. Identify potential mentees and ask about their career vision and goals.
4. Provide guidance to mentors
Mentors should have a clear understanding of the project goals and expectations. Provide them with some form of written summary or outline, designed to help them conceptualize the program. Include items such as meeting frequency, important skills to work on, shadowing expectations, and other important details. Each mentor will develop their own style, but clear guidelines will help them meet goals. Ask your mentors for feedback on what tools they might need to be successful.
5. Execute
Match mentors and mentees who would benefit from working together. Don't be afraid to mix between different departments and roles when appropriate. In some instances, this can help both parties better understand the organization in its entirety.
In the initial stages of the program, focus on establishing the mentor-mentee relationship via frequent meetings. Be available to step in when needed, and be flexible if you notice a match is not the right fit.
Conclusion: How to Create a Company Mentor Program (5 Steps)
A company mentor program can have a positive impact on your organization. Even if it looks like it will take some work to set up a professional mentor program, we encourage you to try it! If you decide to give it a go, always remember to follow up with your participants, to listen to their concerns or feedback.
Topics : Articles, Employee Management, Employees, Mentor Program
Share this post
Join Our Winning Team
We are always looking to add talented professionals to our team. Advance your career with Judge.
Apply Now
Let's Continue the

Conversation.

Tell us how we can help you and we'll be in touch soon.