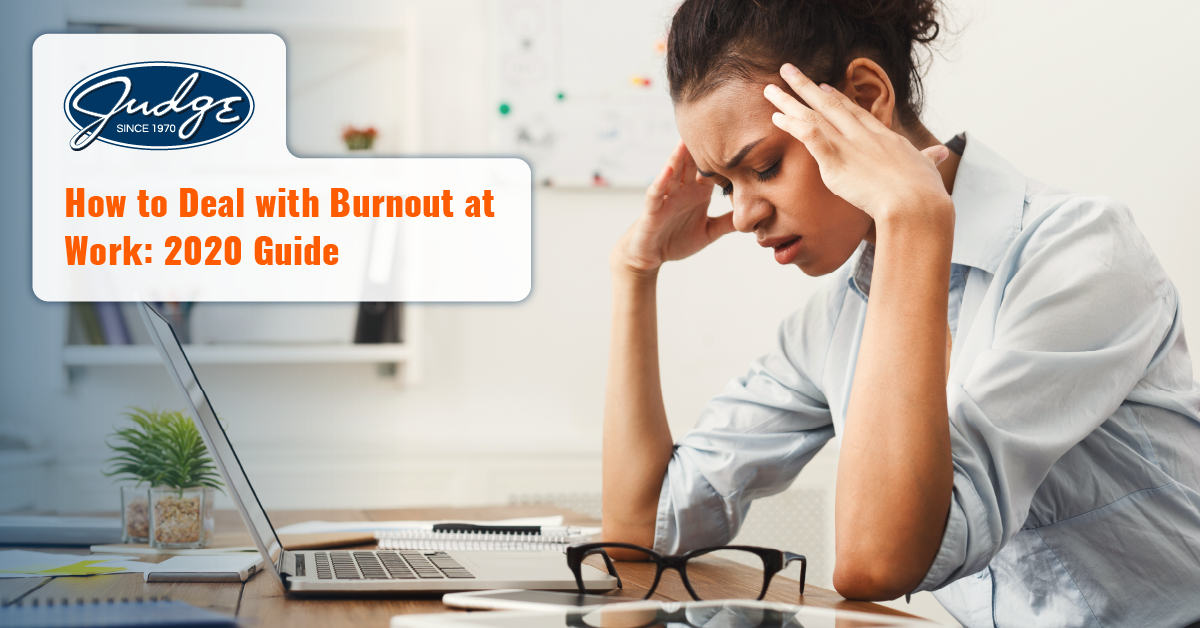 Share this post
How to Deal with Burnout at Work: 2020 Guide
You can do anything — but not everything.

David Allen
We're living through some stressful times!
When the social conditions change around us, additional anxieties can stack on top of already stressful work environments. That's the bad news. The good news is that by being proactive, we can reduce our likelihood of experiencing stress at work, and therefore burnout.
So how should you deal with burnout at work? Here are a few tips from Judge.
Step 1: Identify it early
If you think you may be experiencing occupational burnout, here are some questions you should ask yourself:
Do you feel a lack of enthusiasm at work?
Are you frustrated towards your work or by your co-workers (more than usual)?
Do you find yourself irritable or easily annoyed by otherwise common situations?
Are you becoming cynical or distancing yourself from others?
Did your sleeping or eating habits change drastically?
Do you feel apathetic about your achievements?
If the answer to some of those questions is yes, you may want to consider talking to someone, or at least thinking things through.
Step 2: Understand its source
According to a 2018 Gallup study, some of the most common reasons employees might feel burnout at work include: a lack of communication and support from a manager, unrealistic time pressures, consistent negativity, and unclear expectations around one's role and workload. This doesn't even factor in personal and family stressors, or in the case of 2020, anxiety related to the COVID-19 pandemic and the resulting switch to remote work. Common work from home challenges include distractions and interruptions, team communication issues, technology problems, and a lack of work-life-balance.
Whatever the reason for your specific brand of occupational burnout, the most important step is identifying the source of your stressor.
Step 3: Begin working on the problem
Once you've identified the source, there are many steps you can take to resolve the problem. Here are a few.
Prioritize self-care
Sometimes this is the hardest step to take. The importance of a good night sleep, exercise, nutrition, mindfulness, and positive social interactions cannot be underestimated. Finding time for yourself won't happen unless you prioritize it. Spend time researching healthy recipes, find an exercise routine on YouTube, or catch up with an old friend via Zoom or Facetime. Taking time to do things that make you happy is a great way to press the restart button.
Seek support from co-workers
In all likelihood, some of your co-workers are going through similar stressors that you are. Try to connect with them on a personal level — even if it's through a phone call. Avoid cynicism, as best you can. A bit of venting is okay, but it won't help to harp on the negatives. Surround yourself with positive people.
Communicate with your supervisor
If your relationship with your supervisor is shaky, things have probably been building up. Consider the source. Might there be unrealistic expectations? A lack of support? A difficult remote work environment? Perhaps new goals and expectations need to be set in order for you to feel more comfortable and productive.
Take a break
If possible, step away from your work for a few days. You may just need some time for yourself to do things you enjoy. Focusing on yourself and the people you love can help you re-energize. If possible, get outside and smell the roses. Nature can be a great de-stressor.
Try to rediscover some passion!
What initially got you excited about your career? What were you eager to learn? Sometimes we become pessimistic, simply because we aren't learning new things. Take it upon yourself to learn new skills adjacent to your everyday routines, Ultimately, this will expand your career opportunities.
Conclusion — How to Deal with Burnout at Work: 2020 Guide
At some point we all start heading down the road to burnout. How we approach it when we see the signs is what matters. Don't let frustrations linger too long before addressing them, in one way or another!
Topics : Articles, Burnout, Remote Work, Stress Management, Workplace Stress
Share this post
Join Our Winning Team
We are always looking to add talented professionals to our team. Advance your career with Judge.
Apply Now
Let's Continue the

Conversation.

Tell us how we can help you and we'll be in touch soon.