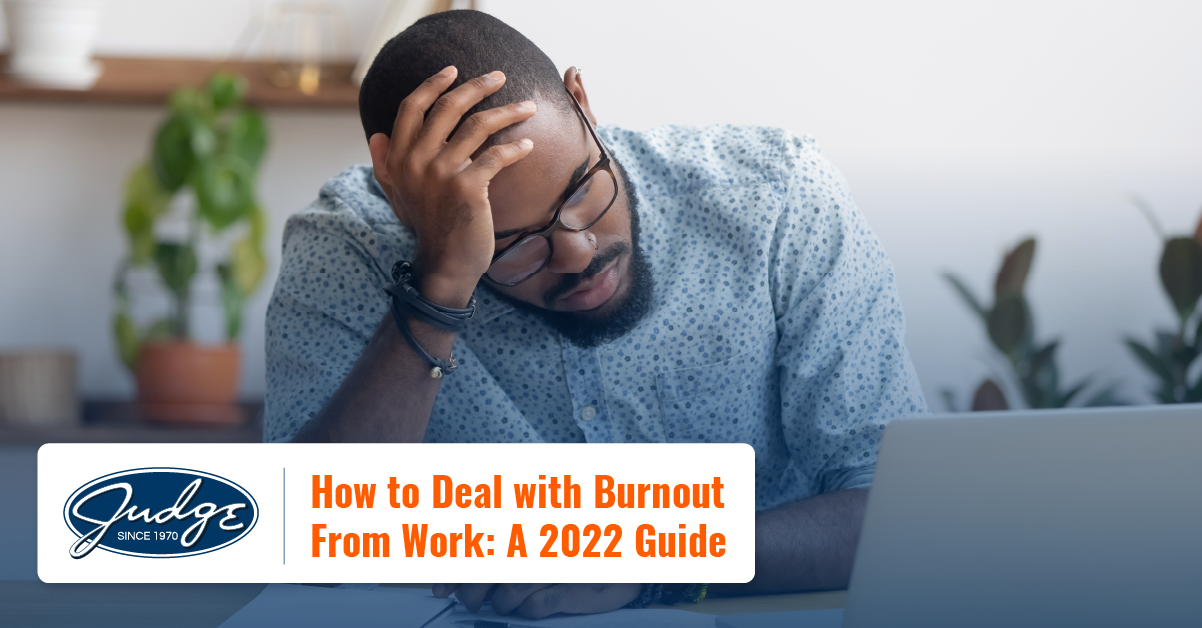 Share this post
How to Deal with Burnout From Work: A 2022 Guide
Job burnout. If you haven't experienced it at some point in your career, count your lucky stars!
Burnout from work comes in many shapes and forms. Whether it's the result of a never-ending onslaught of emails, micromanaging bosses, unclear job expectations, or personal life challenges — there are a number of factors that can put employees over the edge.
Thankfully, there are ways to successively contend with burnout from work. Follow this guidance, and you just might save your career!
What exactly is job burnout?
According to Mayo Clinic, "Job burnout is a special type of work-related stress — a state of physical or emotional exhaustion that also involves a sense of reduced accomplishment and loss of personal identity." This blog will help you to identify signs of work burnout and what to do if you are suffering from it.
How do you know if you have job burnout?
Some of the most obvious signs of burnout include:
Lack of motivation
Lack of self esteem
Lack of pleasure in your job
Poor work performance
If you are experiencing any of these burnout symptoms, here are some helpful tips to help you get back on the right track.
1. Acknowledge the Burnout
The first step to solving the problem (any problem for that matter!) is to acknowledge that you have it. Try to step outside of yourself and observe your situation objectively. Or better yet, say it out loud to someone you trust. Taking this first step might help you realize what, how, and when you started to experience burnout. Honestly acknowledge if you feel drained and unable to complete work responsibilities. Denial won't help.
2. Talk to Someone (Formally)
As soon as you recognize and acknowledge the problem, make an effort to talk to a boss, a mental health professional, HR, or a fellow employee.
Work burnout is extremely common. Mental health professionals can provide sound advice and help you better manage your emotional and mental well-being. If you're talking to your boss and you feel comfortable, it may be appropriate to describe how the burnout is affecting your work performance. If you don't vocalize your concerns, your boss and co-workers may not be able recognize it.
3. Take Some Time Off
If you can, take a short vacation, within your abilities and means. Taking time off can help you detach yourself from work and help you to reconnect with the things that bring you joy outside of the workplace. Time off can also be an opportunity to think through a plan of attack, once you return.
4. Ask for Help
Although talking with your boss and HR is important, it is also good to consider getting help from outside the workplace. Some employers already have suggestions in place for work burnout and can offer assistance. As always, asking for help and vocalizing your concerns is the best way towards improving the situation.
5. Keep Work at Work
With the rise of hybrid workplaces, many employees have been having a hard time creating boundaries between their work and home environment. To help set boundaries, turn off your email notifications after work hours, lock the office doors, and ignore all work-related phone calls if possible. Clearly articulate when you are working and when you will not be available.
Conclusion: How to Deal with Burnout From Work: A 2022 Guide
Job burnout is a common workplace phenomenon that can affect your personal life. Don't underestimate the impact it can have! Take the time to assess whether you have job burnout. If you recognize the signs, take steps to recognize what is causing it, and perform self-care to address the issue.
Topics : Articles, Burnout, Professional Development, Workplace Stress
Share this post
Join Our Winning Team
We are always looking to add talented professionals to our team. Advance your career with Judge.
Apply Now
Let's Continue the

Conversation.

Tell us how we can help you and we'll be in touch soon.