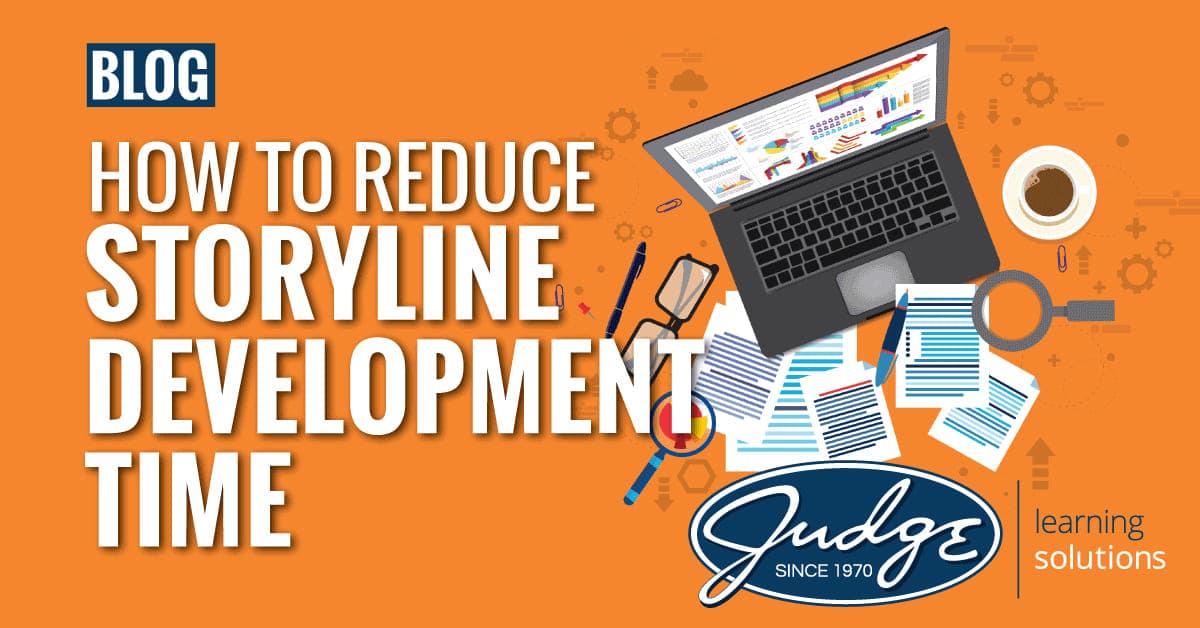 Share this post
How to Reduce Storyline Development Time
As a developer I often get questions about the future. Specifically, how much time it would take me to develop an (often nebulously conceptualized) eLearning course in Storyline. A good rule of thumb is that it will take a bit more than an hour of production for every minute of limited interaction course time. That doesn't include developing a storyboard (or script) or custom content. Custom content can include audio narration, icons that are specific to the content of the course, or custom video content.
Sometimes, the final number can be a shock to a stakeholder or client, and it can cause the budget to be in jeopardy. So, let's talk about some ways you can reduce a project's production time. To do that, we need to first cover the steps included in producing a course. The steps can broadly be grouped into Preproduction, Production, and Revision stages. Preproduction includes building the course template, sourcing images, graphics, and audio. Production consists of adding the actual images/graphics and text, layout, and animation. Interactive elements such as buttons, quizzes, and scenarios are set up during production as well. Revisions involve testing, fixing errors found during testing, changing content after client review, and final publication (e.g. LMS, web).
You can cut down on preproduction time by using preexisting content as a resource. Obviously if there is already an eLearning template available that you can reuse, then that's a considerable reduction in the amount of time spent in this step. But even something like a well-made PowerPoint template can be leveraged as a resource. In addition, if a previously curated library of images that apply to the subject is available, then that cuts down on the time a developer needs to spend sourcing them.
Reducing production time can be a bit trickier. Again, if there's already an eLearning course, that can be a huge time saver. Consider if the eLearning needs can be met by building around or updating a pre-existing eLearning course. If you have learning assets in the form of PowerPoint presentations, consider leveraging them as well. Storyline can import PowerPoint files, which can potentially save on production time.
From a production standpoint it's harder to reduce revision time. If something needs to be fixed, then you just need to fix it. It's not impossible, though. Just like the other steps, leveraging pre-existing content can shorten this process. I've worked on a few projects where a PowerPoint presentation was developed and approved by the client and then handed off to me. I then imported the PowerPoint into Storyline, took care of any conversion issues, and added interactivity. Since the content had already been approved, the revision process only addressed reviewing for proper functionality. Another way to reduce revisions is to be diligent about the content in the preproduction phase. Changing an image or paragraph of text in a storyboard is a lot more time efficient than changing it once it's been added as content in the final course.
The bottom line is, the future looks good if you can leverage your resources to reduce overall development time.
By: Ndege Diamond
Topics : Articles, Best Practices, Efficiency, JLS, Productivity, Storyline
Share this post
Join Our Winning Team
We are always looking to add talented professionals to our team. Advance your career with Judge.
Apply Now
Let's Continue the

Conversation.

Tell us how we can help you and we'll be in touch soon.