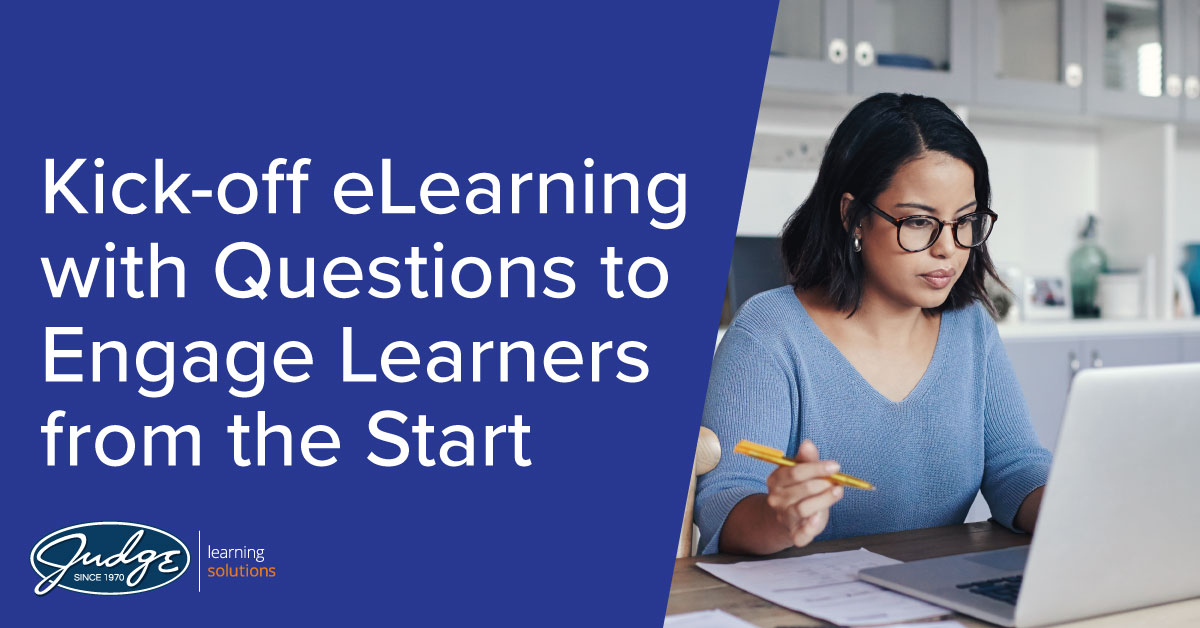 Share this post
3-Part Series: Part 2 – Kick-off eLearning with Questions to Engage Learners from the Start
By Jill Pearson, M.S., APTD
Think back to your less-fond memories of high school and you may count walking into class, greeted with a pop quiz, among those you'd like to forget. But believe it or not, your teachers were on to something. While a first-thing-in-the-morning, surprise, high-stakes quiz might not be the best way for a teacher to curry favor, kicking off an eLearning or a blended learning program with a lower-stakes assessment is a great way to get off on the right foot.
Assessments are inherently engaging. Asking learners to provide a response to a question is a straightforward and simple way to get them to engage with content. Engaging training is both more enjoyable and "stickier," meaning learners are more likely to remember what they learn and apply it.
Assessments let learners know where they stand. It's likely your training programs are designed to reach a wide audience of learners, some of whom might think they "know it all." Starting a course with a brief assessment that provides immediate feedback will help learners know exactly where they need to focus to get the most out of the experience. And for those few occasions where learners already know everything you want them to, see the next point.
Assessments allow you to customize learning right from the start. One easy way to customize an eLearning program is to divide the content into modules and allow learners to "test out" of content they already know. Starting the program with a robust, scenario-based assessment can pinpoint the modules learners would be required to take based on gaps in their prior knowledge. By using this simple method to create a custom learning experience for each trainee, you'll save time and money. And you'll ensure learners don't waste time on things they already know how to do.
So the next time you design a multi-objective learning program intended to reach a wide audience, consider starting off the experience with an assessment.
Want to talk more about this? Leave a comment below, or reach out to us at JLS@judge.com. Our team of creative rock stars are ready to help!
Topics : Articles, Assessment, eLearning, Judge Learning Solutions, Learning
Share this post
Join Our Winning Team
We are always looking to add talented professionals to our team. Advance your career with Judge.
Apply Now
Let's Continue the

Conversation.

Tell us how we can help you and we'll be in touch soon.