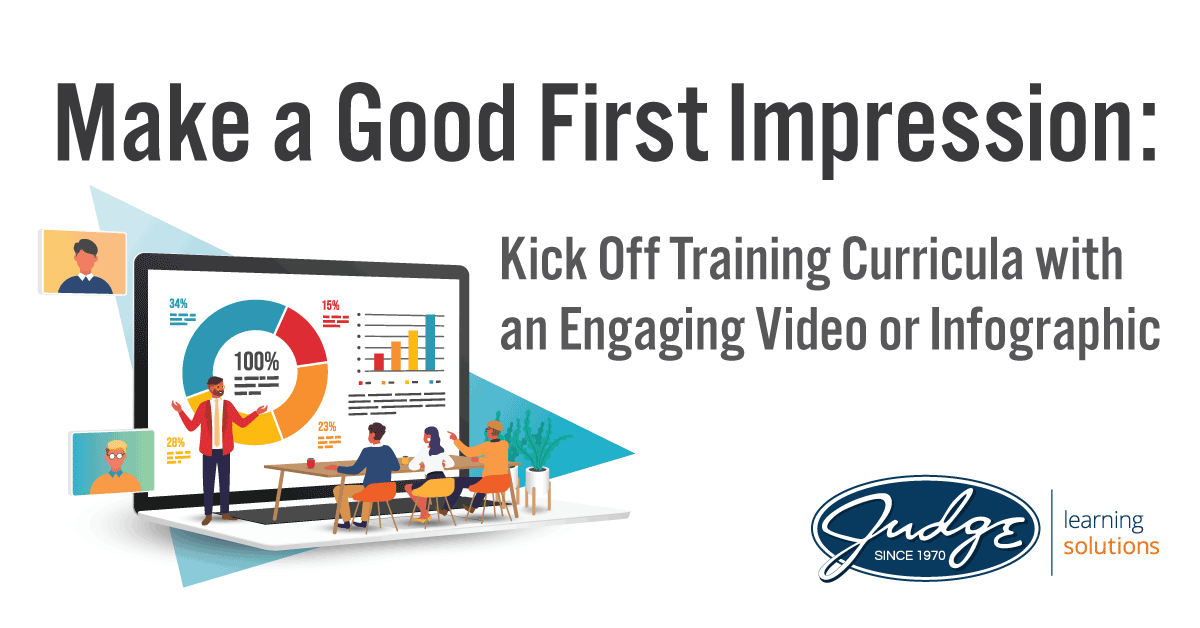 Share this post
Make a Good First Impression: Kick Off Training Curricula with an Engaging Video or Infographic
By Mark Burke, Ed.D.
You've done it! You've designed the major curriculum, worked for months developing the content, paired with a great training development company to create the actual training, and now you're ready to launch. Your learners open the LMS, and SHAZAM…they are hit with a massive list of assigned modules with no idea where to start or how they all fit together. A collective groan is let out as they click on the first link without a clue how this benefits them.
Designing a curriculum is a huge endeavor. Creating curricula involves so many moving parts that you sometimes forget about the learner experience. Sure, you have thumbnails and course descriptions in your LMS, but there isn't any way for them to see the big picture of what's in it for them.
At Judge Learning Solutions, we're huge fans of starting off a curriculum with a motion graphic video or an infographic. Consider this:
Learners open the LMS, and the first thing they see is a two-minute animated video that introduces them to the purpose of the training, an overview of what they'll learn, and a high-level view of what's in it for them. To top it off, the video is visually engaging with great music and voiceover and leaves the learner with a level of interest and maybe even excitement.
Learners click on the first course in the LMS, and they find a beautifully-designed visual of the learning roadmap they are about to walk through. A simple one-pager, this infographic shows them the progression they will take and why it is valuable to them. Easy to understand and referenceable, the infographic has done its job and their experience has started off on the right foot.
Bottom line - if you only get one chance to make a good first impression, then take a little extra time and wow your learner with a great introduction to their new curriculum through a motion graphic video or infographic.
Want to talk more about this? Leave a comment below or reach out to us at JLS@judge.com. Our team of creative rock stars are ready to help – just let us know what you need.
Topics : Articles, Employee Learning Programs, Learning, Training
Share this post
Join Our Winning Team
We are always looking to add talented professionals to our team. Advance your career with Judge.
Apply Now
Let's Continue the

Conversation.

Tell us how we can help you and we'll be in touch soon.