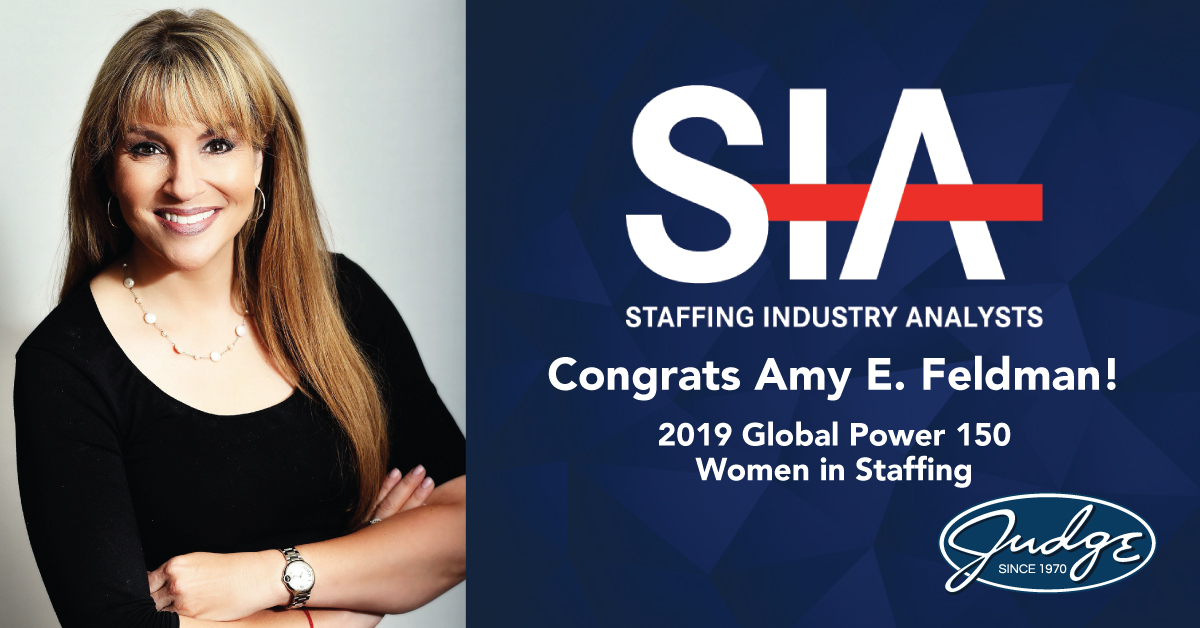 Share this post
SIA Names Amy E. Feldman to the 2019 Global Power 150 Women in Staffing List
The Global Power 150 — Women in Staffing List was officially released this week by Staffing Industry Analysts. In its fifth year, the list includes 100 of the staffing industry's most influential women in the Americas and 50 in the global staffing industry. This year's list includes Amy E. Feldman, General Counsel of The Judge Group.
"The women named to this year's Global Power 150 list play an important role in bringing value to the workforce solutions ecosystem, elevating not only the bottom line for their organizations but lifting up their teams through a passionate focus on employee development and creation of positive and inclusive cultures in which talent thrives," Subadhra Sriram, editor and publisher, media products, at SIA, said.
According to SIA, women on this list include CEOs, entrepreneurs, divisions heads, technologists, attorneys, and more, all helping to shape the $490 billion global staffing industry. "As we celebrate this year's honorees for their achievements in taking the industry forward, we also continue to be inspired by women across companies big and small bringing benefit to business and society and share in the desire to see more women with a seat at the table," Sriram said.
Employed with The Judge Group since 1988, Amy E. Feldman serves as General Counsel where she develops & leads new recruiter training programs and gives lessons on sensitivity, sexual harassment, & equal opportunity employment. Amy also provides litigation for all Judge contracts, while navigating employment and compliance in a constantly changing labor market. Always available as a resource for Judge employees, Amy's strength lies in her ability to communicate complex legal issues in a way people can understand.
Congratulations, Amy!
By: The Judge Group
Topics : News, Staffing, Staffing Agency
Share this post
Join Our Winning Team
We are always looking to add talented professionals to our team. Advance your career with Judge.
Apply Now
Let's Continue the

Conversation.

Tell us how we can help you and we'll be in touch soon.