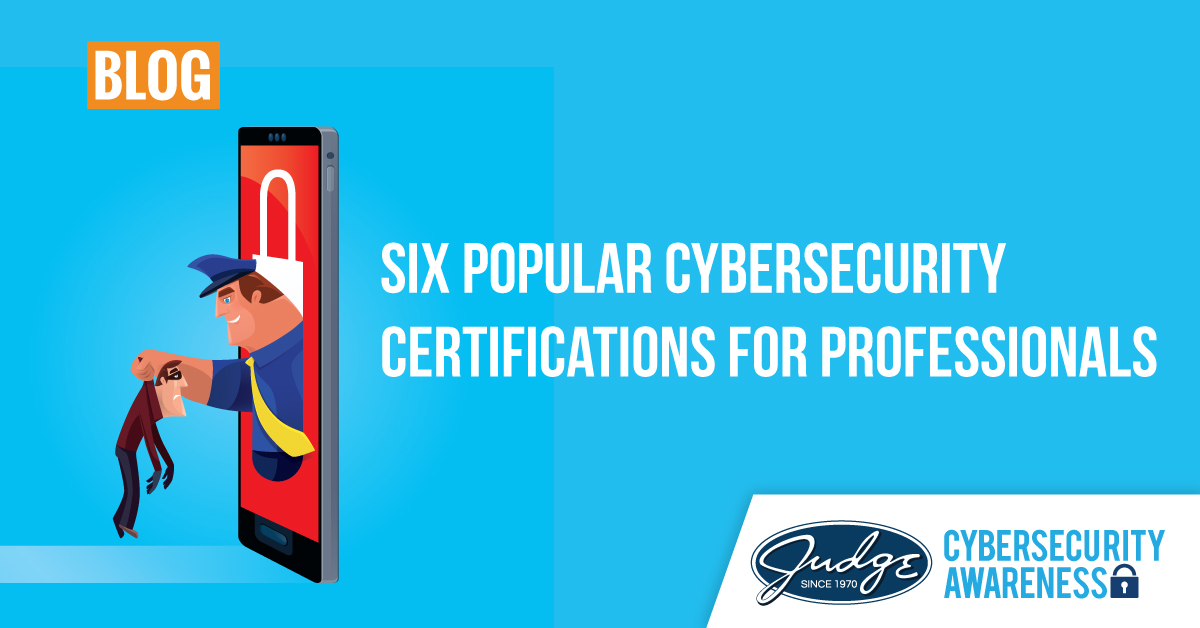 Share this post
Six Popular Cybersecurity Certifications for Professionals
With the number of job openings rising and a shortage of skilled professionals to fill these roles, a career in cybersecurity has never looked more appealing. Here are six popular cybersecurity certifications that companies are looking for candidates to posses.
Certified Cloud Security Professional – CCSP
CCSP is offered by the International Information Systems Security Certification Consortium (ISC2). Aimed at mid-level professionals, the certification requires five years of experience with at least one year in cloud security. The certification is an excellent option for professionals involved in IT architecture, information security, web & cloud security engineering, governance, IT auditing, and risk & compliance.
Certified Ethical Hacker – CEH
An intermediate-level certification administered by the International Council of E-Commerce Consultants (EC-Council), CEH credentialed professionals proactively protect information systems by uncovering vulnerabilities to prevent penetration into an organization. Often referred to as 'White Hats' or 'White Hat Hackers,' individuals with this certification have the knowledge and skills on hacking practices in different areas such as worms & viruses, social engineering, denial-of-service attacks, footprinting & reconnaissance, session hijacking, SQL injection, hacking web servers, penetration testing, and firewalls.
Certified Information Security Manager - CISM
Studies consistently rank CISM as one of the highest paying and sought-after IT certifications. Administered by the Information Systems Audit and Control Association (ISACA), CISM requires five years in cybersecurity and three years in security management, plus you must agree to the Code of Professional Ethics of ISACA. Designed for professionals who are responsible for developing, overseeing, and managing information security systems at the enterprise level, the certification for valid for three years.
Certified Information Systems Security Professional – CISSP
Offered by the International Information Systems Security Certification Consortium (ICS2), CISSP is a vendor neutral credential, globally recognized for its high level of standards. Designed for professionals who are decision-makers within their organization, those who've earned CISSP possess the technical skills and expert knowledge needed to develop, manage, & guide security standards, procedures, & policies within their companies. Candidates are required to have at least five years of working experience in at least two of eight Common Body of Knowledge domains or four years of working experience in two of the Common Body of Knowledge domains with a college degree or another relevant credential.
CompTIA Security+
An internationally recognized vendor neutral security credential, the CompTIA Security+ certification is widely viewed to be a core entry-level certification. Candidates who attain the certification are experts in various areas, including threat management, compliance & operation security, security risk identification & mitigation, security infrastructure, and network access control. CompTIA Security+ is approved by the United States Department of Defense and is compliant with the standard for ISO-17024.
SANS GIAC Security Essentials – GSEC
An entry-level certification designed to validate a candidate's technical expertise and understanding of technical terminology & security concepts to qualify for a hands-on security position. Offered by GIAC, professionals who earn this certification have technical skills and knowledge in areas such as access authentication, recognizing & mitigating wireless attacks, password management, cryptography fundamentals, DNS, IPv6, ICMP, network mapping, public key infrastructure, and Linux. GSEC needs to be renewed every four years.
Hiring in the cybersecurity field isn't going to slow-down any time soon. With businesses under the constant threat of ever-evolving cyber attacks, cybersecurity professionals will remain in demand for the foreseeable future. Obtaining any one of these certifications will help grow, or start, your career as a cybersecurity professional.
By: Nick Iannucci
Topics : Articles, Cybersecurity
Share this post
Join Our Winning Team
We are always looking to add talented professionals to our team. Advance your career with Judge.
Apply Now
Let's Continue the

Conversation.

Tell us how we can help you and we'll be in touch soon.