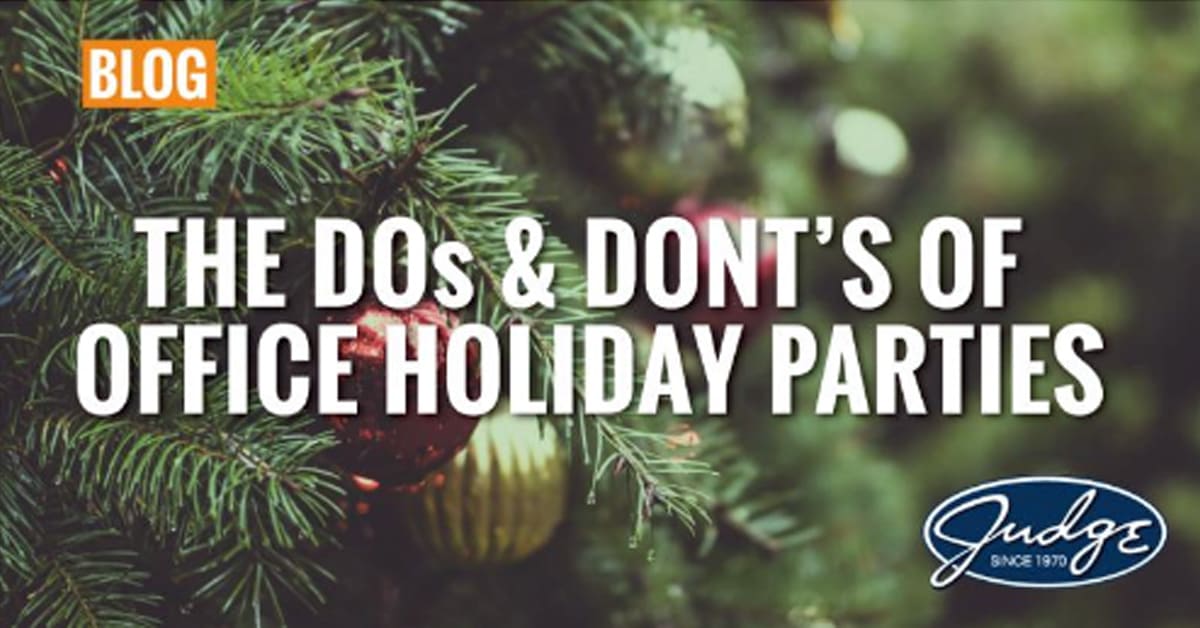 Share this post
The Dos and Don'ts of Office Holiday Parties
It's once again that time of the year: office holiday party season. It's a time where companies thank their employees for a year of hard work with a festive event. But this "party" is no run-of-the-mill party. While these parties can be a lot of fun and a great way to connect with co-workers outside of your day-to-day, there are plenty of social and professional landmines you will need to side step.
To help you deftly navigate your next office holiday party with the grace of a ninja-cat, here are a few Dos and Don'ts:
Do: Attend the party! It's important to attend to show you appreciate the company spending time and money on throwing a party. Hang out and schmooze for 45 – 60 minutes and then (with a good reason) you can peace out.
Don't: Be a miserable Mikey. Even if you're coming out of obligation, don't go around ruining the mood for everyone else. This isn't the time to talk shop or vent. The mood will be ruined and so will your reputation.
Do: Socialize and network. It's a party! Have fun and take this opportunity to talk with colleagues in a more relaxed setting. This is also a great chance to speak with employees you don't get to interact with very often.
Don't: Over-socialize. While this is more relaxed than hanging out at the water cooler, don't suddenly decide to share intimate details of your life with your colleagues. They're still your colleagues so remember to keep some boundaries.
Do: Dress appropriately. Sorry bro, but wearing a vest with nothing underneath to show off your sweet biceps is too much skin for this event. Remember, this is an office party so when in doubt on what to wear, stick to the conservative side of things. Ask someone in the know what the dress code is – especially if the party is on casual Friday as you may need to be less casual than normal.
Don't: Over-indulge. The bar and food is there for you to partake in obviously. But it's not an invitation to show-off how many shots you can take or how many bacon-wrapped cheeseballs you can fit in your mouth at once. You don't want to be known as "that guy" around the office for the next year.
Do: Have a good time! Use the party as a chance to get to better know your coworkers (within boundaries). Have fun and remember everything in moderation.
And there you have it! By utilizing these tips, you'll be able to have a fun and productive time at your office holiday party. Now go forth confidently and have a good, responsible time.
Have tips of your own? Share in the comments below!
By: Nick Iannucci
Topics : Articles, Holiday, Holiday Party, Office Party
Share this post
Join Our Winning Team
We are always looking to add talented professionals to our team. Advance your career with Judge.
Apply Now
Let's Continue the

Conversation.

Tell us how we can help you and we'll be in touch soon.