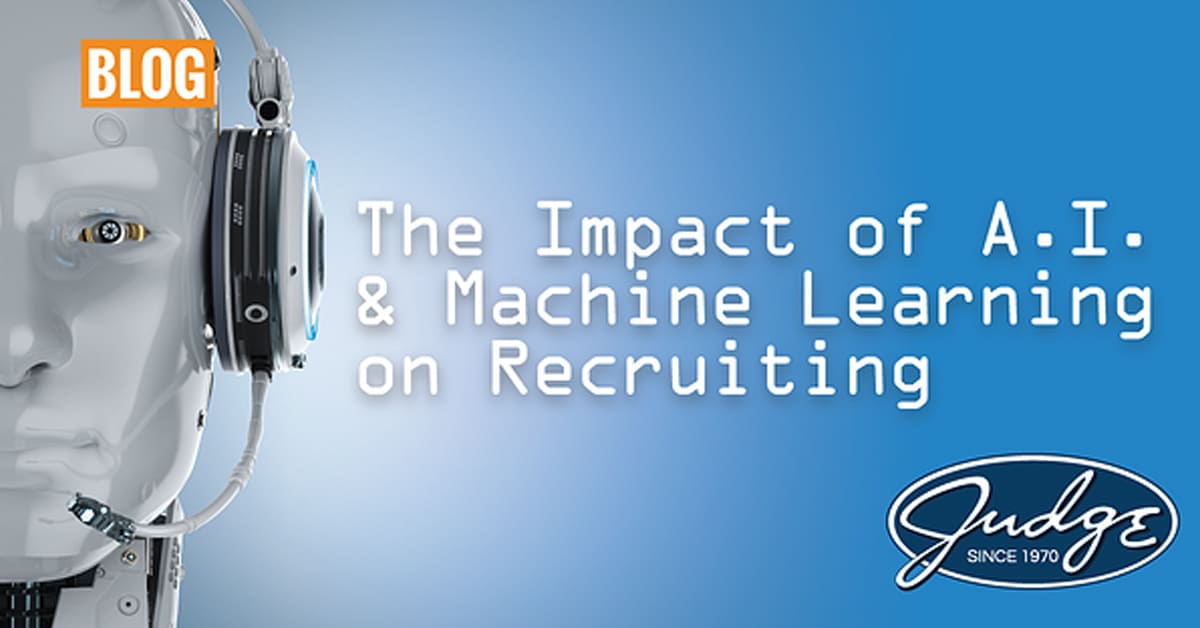 Share this post
The Impact of A.I. & Machine Learning on Recruiting
If Artificial Intelligence (AI) is the future, then Machine Learning & Predictive Analytics are the present. As a CIO of one of the world's largest Staffing firms, a Certified Behavioral Analyst, and former Technical Recruiter, I have spent 30 years in what is perceived to be a mature Staffing industry. Reporting & Analytics, Big Data, Technology Innovation, and People & Process are coming together across all industries at a disruptive rate. Those that leverage this will control their own destiny. As Former General Electric Chairman Jack Welch correctly stated, "Change before you have to."
A.I. & Machine Learning concerns are universal in the workplace.
Will the technology replace my job?
Do I need to understand exactly how the Learning Algorithm works? If I don't understand exactly how it generated these results, why should I trust them?
Do I need to worry about ethical issues, such as a Predictive Algorithm predicting a negative outcome in advance? (i.e. This deal has a low probability of ever being successful and your time may be better spent elsewhere, or should IBM Watson suggest a diagnosis that your Doctor may have missed? etc.)
For recruiters, like many positions, being human is the key to not having your job taken by a robot. Economist James Bessen discusses the Automation Paradox "Rather than replace us, machines are shaping the future of work by taking over the most time-consuming manual aspects of our jobs, freeing us to use higher value skills like creating new products, building relationships with customers, and learning to make better decisions." Bessen believes that "when computers start doing the work of people, the need for people often increases". To put it simply: Recruiters that take the time to understand the situation and predict future needs will always have a job, whereas phone solicitors and those just going through the motions will go the way of the Elevator Operator or the Milkman.
A.I. and Machine Learning will be implemented in ways that will accentuate recruiters. For example, A.I. can be used to match candidates to open positions or perform preliminary screening of perspective candidates. Once a job becomes open, the bot may reach out to someone and provide relevant information about the job and answer the applicants' initial questions. The applicant can then schedule time through the bot on the recruiters' schedule to have more detailed conversations about their needs, goals, and the client customers' environment. It will still be the responsibility of the recruiter to build a relationship with the candidate.
Sam Hinkie, the former Sixers General Manager, was discussing the impact of Analytics in Sports and posed a great analogy, "When you are flying in a plane, do you want the Pilot relying on their experience or do you want them relying on their Technology?" The answer is both. The same is going to be true in recruiting with A.I. and Machine Learning implementations. They are going to enable recruiters to work more efficiently, be more focused, but it still falls to the human element to build trusted and strong relationships now and into the future.
By: Ken Krieger
Topics : AI, Articles, Recruiting, redictive Analytics, Staffing Agency
Share this post
Join Our Winning Team
We are always looking to add talented professionals to our team. Advance your career with Judge.
Apply Now
Let's Continue the

Conversation.

Tell us how we can help you and we'll be in touch soon.