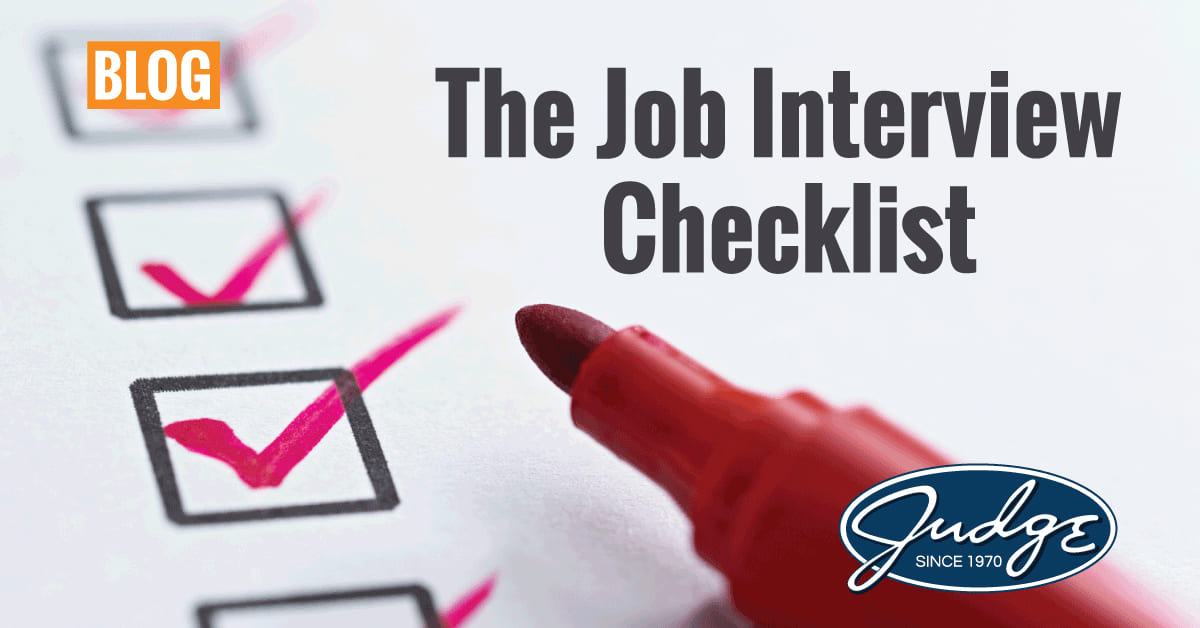 Share this post
The Job Interview Checklist
Congratulations! You landed an in-person interview. Next step: Sell why you're the one for the job. Confidence is key and being prepared will give you that extra edge to make it to the next round, or better yet seal the deal. The thought of an interview can be stressful enough, read through our checklist to make sure you're ready and prepared to have a successful conversation.
The Look
You need to make a good first impression, and what you wear and how you present yourself will play a big part. You want to appear conservative, clean cut, professional, and put together. What you choose to wear also shows an understanding of the company culture and respect to the people who are interviewing you. Choosing comfortable shoes and clothing that fits properly is imperative.
The Research
Do your due diligence and research the job, the company, and the people who work there. Visit the company website and especially study the company's mission and the latest news articles or press releases. Mentioning some of the values you share with the company or that you noticed its latest achievements will show you are interested, engaged, and enthusiastic about the opportunity. Finally, go to LinkedIn and search for the profiles of current employees. Mentioning a shared personal connection, alma mater, or interest will help you establish an immediate level of trust with the hiring manager or team members.
The Qualifications
Study the job description and the job ad you applied for. Usually there is a list of qualifications and an outline of the goals for this position. As you read through, take notes on how you have used some of the skills listed throughout your career and in your current role. Giving real examples of when you have used the specific skill is much better than simply stating you possess the skill and will make you stand out from the rest.
The Commute
If you can, it helps to do a "test run" a day or two before. If you are driving or walking, find the best directions and complete the route. Don't forget to factor in traffic. If taking public transportation, allow ample amounts of time for delays. The less room you leave for surprises, the better, and the less stress you will encounter on your big day. In addition, this will help you envision if you could see yourself doing this commute each day.
The Goods
Investing in a nice leather portfolio to store a note pad, pen and your resume not only looks professional, but it keeps things neat and organized. Bring multiple copies of your resume to hand out to everyone you may meet with. It is also a bonus to be able to have your resume in front of you as well to refer back to certain skills or accomplishments that you want to highlight. Don't forget to write down the questions you want to ask. Asking the right questions will help you decide if this is the right decision for you as well in your career.
The Attitude
Be proud that you got to this point and were invited to interview in the first place. Be confident, but not ignorant. Be polite, professional, and keep a positive energy. Focus on why you want this opportunity and how it fits into your career. For example, "Why do you want this job?" is a popular question many hiring managers ask. Tell them what excites you and how your professional and career goals are a match. Smile, be gracious, be enthusiastic, and be kind.
Good luck!
By: Devin Clark
Topics : Articles, Hiring, Interview Questions, Job Interview, Job Interview Preparation, Talent, War for Talent
Share this post
Join Our Winning Team
We are always looking to add talented professionals to our team. Advance your career with Judge.
Apply Now
Let's Continue the

Conversation.

Tell us how we can help you and we'll be in touch soon.