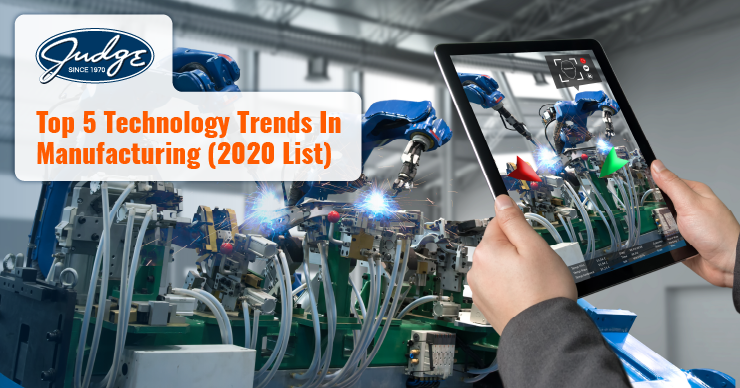 Share this post
Top 5 Technology Trends In Manufacturing (2020 List)
In 2018, the wearable technology industry was valued at 35 billion dollars. By 2025, that number is projected to increase to 180 billion dollars.
Holy moly. And wearable technology is just one example!
From small, tabletop robots to wearable gadgets, technology has drastically changed the way the manufacturing world operates. In this article, we'll bring you up to speed with 5 of the most important technology trends in manufacturing.
Wearable Technology
Chances are that you (or someone you know) wears a smartwatch to track health and exercise data. As a result, manufacturers are sprinting towards developing a variety of wearable sensors. Whether they are smartwatches, headsets, or heads-up displays, these devices can improve process safety, efficiency, and productivity, all the while tracking every-day activities. Wearable technology has direct uses in industrial work environments. Take the example of augmented reality glasses, for example.
Robot Helpers
Robots in manufacturing may not sound like breaking news, but the newest and smartest models certainly are. As with many industries, automation and AI are expected to skyrocket in the world of manufacturing over the coming years. Indeed, robots are toiling alongside their human coworkers more than ever. To achieve maximum efficiency, robotics researchers will continue to study the intersection between robots and humans in both simple and complex tasks.
Predictive Maintenance Technology
The key to a manufacturer's success is effective and continuous equipment maintenance. Enter predictive technology! Predictive tech allows companies to collect, process, and measure data in real time, using techniques that can't be duplicated by human number-crunchers. These electronics are able to identify and highlight errors and maintenance needs. As part of predictive technology, IoT (Internet of Things) has already seen success in managing costs and controlling, connecting, and monitoring data usage.
Virtual Reality (VR) and Augmented Reality (AR)
We've only just begun to see what virtual reality (VR) and augmented reality (AR) will bring to the manufacturing world, but one thing is for sure — these technologies will be game changers. Possibilities include everything from hands-on training, to remote maintenance, and process visibility/control…just to name a few. Imagine what interacting with a 360 degree virtual world will do for remote manufacturing work!
Cybersecurity
The more technology is integrated into manufacturing processes, the more cybersecurity will be a topic of interest and concern. With an ever-growing number of devices on the market, customer data is more vulnerable than ever. It is therefore essential that cybersecurity and the implementation of these new technologies go hand-in-hand. Thinking proactively about these issues will minimize future risks.
Conclusion: Top 5 Technology Trends In Manufacturing (2020 List)
Technology will continue to be a driving force in the future of manufacturing. Some manufacturers will be quick to jump on the tech bandwagon — others will be forced to chase after it. To avoid behind the 8 ball, it's crucial that companies stay informed about technology trends and make decisions with innovations and consumer behavior in mind.
Topics : Articles, Manufacturing, Technology
Share this post
Join Our Winning Team
We are always looking to add talented professionals to our team. Advance your career with Judge.
Apply Now
Let's Continue the

Conversation.

Tell us how we can help you and we'll be in touch soon.