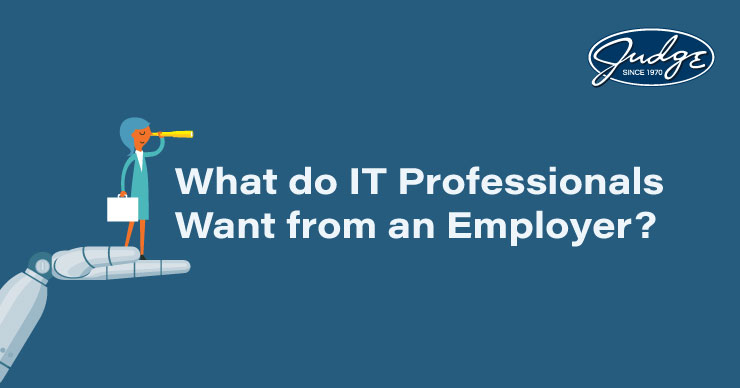 Share this post
What do IT Professionals Want from an Employer?
In 2022, Information Technology employees are in demand — big time. This demand is great news for IT professionals, but it's not the best news for companies, many of whom are in desperate need for talented workers.
As the competition for qualified IT professionals grows ever fiercer, companies are beginning to explore more creative ways to attract and retain IT talent. Great IT employees help the culture, environment, and of course, the bottom line of any large organization.
To maximize your IT hiring and retention process, it's essential to first understand the following: what do IT professionals actually want? In this week's infographic, we'll share some statistics to help you make your organization more attractive to IT professionals.
(Click on the image below to view a larger version)
Conclusion: What do IT Professionals Want from an Employer?
IT professionals are some of the most in-demand employees in 2022, meaning that attracting and keeping them in your organization has become more challenging than ever. According to new data of over 600 US businesses with 50-500 employees, 63.3% of companies say that retaining employees is actually harder than hiring them. If businesses wish to keep their employees, they need to start by finding out — what do IT professionals want?
Aside from fair compensation, IT professionals are looking for a healthy company culture, career advancement opportunities, professional development training, and career mentorship programs. Likewise, with remote work on the rise, IT professionals are recognizing the benefits of remote or hybrid positions. Offering this option makes jobs stand out to IT employees. If your company is falling behind on these important IT checklist items, it's time to get to work! Focusing on company culture, improved training, and listening to your employees' needs will lead to long term success.
Topics : Employment, Infographic, Information Technology, IT Professionals
Share this post
Join Our Winning Team
We are always looking to add talented professionals to our team. Advance your career with Judge.
Apply Now
Let's Continue the

Conversation.

Tell us how we can help you and we'll be in touch soon.