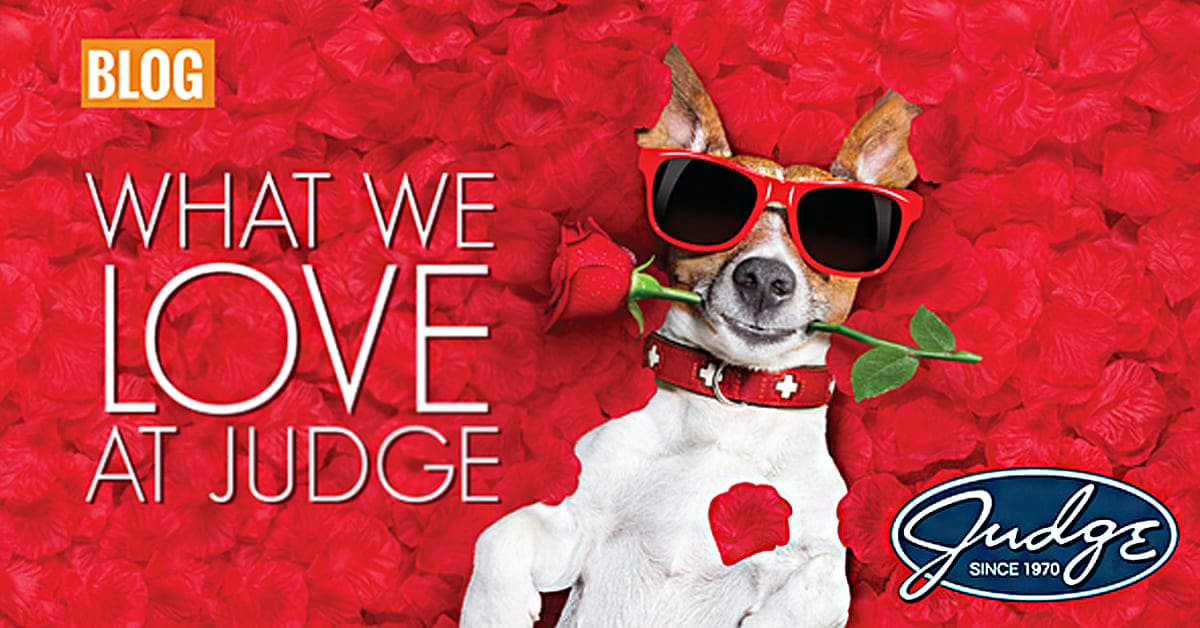 Share this post
What We Love at Judge
'Tis Valentine's Day! The aromas of roses and chocolates are in the air as feelings of love & affection are expressed through those chalky candy hearts and their simple, yet effective, expressions of love.
The hearts of the Judge team have been swept up by the romantic atmosphere. We found ourselves captivated by the romance permeating the air and started to wistfully think about what we love here at Judge. So in honor of Valentine's Day, here is what we love at Judge (sadly not in chalky candy heart form).
What Does Judge Learning Solutions Love?
We love developing motion graphics as part of our organizational change management strategy. We all know change isn't easy, but businesses that want to survive, and even thrive, need to continually adapt and innovate. Fun, engaging, and cheap aren't words most people would use to explain organizational change, but they are the perfect words to describe motion graphics. Motion graphics ease the growing pains of any new program implementation. They create excitement around the launch of a new program, increase awareness of the benefits of the change, and even build trust. Employees are more engaged, excited, and prepared for the upcoming change when a motion graphic is involved.

What Does Judge Consulting Love?
We love creating and developing digital solutions for complex, global clients. Judge Consulting embraces digital transformation inside of large organizations. We are a crucial part of teams that are looking to move from antiquated tools for their sales organizations, to deliver compelling digital tools for consumers, and to power their future, connected business. Judge loves working with cutting edge technologies such as wearables and machine learning to fuel the future of digital innovation.

What Does Judge Technology – Unified Communications Love?
We love that new technologies coming out today are simplifying IT. This simplification is giving time back to IT staffs, allowing them to focus on business initiatives instead of day-to-day management issues. The best example of this is the Meraki portfolio. Having the ability to manage firewalls, switches, wireless access points, security cameras, and mobile devices across multiple locations all through one interface is a game changer. IT teams can push a policy update across thousands of ports at multiple locations with just a few clicks - saving them untold amounts of invaluable time.

What Does Judge Healthcare Love?
We love that the professionals we place are on the forefront of creating positive change in the healthcare industry. Our healthcare staffing solutions, and the team of recruiters behind them, are acutely aware of the dynamic nature of American healthcare and embrace the need for adaptability. The amazing pros. we place are flexible and innovative enough to withstand the ever-changing healthcare landscape. Whether they're performing direct patient care, keeping healthcare IT moving forward, or driving the evolution of our healthcare system, these people are making a difference in the lives of those who need medical care.

What Does Judge IT Staffing Love?
We love the fast start to hiring in 2018! This is the largest uptick in hiring to start a year that we've seen in five years. With the economy continuing an upwards trend, new technologies like blockchain, A.I., & machine learning gaining traction, and CIOs planning to hire more talent in 2018, there's a huge opportunity in the job market for our candidates. Job seekers are in prime position to move their career forward and find the perfect company match for their skills and development.
Be sure to share what you love or are passionate about this Valentine's Day in the comments section below!
Topics : Articles
Share this post
Join Our Winning Team
We are always looking to add talented professionals to our team. Advance your career with Judge.
Apply Now
Let's Continue the

Conversation.

Tell us how we can help you and we'll be in touch soon.