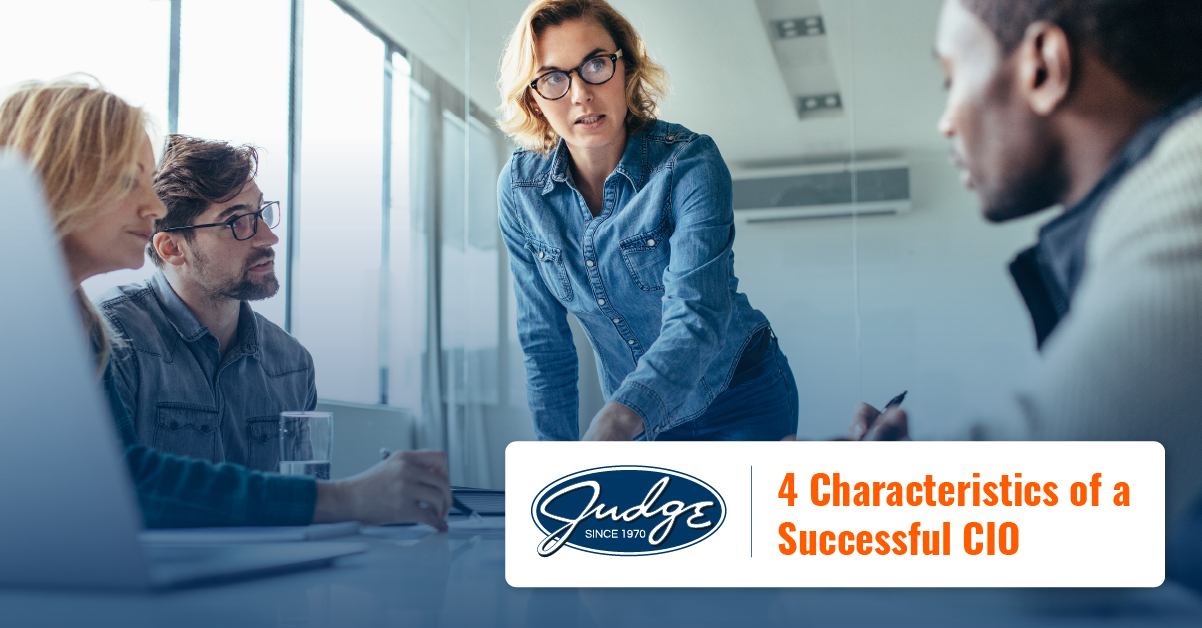 Share this post
4 Characteristics of a Successful CIO
Let's start with the basics.
The CIO (Chief Information Officer) is a company leader responsible for overseeing IT strategy and key aspects of business strategy.
Because over the past few decades, most job descriptions and work environments have become increasingly dependent on technology. As a result, companies have become ever more dependent on their CIOs.
A successful CIO has characteristics and qualities that go far beyond technical skills and experience. If you're in the process of hiring a CIO, you're probably looking for someone who can take you to the next level.
Here are some important CIO traits that should not be overlooked!
1. Effective Communicator
Overseeing and strategizing around IT and technology requires a close relationship with every department in an organization. This means communicating with employees across different departments, many of whom maintain diverse levels of competency around technology. For this reason, a great CIO is an expert at bridging communication gaps — explaining objectives to teams, stakeholders, and C-suite leaders. Furthermore, explaining tech-driven strategies to…let's just say, 'technologically challenged' clients and organizations requires high levels of persuasion and skill. This means not only being approachable, but being skilled at synthesizing complex concepts into simple terms. Strong listening and communication skills are must have CIO characteristics that help ensure company advancement.
2. Business Acumen
Aside from overseeing all aspects of the IT department (hardware, software, data management, etc.), the CIO is also responsible for overall business technology strategy. This means being deeply engaged in company growth goals. Responsibilities in this space might also include overseeing high level relationships with contractors, vendors and service providers. Thus, a talented CIO must have the ability to contribute to company growth goals, while also developing and enforcing IT practices across the organization.
3. Fostering Innovation
CIOs are key players when it comes to making sure a company stays ahead of the competition. They are responsible for anticipating technology advancements and maintaining flexible practices to deal with unexpected complications. Being an excellent IT strategist means being forward thinking, and prepared to manage any technology-related risk or change.
4. Promoting Teamwork
No leader can succeed without a strong team. A successful CIO understands the importance of building a team with diverse personalities, skills, experiences, and expertise. This doesn't stop with hiring capable employees. It is also about continuous leadership, motivation and showing appreciation to your employees. A strong leader will maintain focus on team goals while still finding time to foster employees' individual goals.
Conclusion: 4 Characteristics of a Successful CIO
The CIO is one of the most crucial positions when it comes to organizational growth. And soft skills are just as important as technological expertise and industry knowledge. To ensure the success of your company, find a candidate with these 4 successful CIO characteristics!
Topics : Articles, Candidate, Career, CIO, IT, IT Departments, Team Building, Technology
Share this post
Join Our Winning Team
We are always looking to add talented professionals to our team. Advance your career with Judge.
Apply Now
Let's Continue the

Conversation.

Tell us how we can help you and we'll be in touch soon.