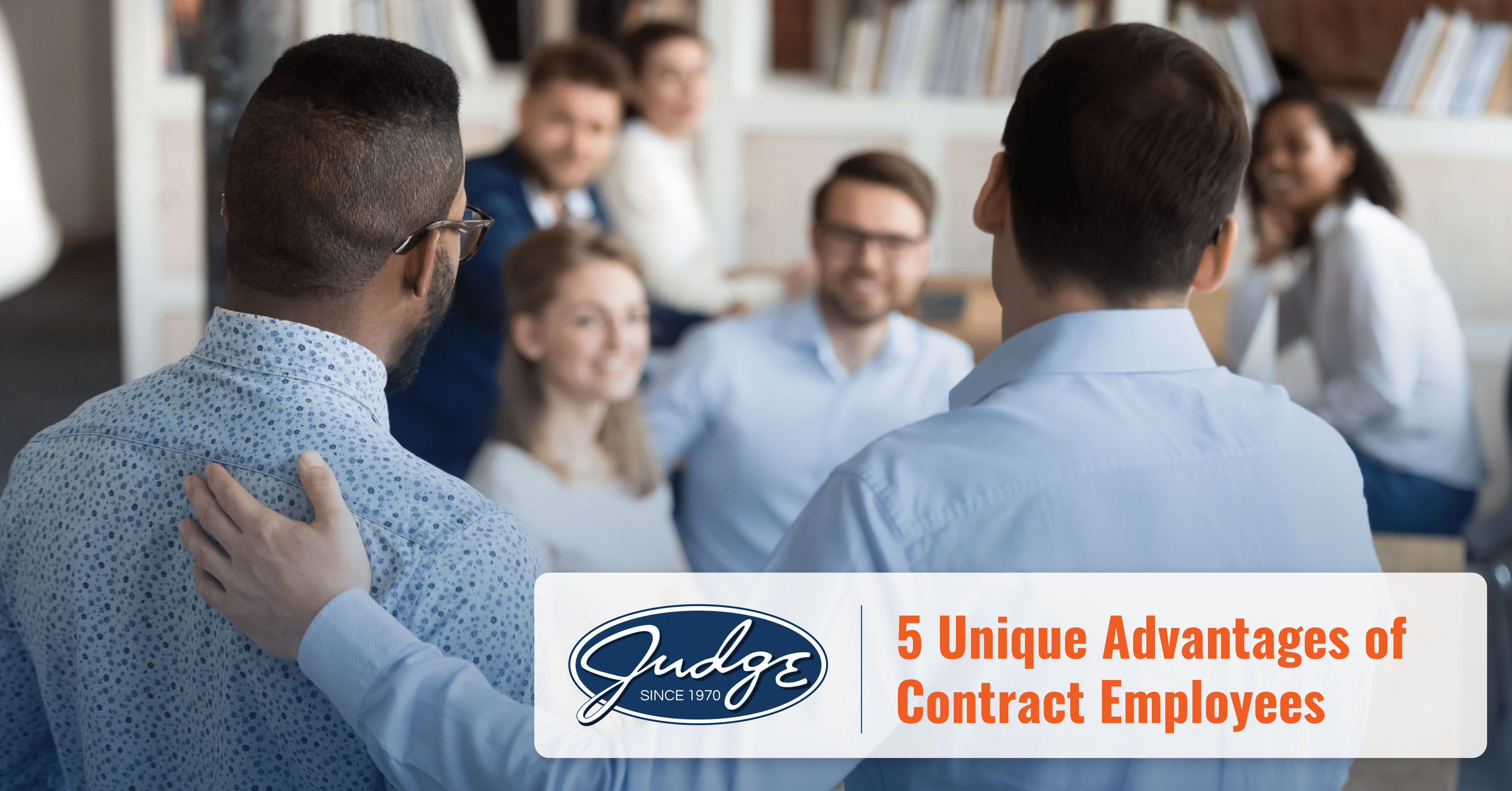 Share this post
5 Unique Advantages of Contract Employees
The impacts of the Great Resignation are in full swing, leaving employers scrambling to find new ways to recruit and retain staff. If you, like most of the US job market, are struggling to find the right employees for your team, then you might want to look deeper into the benefits of contract employment.
In today's blog, we'll discuss the advantages of contract employees and what factors to consider when hiring temporary staff.
1. Flexibility
Working with a recruiting agency provides access to a strong roster of temporary staff. This makes responding to quickly changing market needs easier than it would otherwise be.  Most contract employees are accustomed to working in diverse locations, with flexible schedules, and with different personalities. Likewise, contracted employees are often available to begin working within a few days; effectively sidestepping the lengthy interview and onboarding process. Finally, since temp employees aren't interviewing for permanent positions, you don't need to worry quite as much about the cultural fit. Focus on the technical qualifications!
2. Evaluate workers without the long term commitment
Contract employment offers a pressure-free evaluation period. If a temporary employee ends up being a great fit with the team, you can always consider offering them a permanent position. Many companies today are treating this approach as a "working interview" to improve retention and give their team leaders the opportunity to fully vet someone before converting them to a long-term position. Still other times, a contract employee might be better suited for another position in the company.  
3. Shorter hiring process
Bringing on an employee for a very specific project typically shortens the hiring process. Oftentimes, temporary employees can start working within a few days and are ready to dive in without too much onboarding and training. Experienced staffing agencies like Judge maintain large, high-quality pools of temporary employees.
4. Highly-skilled niche talent
In many cases, companies seek a highly specialized individual for a particular project. In such cases, levels of experience and knowledge often can't be met by current staff members. Your company might also be searching for an expert across a wide range of specialties, to close a skill gap. In either case, if you are attempting to drive your business forward and need a special skill set, individual contract staffing might be the way to go.    
5. Fresh perspective
Contract staffing is a great way to shake things up and bring in some new perspective when it comes to work flow. Hiring someone with new energy, work ethic, and expertise can be a great way to execute these changes. Sometimes, this can help your team adapt and make changes you are looking for.  
Conclusion: 5 Unique Advantages of Contract Employees
Temporary employment can be a great short-term solution while your company searches for the perfect permanent fit. These employees can help you avoid making brash decisions that can negatively impact your team and result in organizational costs.
For more on the advantages of contract employment, click here! 
Topics : Articles, Employees, Hiring, Staffing, Staffing Agency
Share this post
Join Our Winning Team
We are always looking to add talented professionals to our team. Advance your career with Judge.
Apply Now
Let's Continue the

Conversation.

Tell us how we can help you and we'll be in touch soon.