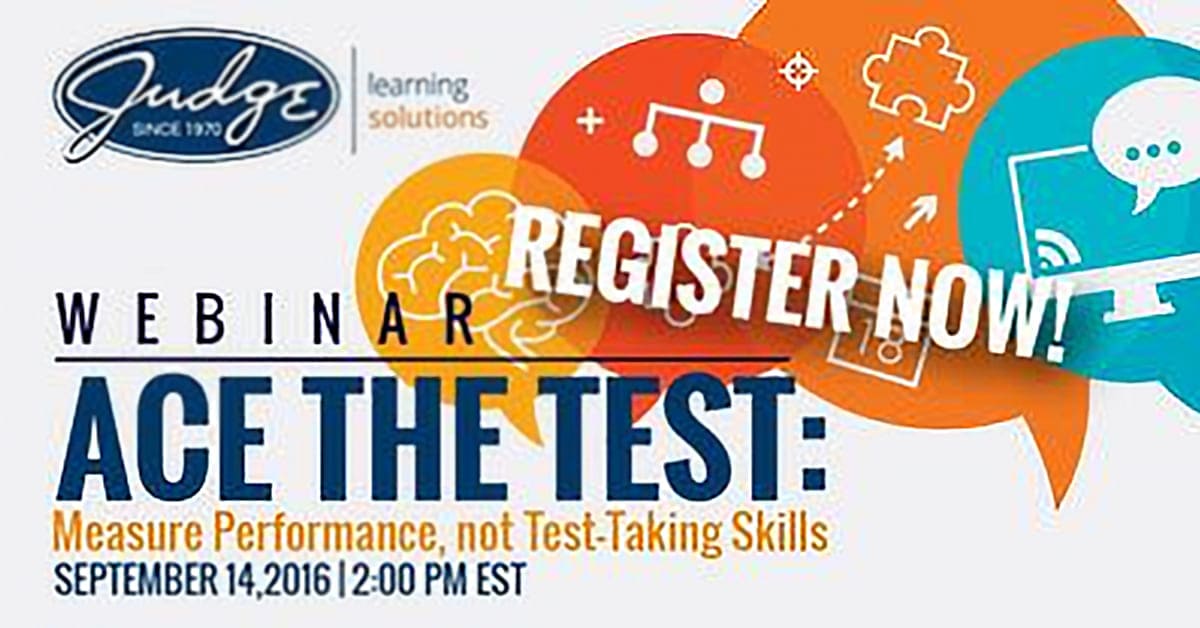 Share this post
Brilliant tips to more accurately gauge the impact of an employee learning program
Are your post-course assessments measuring how well your students meet learning objectives, or are they measuring how well you've written the test questions? Did you know that the longest response option is usually the right answer? Your test-takers do. Do you know why you should avoid writing questions that include the words not, except, or never? Writing good performance-based test questions is more complicated than most people think.
Performance assessments should both gauge and reinforce important knowledge and skills. Here are several must-know tips that will help you more accurately gauge the impact of your employee learning program. These tips fall into four categories.
Differentiate among types of tests and assessments
One of the keys to designing and developing a quality test is determining what type of test is best suited to your needs. Are you trying to determine if someone is able to perform a specific task in a predefined way, or, do you want to know that someone can adapt his or her performance based on the circumstances? What do you do when you can't possibly test for all the variables that a person might face on the job? Do you need to? You would not want to rely on a pilot whose skills were only measured with a knowledge test. You would want more rigorous proof of the pilot's ability to actually fly a plane under a variety of conditions. Of course, this is an extreme example, but the point is, you need to choose the right type of test or assessment for your particular circumstances. If you only care that your learners are able to recall a fact or a step, then a simple knowledge test will meet your needs; but, if you want to determine if your learners can apply that knowledge, you'll need a more robust strategy involving skills, performance, or proficiency-based tests or assessments.
Select question types best suited to the desired behaviors
You need to ask the right questions to elicit the desired behaviors from your test-takers. There will be certain question types to use based on the learning levels identified in your learning objectives. Evaluate the pros and cons for using each type. For example, multiple-choice items are the most frequently used type of question. When they are well-written, they can be used to test for a variety of learning levels. They are easy to score electronically. True/false questions are also easy to score electronically, but are seldom a good testing strategy.
Identify common question-writing errors
Test-takers shouldn't be able to guess the right answers. Test authors shouldn't write questions that deliberately or unintentionally mislead test-takers, either. You'll learn some common mistakes people make when writing test questions. These include using all of the above, none of the above, or extreme qualifiers, such as always or never. Another common mistake is not asking a question at all, but posing an open-ended statement, such as, "A typical item-writing error is _________." Test-takers have to convert this type of test item into a question in their minds, before they can retrieve the information from memory. This may result in them misinterpreting the statement in the process. Avoid beginning questions with, "Which of the following […]." This phrase detracts test-takers from what you want them to focus on; it also directs them to the list of alternatives, instead of thinking of the right answer.
Apply strategies to correct common question-writing errors
Create test questions that actually gauge your learners' knowledge and skills. Your answer options should all be about the same length, or at least varying the lengths such that one isn't dramatically longer or shorter than all other options. Another important strategy is to make sure that every distractor in your test question is a plausible option. When you create filler options that are not reasonable, you increase the odds that your test-takers can guess the right answer. Also, phrase the question in the affirmative, whenever possible; avoid using negatives in the stem. You most likely want test-takers to remember what something is, rather than what it is not.
We hope you will join us on our upcoming webinar, for more tips on how to write effective test questions, on Wednesday, September 14th at 2:00 p.m. Eastern.
By: Annette Wisniewski
Topics : Articles, Employee Learning Programs, Training
Share this post
Join Our Winning Team
We are always looking to add talented professionals to our team. Advance your career with Judge.
Apply Now
Let's Continue the

Conversation.

Tell us how we can help you and we'll be in touch soon.