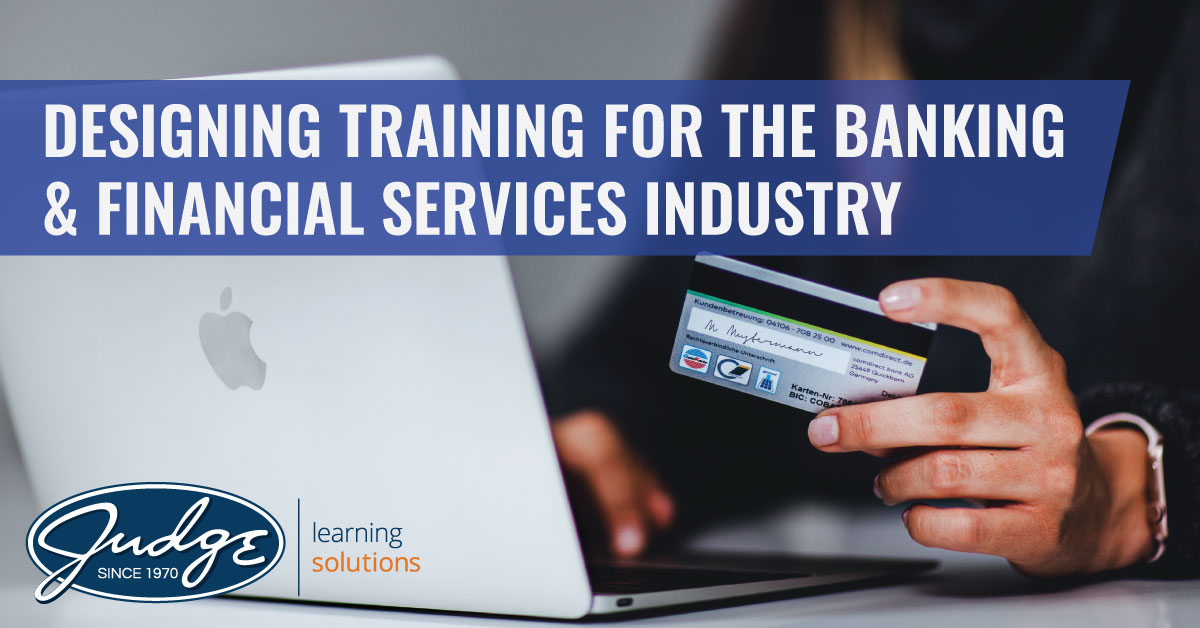 Share this post
Designing Training for the Banking and Financial Services Industry
By Mark Burke, Ed.D.
We frequently work with banking and financial service clients, and I must say, they are fascinating. The amazing things that finance companies accomplish happen at a speed that was unheard of even ten years ago. As a result, the learning experiences for these clients must be as innovative as the work they do. When we plan our learning strategy for a banking or finance client, we use a few guiding principles. These best practices help us focus on what's important to making great learning.
1. Culture is core. One of the most interesting things about banking and finance organizations is how culture is central to how they work. Whether it be a company-wide focus on client experience or a small function's emphasis on collaboration and innovation, these organizations believe in the mission they have. Given this intensity, it is very important to pull that culture throughout any learning experience. If it's eLearning, make sure the course looks and feels like the organization itself. Does it have the same tone and mood? If it's virtual instructor-led training, use scenarios that represent the shared cultural norms within the organization. If it is skill-building training, give the learners a chance to interact with others in the organization, so they learn from their peers about the beliefs and practices of the larger group.
2. Things move fast, so you've got to keep up. The speed of innovation and technical advancements is amazing in financial institutions. Software engineers create new ways of doing things every day. Product teams work on ways to improve customer experience and value. Within every function of the organization, there is always something changing. This change must translate to the learning. There is stable content, of course, that can be used in eLearning or other asynchronous media, but much of it requires new, creative ways to teach the learners. On-the-job practice activities, gamification exercises, small-group sessions, quick communication videos with key messages, and YouTube-type teaching videos on new technical skills are all modern ways to approach training. And as a bonus, they can be easier to update when the content changes, so there is less risk of stale material. Agile is the name of the game with this type of learning environment, so keep it moving and keep it fresh.
3. Collaborate across functions. Because of all the moving parts within these organizations, there is the possibility of becoming siloed in learning design. Only focusing on one function or business unit and not considering how the training could be used across the organization can be inefficient and limiting. When first working with the project stakeholder, ask if there are perspectives from other parts of the organization that should be considered. It's amazing how knowledgeable and helpful other functions can be when they are brought into collaborate on a joint-learning need. Bottom line – think outside the silo to make better training for a potentially wider audience.
Banking and financial services keep designers at the top of their creative game – and we wouldn't have it any other way.
Want to talk more about this? Leave a comment below or reach out to us at JLS@judge.com. Our team of creative superheroes are ready to help – just let us know what you need.
Topics : Articles, Banking, BFSI, Financial Services, Learning Solutions, Training
Share this post
Join Our Winning Team
We are always looking to add talented professionals to our team. Advance your career with Judge.
Apply Now
Let's Continue the

Conversation.

Tell us how we can help you and we'll be in touch soon.