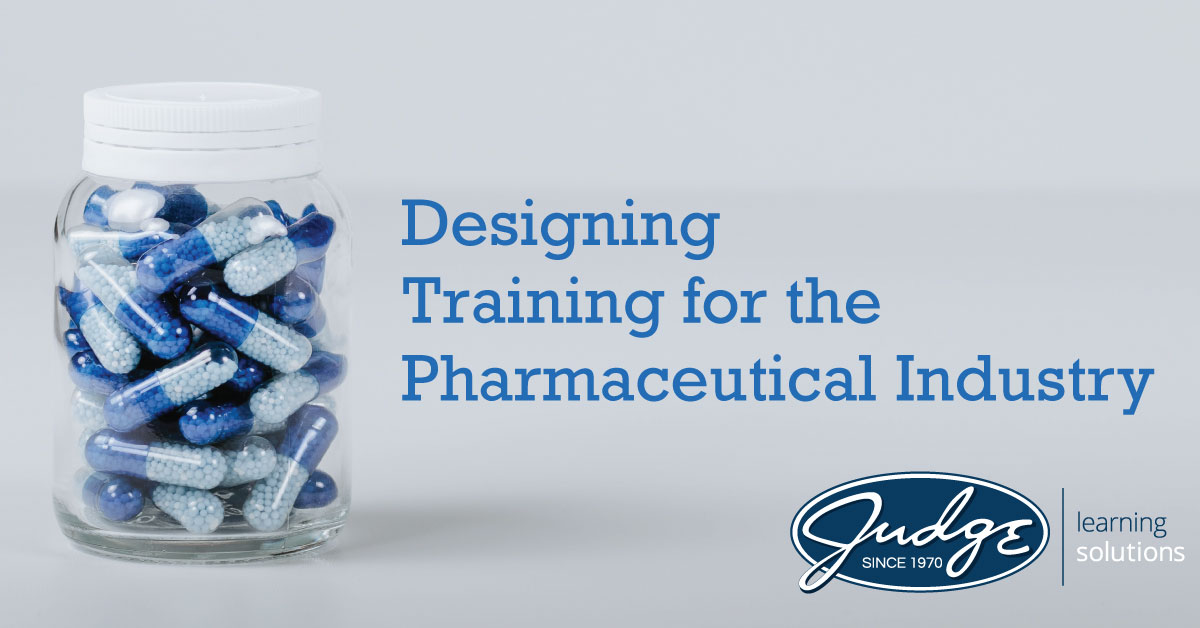 Share this post
Designing Training for the Pharmaceutical Industry
By Mark Burke, Ed.D.
Designing training for our pharmaceutical clients reminds me of teaching college freshman English – you must take complex, nuanced topics and translate them into engaging learning that is easy to understand and apply. Pharma training has a wide range of topics – compliance, sales, operations, and product to name a few. Each one presents an opportunity to bring learners into the incredible things that pharma companies do and the products they make that save and/or improve people's lives.
When we think of pharmaceuticals training, we try to keep the following three maxims in mind. These help us stay focused on the value the training brings to the learner and how that training supports the patient-focused goals of the company.
1. Exact doesn't have to be boring.
If there is one thing about pharma training, it is that you must always be exact in the way you phrase things to make sure they are clear and accurate. This exactness is essential to ensure that learners have the right information when they implement the skills we teach them. Unfortunately, as we've seen in many dull compliance training courses, exactness is often confused with boring, and designers let the content and not the learner's needs drive the design. Here's the thing. No matter how precise the content is, it is still measured on one thing: the performance change of the learner. When we design pharma training, we focus on the learner first and determine how we can create an interactive learning journey that leverages good design principles while still respecting the exactness required of scientific training.
2. Interactivity is your friend.
With the complex topics within pharmaceuticals, it is easy to lean on the content and use minimal interactivity (e.g., simple click and reveals or fact-based knowledge checks). Instead of a simple, basic design, try going the other way. Fill your learning with interactivity to keep the learner focused on the content regardless of its complexity. Matching, discussion questions, reflection activities, even scavenger hunts (a very fun activity in operations environments) – all of these result in deep learner engagement. Does it take more creativity to design? Absolutely. But that's our job, so let's do it right!
3. Keep patients at the forefront.
It doesn't matter if you're learning a new manufacturing process or sales methodology, everything pharma should focus on the patient and how the learner's actions impact their lives. There is nothing better than opening a training course with patient stories about how the product being discussed transformed someone's life. I remember a training session where patient stories were used to link the manufacturing process to patient outcomes. During the training debrief, one floor operator spoke up and said, "I never thought about how my work helps change lives." It was at that moment that I realized how impactful patient stories are to reaching learner's hearts and minds.
Designing pharmaceutical training lets us be part of the process that helps patients. We consider that a great opportunity and privilege.
Want to talk more about this? Leave a comment below or reach out to us at JLS@judge.com. Our team of creative superheroes are ready to help – just let us know what you need.
Topics : Articles, JLS, Judge Learning Solutions, Learning, Learning Course Design, Learning Solutions, Pharmaceutical, Training
Share this post
Join Our Winning Team
We are always looking to add talented professionals to our team. Advance your career with Judge.
Apply Now
Let's Continue the

Conversation.

Tell us how we can help you and we'll be in touch soon.