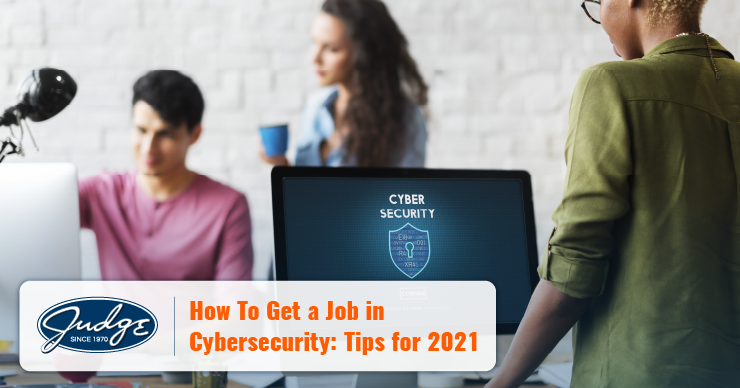 Share this post
How To Get a Job in Cybersecurity: Tips for 2021
According to a 2018 New York Times, "An estimated 3.5 million cybersecurity jobs will be available but unfilled by 2021."
They were right!
Ensuring the safety and security of data is a priority no matter the field. From government agencies, to financial companies, to the healthcare industry — dozens of industries rely on data security to keep their organizations running smoothly. And because cyberattacks are certain to continue rising over the next decade, careers in cybersecurity have become some of the most in-demand on the planet.
Talk about job security.
Whether you have no background in IT, or you've got some related experience, there is a path for you. Let's look at both situations and answer the question: How can I get a job in cyber security?
Getting a cybersecurity job with no experience
Earn a degree
On the one hand, earning a BA in cybersecurity or a closely related field is a huge leg up on the competition. But it's also true that cybersecurity is one of the more meritocratic fields out there. Most CIO's and CISCO's prioritize a track record of skills, knowledge, and abilities. Earning a degree is the best way to achieve those things, but you can also get your foot in the field with an associate degree.
Work on your certifications
Employment in this field means handling sensitive data — making certifications necessary. Companies may require you to earn certifications such as: Certified Information Security Professional (CISSP), CompTIA Security+, Certified Ethical Hacker, and more. It's always best to research field-specific certifications before committing to a career path.
Get real world experience
You have to start somewhere — so take advantage of on-site volunteering, internships, and even virtual volunteer opportunities. Accept a lower paying role in the beginning of your journey and focus on gaining experience. If cybersecurity is a new field for you, it might take some time to land your first job. On the other hand, there will be lots of opportunities for upward mobility once you gain entry-level knowledge.
Background clearance
Since cybersecurity is such a sensitive field, most industries will require security clearance. This is not just true for government and security firms — but for many private sector jobs, too. If you have any concerns about your record, you'll want to do some research before diving in.
Starting with (some) technical background
The truth is, having any technical background is an advantage when seeking an entry level job in cybersecurity. For example, experience as a developer, an engineer, or a help-desk professional can be a very solid head start. So, if you've already got some applicable skills:
Earn certifications
Here again, certifications are must. Research them on your own or start contacting recruiters to understand your next steps. If you already have a strong technical background, these certifications might be enough to get your foot in the door. Otherwise, consider earning a bachelor's degree in cybersecurity or a related field.
Show initiative
Read books, take online courses, attend networking events, follow companies and contacts on LinkedIn to keep up with the latest news and updates. Take initiative and demonstrate drive.
Network
For better or worse, effective networking can sometimes be more important than actual job performance. In 2020, there are no good reasons to not network. Start with your current job and create relationships within IT-relevant departments. Don't be afraid to message folks on LinkedIn and explain why you'd like to connect with them. If possible, attend a few in-person networking events and treat them like you would a job interview.
How To Get a Job in Cybersecurity: Tips for 2021
If you'd like to transition into a cybersecurity career, there are many paths to do it. That doesn't mean it will be easy, but as one of the most in-demand careers in the world, a job will be waiting for you after you complete your journey.
Good luck!
Topics : Articles, Cybersecurity, IT Talent, Staffing
Share this post
Join Our Winning Team
We are always looking to add talented professionals to our team. Advance your career with Judge.
Apply Now
Let's Continue the

Conversation.

Tell us how we can help you and we'll be in touch soon.