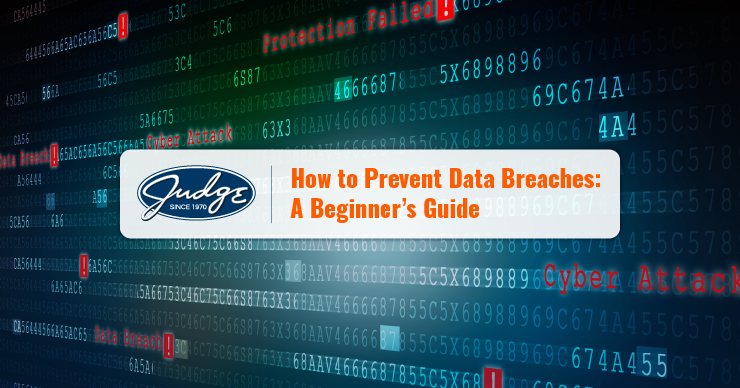 Share this post
How to Prevent Data Breaches: A Beginner's Guide
In 2014, a data breach at a large bank compromised information associated with over 83 million accounts, including 76 million households and 7 million small businesses. Understandably, the headline made big news, in no small part because this is one of the most powerful banks in the world; and even they couldn't stop it from happening.
Events like these highlight an unfortunate reality. Data breaches happen — a lot.
Part of the reason they are so common is the sheer amount of techniques cyber criminals use to access data illegally. When they do, they are looking for names, date of births, social security numbers, credit card numbers, and more. In today's blog, let's discuss some of the simplest ways to enact a data loss prevention plan — for the sake of your customers, your company, and your sanity!
Placing restrictions on sensitive data
This one might seem obvious, but insufficient "access control" is one of the most common causes of data breaches. No matter the size of your company, your employees' level of access should depend on their department, their position, and their seniority. Properly limiting the number of people who can access sensitive information, and tracking when and where they access it, can dramatically increase your levels of control.
Update and test security software
Your cybersecurity team should be responsible for conducting regular checkups on your security software, including the installation of updates to your operating systems and applications whenever they become available. If remote work continues to be a regular feature of your company's work environment, your network is probably more vulnerable than it's ever been, and your network infrastructure should take this into account.
Involve employees in security with awareness training
It's easy to get lost in day-to-day tasks like sales, customer service, and business development, but none of these matter to career hackers. The best way to engage in data loss prevention is to impress upon employees the seriousness of data security, and to communicate the steps they must take to prevent it. Remind them to be proactive, maintaining a mindset of not if it happens, but when it happens. Finally, as always, remind your employees to be vigilant about their passwords. Make them strong and change them often.
Hire an outside auditor
In addition to updating and testing your network and software security for potential weak points, hiring an external expert is a great way to prevent a future data breach. External auditors can help keep your data secure by identifying vulnerabilities in your network and suspicious network activities. An external auditor can also help you prepare a response plan in the direct aftermath of a breach.
Develop response plan
Developing an effective data breach preparedness plan before the damage occurs will allow you to respond much more quickly if it does eventually happen. A robust response plan will help you understand what data was jeopardized in the direct aftermath of a breach. As a general rule, the swifter the response, the greater your chances of mitigating damage. Likewise, the better position you'll be in to contend with potential legal action on the horizon.
Conclusion: How to Prevent Data Breaches : A Beginner's Guide
Paying attention to these steps can help you protect your customers, save your public reputation, and reduce costly and damaging mistakes. While it's true that most companies are worried about data security, being worried isn't enough — being prepared is!
Topics : Articles, Cybersecurity, Cybersecurity Month, IT
Share this post
Join Our Winning Team
We are always looking to add talented professionals to our team. Advance your career with Judge.
Apply Now
Let's Continue the

Conversation.

Tell us how we can help you and we'll be in touch soon.