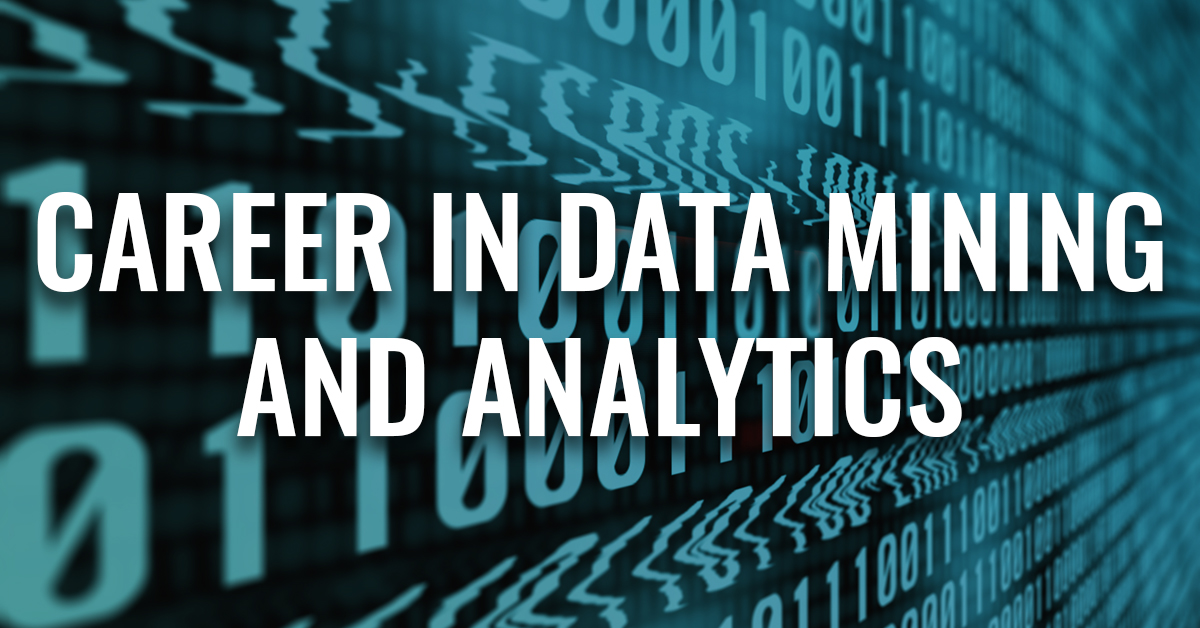 Share this post
Career in Data Mining and Analytics
Though India is going through the heydays of digitalization, the country is facing the dearth of data scientists and analytics. There are almost 1 lakh positions are vacant in the industry and this gap is increasing day after day. Of course, the scarcity of talent in the industry is a massive opportunity to fresh as well as experienced data scientists and miners in the job market. And, professionals who have 3 to 5 years of work experience are the hot cakes in this cool industry.
Growth Factors
The 21st century has given a new face to trade and commerce with the induction of most disruptive technologies such as Artificial Intelligence (AI), Machine Learning (ML), Big Data, Internet of Things (IoT), Augmented Reality, and Blockchain among others. They are contrived to bring more accuracy in R&D, operations, forecasting, surveying, etc. Data being the core of all of these technologies play vital role in almost every IoT-enabled activity and thus offers tremendous employment opportunities to data scientists and mining experts.
KRAs of Data Professionals
But what exactly is data mining. The need of data mining becomes indispensable after the mass penetration of the internet in the 1990s. Although the practice of using data to deduce in-depth details from a recorded incident or event is an age-old practice, the gamut of data reached to new horizons after new and successful developments in artificial intelligence, machine learning, and blockchain technology. Now, the amalgamation of these disruptive technologies along with Data has enabled data professionals to exploit and analyze data of even most complex nature. Data analysts help business leaders to thoroughly study trends and gain insights which may help them taking crucial business decisions.
Knowledge and Skills Required
Those looking to pursue a career in data analytics and mining Data must have a strong command at data science because the role involves research on data analysis, mining data, making reports and helping heads of various departments in comprehending and visualizing the data. So, they must have good administrations skills also apart from sound knowledge of data mining and analytics. Relevant educational background is necessary to ensure one's eligibility in this field. Besides, one should also be well-versed with major data analysis tools such as SQL, Hadoop, NoSQL, and SAS, along with working knowledge of Java, Python, and Perl. Further, familiarity with LINUX always gives an added advantage to data professionals in the job market.
Key Industries
The demand of data professionals is rocketing in various IT and ITes companies in India and top recruiters in the last fiscal year (2018-19) were Accenture, KPMG, Honeywell, Amazon, Wells Fargo, Dell International, E&Y, Deloitte, and eClerx Services. Apart from these top recruiters, the demand for data professionals is also increasing exponentially in sectors like pharmaceuticals, cyber security, banking & finance, and market research. In fact, any industry which is striving to develop futuristic products and services cannot move forward without the support of data professionals.
Besides life, the world is also about the creation of data. From machines to people—everything creates enormous data that anyone can use to their advantage, especially business. Today, businesses need to make strategic plans and decisions based on facts and trends not only to ensure double-digit growth but also to edge out the competitors. But, as the internet is bombarded with so much data and information, it is daunting to sort out the information that is actually required.
Call of the Future
Hence, if one is graduate in computer science, data science, statistics or information systems, then career gateways are wide open in this field. Their demand in the job market is rising exponentially. Therefore, career prospects in data analytics and mining are going to increase further in future as well as businesses are compelled to AI and Big Data analytics to ensure easy success and sustainability. For this, they require competent data analytics professionals that may help them to rollout their future plans.
By - Abhishek Agarwal
Senior Vice President (Global Delivery)
The Judge Group India
Topics : Analytics, Career, Data Mining
Share this post
Join Our Winning Team
We are always looking to add talented professionals to our team. Advance your career with Judge.
Apply Now
Let's Continue the

Conversation.

Tell us how we can help you and we'll be in touch soon.