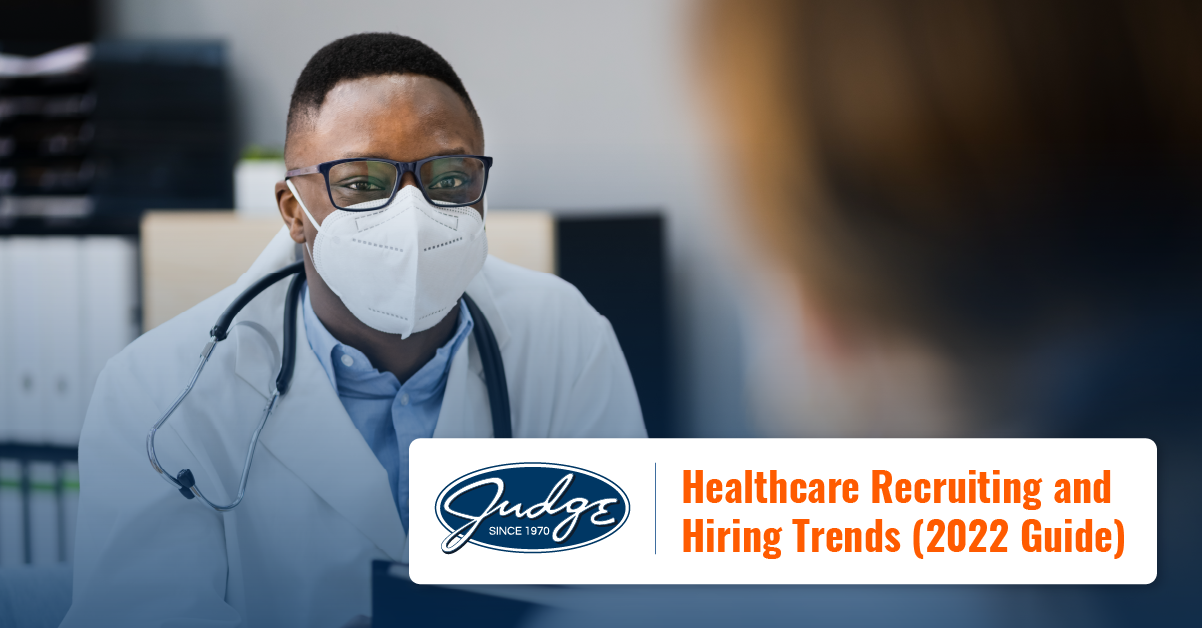 Share this post
Healthcare Recruiting and Hiring Trends (2022 Guide)
Let's not sugarcoat it. The "Great Resignation" has resulted in millions of people walking out of their workplace. The resultant staff shortages have forced companies of all sizes to update their hiring and recruiting practices. These trends have been especially difficult in the healthcare industry, where new pressures from COVID-19 have introduced unprecedented challenges in retaining employees and forging long-term employee growth.
These issues, coupled with current demographic shifts and broader economic trends, have resulted in major shifts in healthcare recruiting. Times are tough, but understanding the trends can help you stay on track.
Today's blog will discuss today's hiring trends in healthcare.
Virtual and remote recruiting and hiring
Remote interviews can save time and money for employers and candidates alike. They allow recruiters to process larger numbers of candidates in the initial screening process. As hiring grows ever more challenging, recruiters are turning to ever more creative methods for sourcing candidates, such as social media, virtual networking events and online discussion groups. Additionally, recruiters are increasing their talent pools by targeting passive candidates. Techniques include promoting company culture, offering helpful tips, and maintaining an approachable and helpful public demeanor.
Temporary staffing solutions
Hiring for specific projects on an as-needed basis is also a trend on the rise. The sudden uptick in COVID related emergencies have helped CEOs understand the advantages of contract-based staffing. Temporary staffing gives companies access to a larger candidate pool, especially when working with staffing agencies, who constantly refine and replenish their talent pools. Temporary staffing also allows companies to fill positions based on specific skills or expertise that a team currently lacks. For more tips on the advantages of temporary staffing, click here.
A focus on employee retention
Keeping current talent (as opposed to constantly hiring new employees) is an age-old challenge for recruiters. But it's never been more important than now. Facilitating employee retention requires prioritizing employee job fulfillment and improving organizational culture. Many companies have begun to offer educational programs, health and wellness packages, and career advancement opportunities. Management teams are being re-trained to improve communication, teach new training strategies, and implement updated technology. By improving work environments, companies are successfully increasing retention rates. It's not easy, but it's possible! For more tips on how to improve your organizational culture, click here.
Prioritizing candidate needs
Because the current job market favors employees over employers, companies must do a better job of acknowledging and meeting candidate demands. One way to make this process more efficient is by utilizing a post-interview survey or questionnaire to learn about what candidates are looking for in a job. This can help organizations identify areas of improvement—such as work-life balance, salary, benefits, or other features. Consistent effort to learn and implement candidate needs helps speed up the hiring process of quality candidates.
Conclusion: Healthcare Recruiting and Hiring Trends (2022 Guide)
The Great Resignation has left many organizations struggling to keep up with staffing requirements, making it more important than ever to improve hiring processes and employee retention rates. Taking a critical internal look at workplace culture, employee benefits, and company offerings can help businesses identify key areas of improvement. When in doubt, don't be afraid to ask employees and candidates for direct feedback. By keeping up with the market and focusing on both candidate and current staff needs, companies can stay competitive in this difficult hiring market.
If you need help finding qualified candidates for your organization, Judge is here to help!
Topics : Articles, Candidate, Healthcare, Hiring, Recruiting, Staffing
Share this post
Join Our Winning Team
We are always looking to add talented professionals to our team. Advance your career with Judge.
Apply Now
Let's Continue the

Conversation.

Tell us how we can help you and we'll be in touch soon.