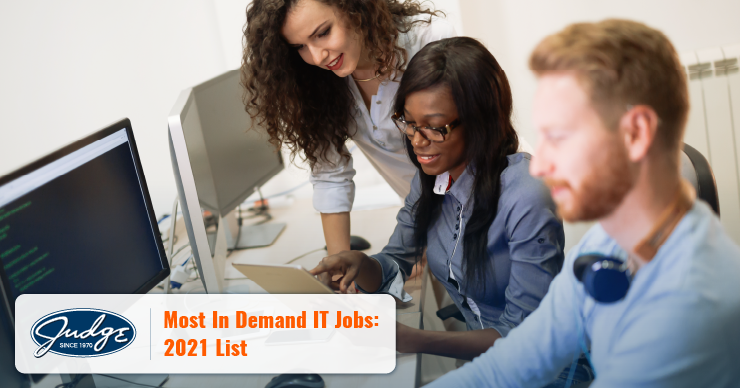 Share this post
Most In Demand IT Jobs: 2021 List
If anyone knocked the importance of IT departments before, they're certainly biting their tongues now!
In 2020, IT workers have defended against an onslaught of cyber-attacks, transitioned their companies to work-from-home environments, and fortified entire networks. Successful organizations simply cannot function without them, so it shouldn't come as a surprise that the IT job market is expected to grow over the next decade.
Consider the opening paragraph in the U.S. Bureau of Labor Statistics IT occupation's page:
"Employment in computer and information technology occupations is projected to grow 11 percent from 2019 to 2029, much faster than the average for all occupations. These occupations are projected to add about 531,200 new jobs. Demand for these workers will stem from greater emphasis on cloud computing, the collection and storage of big data, and information security."
In other words, the future is now! From banking to manufacturing to medicine — technological innovation has become crucial to a wide range of companies and industries. Suffice to say, IT jobs will be in demand for the foreseeable future.
Let's take a look at some of the most in demand IT jobs for 2021.
Information Security Analyst
Consider these key actions your organization should take: securing important data, protecting your networks and systems, and facilitating broad security measures. Information security analysts coordinate and execute security policies, protect against data breaches, and identify new systems. They also implement measures that protect organizations, employees, and customers on an everyday basis. This role is projected to grow 31% by 2026, and for good reason. Cybercrimes increased significantly in 2020, and security will continue to be a top priority.
Database Administrators
More companies are starting to understand the power of data. Database administrators, or DBAs, organize and manage every piece of an organization's data. Whether it's financial, shipping, or even the personal data of your employees and customers, DBAs have a hand in all of it. Using advanced software, DBAs can organize, secure, store, and manage access data across a company. This field has a projected 10% growth by 2026.
Software Developer
According to U.S. News, software developer gigs were the hottest jobs in 2020. Software developers are responsible for designing and creating applications that fuel business functions, operating systems, games, functional mobile apps, and more! Heck, even our grandparents are learning to use smartphones! More than ever, we are performing daily functions on applications — whether it's banking, shopping, or even learning a new language. This career is projected to grow 22% by 2026.
Computer System Analyst
Computer system analysts study a company's computer systems and procedures, working to improve overall efficiency. If it sounds like a big job, that's because it is! Thankfully, this position usually coordinates closely with managers to understand IT architects and their needs. In order to be successful, these employees must grasp both the technical and business aspects of an organization. This position is projected to grow 7% by 2026.
Hardware Engineers
Last but not least, someone needs to create, design, and maintain all of these computer systems. If you've got questions about processors, networks, circuits or routers, you're probably going to want to speak to a hardware engineer. These roles are projected to grow 2% by 2026.
Conclusion — Most In Demand IT Jobs: 2021 List
And there you have it! Whether you have decades of IT experience or you're a tech rookie, building a career in IT is a safe, smart bet. As one of the fastest growing job markets, the IT field is sure to boast plenty of opportunities.
Topics : Articles, IT Jobs, IT staffing, IT Talent, Job Search
Share this post
Join Our Winning Team
We are always looking to add talented professionals to our team. Advance your career with Judge.
Apply Now
Let's Continue the

Conversation.

Tell us how we can help you and we'll be in touch soon.