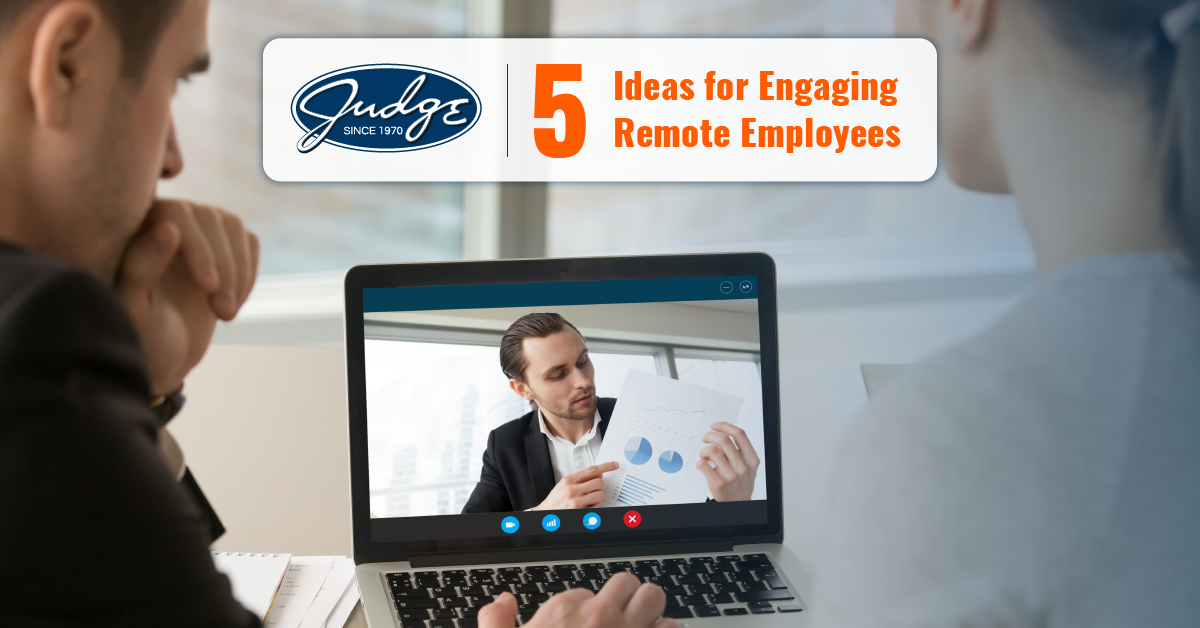 Share this post
5 Ideas For Engaging Remote Employees
According to an international study, 70% of people across the world work remotely at least once per week, and 53% work remotely at least half the week. While these sheer percentages might be surprising, the data confirms what most of us already know:
Digital technology is transforming the way we work.
In many ways, these changes are highly beneficial to companies. And yet, they can also be challenging — particularly when it comes to engaging remote employees. The question is, what can managers, supervisors, and executives do to overcome these obstacles? Here are some tips from The Judge Group!
1) Encourage communication (plenty of it)
If we've said it once, we've said it a million times — communication is critical to team success. In the case of remote employees, missing out on significant time in the office can create knowledge gaps, normally filled in by day-to-day conversation. For this reason, it's critical for managers to make themselves and their in-office team easy to get in touch with. Thankfully communication tools are available to make managing virtual teams smoother than ever.
Consider a tool like "Slack" as an example. Slack allows users to converse daily without even scheduling a conference call. With Slack, coworkers can have conversations in distinct "channels," the content of which can vary depending on the channel's designated purpose. Users can also have conversations on subthreads within channels, as well as in direct messages to each other. Whether it's Slack or another communication tool, establishing an ongoing communication stream will make everyone feel included, and more importantly, will genuinely help them communicate better.
2) Establish weekly (video) meetings
Even if you communicate with your remote team members in writing every day, it's often valuable to set up weekly or bi-weekly video meetings. This way, your team can share information and trade tips "face to face." Platforms like Skype, Zoom, UberConference and others are making video conferencing easier than ever. Video meetings are not only important for recapping and setting new goals, but for catching up with team members and staying connected.
3) Create a sense of belonging
The importance of establishing a positive rapport with all team members can't be understated. While this will probably be more challenging with remote workers, it's definitely possible! Start weekly meetings off lightly, encouraging remote employees to share something outside of work. Make sure you give them a voice, always working to combat the possibility that they might feel a bit too much like a drone behind a computer. You might even try an occasional fun, surprising idea — like ordering a birthday pizza to their house.
4) Offer constructive feedback
Building trust is one of the most important goals of a manager. For this reason, it's crucial you give remote employees the same types of feedback — whether it's praise or criticism — that your in-office team receives. If it's constructive criticism, ensure the timing makes sense, the message is clear, and that you've left room for feedback.
5) Organize a retreat, conference or event
Your ability to organize team building activities will depend on a few factors — most prominently, where your employees live and your company's budget. If it's feasible, a company sponsored get-away is a fantastic way to secure face time with your remote employees. Events like these allow you to share work ideas, learn from one another, and become closer as a team.
Pro Tip: With social distancing mandated due to COVID-19, in-person meet-ups are a no-go. But! That doesn't mean you can't try virtual events, such as a virtual happy hour or playing an online game as a team.
In closing…
By hiring remote employees your company is likely saving on resources or securing talent they'd otherwise have a hard time attracting. For that reason, consider investing some of those resources back into your internal culture. If you keep your remote employees engaged, they are more likely to stick around for the long haul, and grow with the company.
By: The Judge Group
Topics : Articles, Employee Management, Remote Employees, Remote Work
Share this post
Join Our Winning Team
We are always looking to add talented professionals to our team. Advance your career with Judge.
Apply Now
Let's Continue the

Conversation.

Tell us how we can help you and we'll be in touch soon.