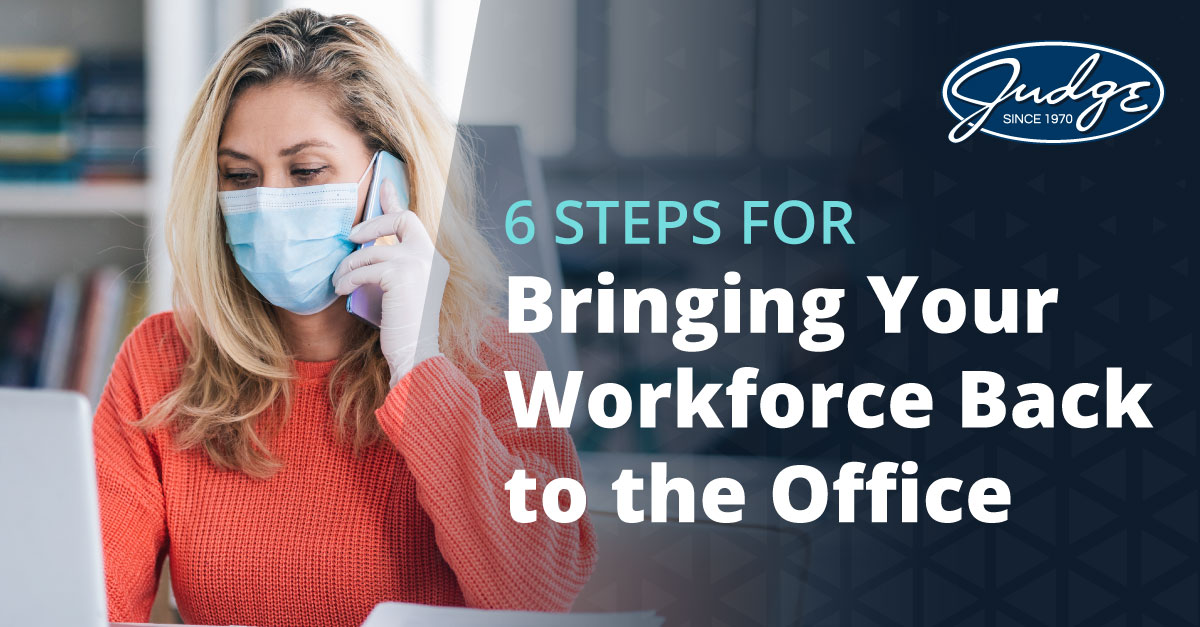 Share this post
6 Steps for Bringing Your Workforce Back to the Office
It's important to keep in mind that employees understand this is an unprecedented challenge for everyone — executive leadership included. If a few months ago, someone told you you'd be implementing company-wide safety measures involving PPE, hand sanitizing stations, and temperature taking, you probably wouldn't believe it! Yet this is where we are, and it's critical that we prioritize the safety of our workforces (click to view a larger version).
Since your employees will look to you for decision making, it's important to help quell their anxiety. Keep them in loop and give them updates about how the transition back to the office is unfolding. Let them know that they might be working at a new desk or a new location, or that their hours might be adjusted.
To help, Judge recommends hiring temporary medical screeners. By strategically placing trained medical screeners at the entry and exit points of buildings, companies will not only increase their ability to identify, remove, and offer assistance to potentially ill employees, they will communicate that they care about the workforce.
In the absence of appropriate planning, any transition back to the office during COVID-19 will be dangerous. For this reason, businesses should prioritize the health and safety of their workforce first and foremost. By focusing on employee health and communicating with clarity and strength, the transition back is an opportunity for employers to generate office camaraderie, and trust in the leadership team.
Topics : Infographic, Office
Share this post
Join Our Winning Team
We are always looking to add talented professionals to our team. Advance your career with Judge.
Apply Now
Let's Continue the

Conversation.

Tell us how we can help you and we'll be in touch soon.