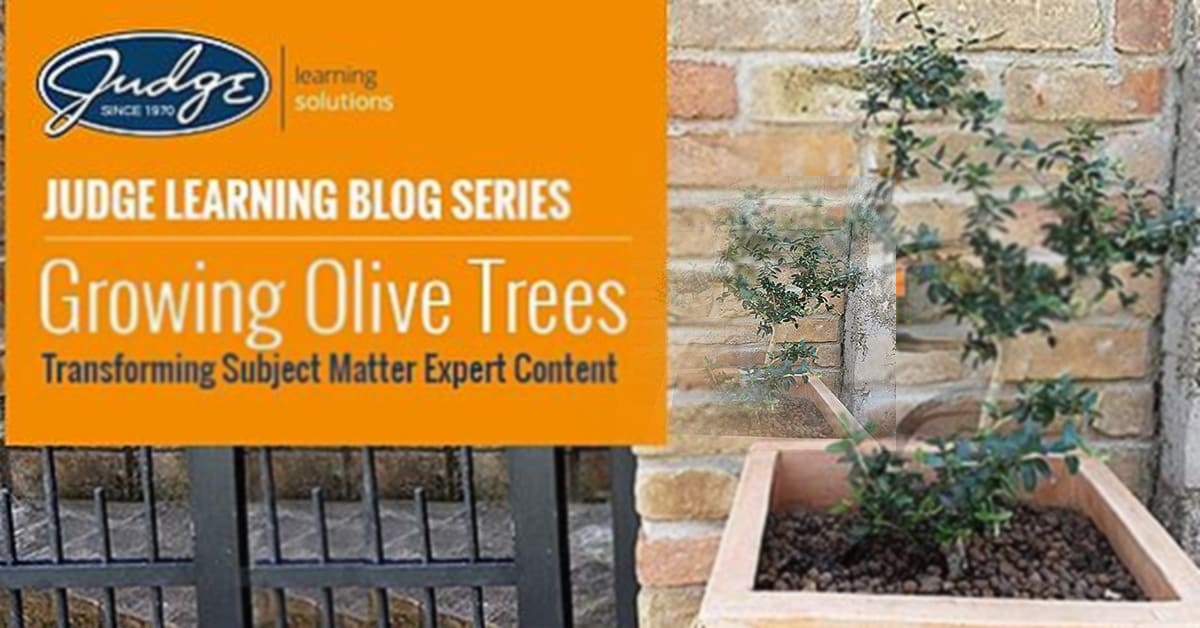 Share this post
Growing Olive Trees – Transforming Subject Matter Expert Content
"These SMEs are driving me crazy!" exclaimed one of my colleagues. It's a common complaint that I hear from my fellow learning professionals. I must admit that I have said those words myself.
Often, however, the issue is not the Subject Matter Experts (SMEs), but what we learning professionals want the SMEs to do. We expect SMEs to tell us what the learners will need to do, not what the SMEs want them to know. If we manage to get the SMEs to articulate performance objectives, we want the SMEs to serve up the desired content in nice, neat packages that directly align to those objectives. And, on top of all of that, we want them to provide us with interesting examples and case studies that we can use to engage our learners and drive the effectiveness of our learning solutions.
No wonder we get resistance and pushback from SMEs. They already have full-time jobs. Since they are the experts in their organizations, we are not the only people bothering them for information. Typically, whatever learning solution we are trying to design is not their top priority. But more importantly, we cannot expect them to do their own jobs and do ours, too. We might think that we are extending olive branches when we work around their schedules and try to be respectful of their time. But it is not enough to extend olive branches to subject matter experts; sometimes, you must grow the olive trees to create those branches.
Many learning professionals I know are life-long learners who embrace delving into new content areas. The most resourceful among them are accomplished online researchers who can quickly find answers to just about any question that arises. If you love learning and you know how to do research, you have what you need to grow your own olive trees.
Use your skills to find out everything that you can about the area in which SMEs operate, before your first meeting. Pour through any existing documentation you can access. Use your research skills to learn the SMEs' terminology and the nuances of their roles. When working with SMEs who do not naturally provide stories and examples that illuminate abstract concepts or difficult processes, ask them to describe the types of activities that challenge their less-experienced colleagues and those situations that cause people to reach out to them for help. And, if that fails to provide the details you need to build engaging materials, start digging for stories and examples from similar organizations.
You have a wealth of information available online these days. Use it to expand and transform the information your SMEs provide. Don't be afraid to share something with them that may not be quite right. Grow a seed of content into a living, vibrant topic by giving SMEs something they can react to. The reality is that most people find it easier to prune branches than to grow a tree in the first place.
Be the cultivator.
To learn more about how to add value when working with subject matter experts, come to my session, The Art of Making Stuff Up, at the ISPI Performance Conference 2017 in Montreal (April 28 – May 2).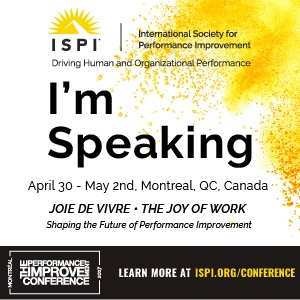 Judge Learning Solutions
Video Overview
Topics : Articles, Learning Course Design, Training
Share this post
Join Our Winning Team
We are always looking to add talented professionals to our team. Advance your career with Judge.
Apply Now
Let's Continue the

Conversation.

Tell us how we can help you and we'll be in touch soon.